Schuylkill Valley Middle School Launches Robotics Curriculum with $20,000 Donation from Ashley Furniture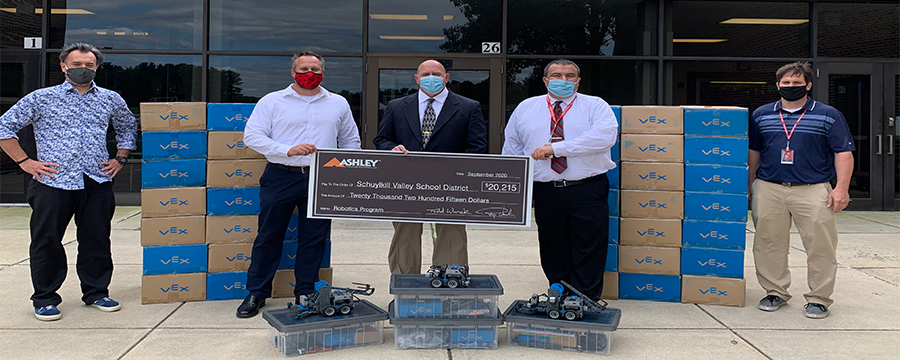 LEESPORT, Penn. – Ashley Furniture Industries, Inc. (Ashley) has partnered with Schuylkill Valley School District to enhance the middle school STEM (Science, Technology, Engineering, and Math) program. Ashley is the largest manufacturer of home furnishings in the world with an upholstery manufacturing facility neighboring the school in Leesport, Pennsylvania. With a $20,000 contribution from the company, the school purchased VEX Robotics equipment allowing the eighth-grade class the hands-on opportunity to learn STEM concepts with innovative, age-appropriate equipment.
VEX Robotics is a leading provider of educational and competitive robotics products to schools around the world. The equipment allows students to easily build their first robot and with endless possibilities of customization, the platform encourages students to build a robot that is bigger, stronger, and more functional as they continue to learn. VEX also provides curriculum options for educators to integrate lesson plans into the classroom and easily customize projects to meet the level of students' abilities.
"We are fortunate to have industry support from Ashley Furniture to showcase to our students the value of learning these skills," said Michael Billman, Schuylkill Valley School District Director of Instructional and Information Technology. "Beyond science and engineering principles, robotics teaches students creativity, teamwork, leadership, and problem-solving skills – all highly valued skills by employers once students leave our hands."
VEX Robotics equipment can also be utilized for extracurricular competition programs where students are tasked with designing and building a robot to play with other teams in a game-based engineering challenge. Schuylkill Valley School District offers competition clubs at both the middle school and high school level. With this donation, the middle school competition program also purchased additional equipment to expand its capacity which will strengthen student interest for the high school program.
Although school is currently being facilitated online, students are still able to utilize the VEX curriculum with the use of virtual simulations. When in-person instruction resumes, students will have the opportunity to build their own robot with the snap-together robotics system and then watch their creation come to life as they apply the basic principles of programming.
"This program is a great way for young students to learn career-readiness skills," said Ron Wanek, Founder and Chairman, Ashley Furniture Industries, Inc. "We continue to support STEM education to inspire the next generation of skilled workers and help secure our country's position as a world-leader in technology and advanced manufacturing."
Pictured in photo (L to R): Makoto Kizuka (STEAM Teacher), Dr. Joshua Kuehner (Principal), Joe Murphy (Ashley Furniture Industries), Michael Billman (Director of Instructional and Information Technology), Howard Emerson (STEAM Teacher)
--
Ashley Furniture Industries, Inc. (Ashley) feels that every person deserves more value for their money. Established in 1945, Ashley is one of the largest manufacturers of home furnishings in the world and has been named one of America's Best Employers by Forbes. From design through fulfillment, Ashley is committed to delivering the world's best home furnishing values, selection and service, and earning the loyalty and trust of its customers every day. Visit Ashley online at www.ashleyfurniture.com and "like" Ashley Furniture Industries, Inc. on Facebook.
# # #