Ashley Furniture to Open New Furniture Outlet in Arcadia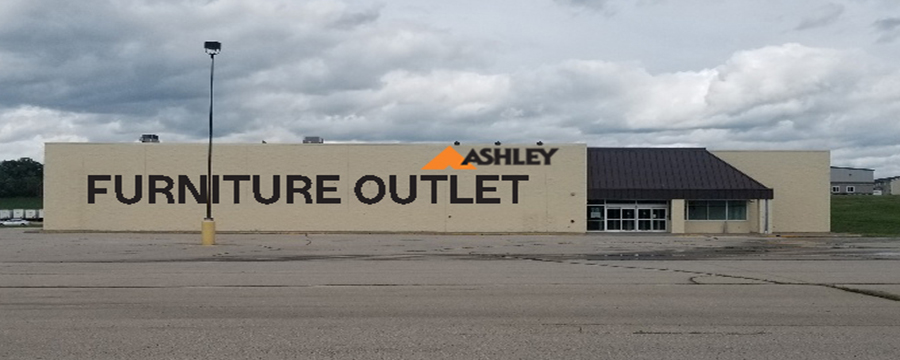 ARCADIA, Wis. – Ashley Furniture Industries, Inc. (Ashley) has purchased the former Shopko retail building, located on Blaschko Avenue, in Arcadia. Renovations are underway to open a new Ashley Furniture Outlet, which will be three times larger than the current Ashley HomeStore Outlet attached to the Ashley HomeStore, on Dettloff Drive, in Arcadia.
The product lineup will feature discontinued products, models, sample products and odds and ends available for 30-70% off the retail price. In addition, new entry-level value products, that are not displayed in the Ashley HomeStore, will be available. Categories that will be featured in-store include: Seasonal, Bedroom, Mattresses, Dining Room, Living Room, Youth, Accents and Accessories.
"We're excited to welcome customers into a newly designed retail experience geared toward exceptional values," stated Todd Wanek, President and CEO, Ashley Furniture Industries, Inc. "This store model will allow us to gauge the need and logistics for future Ashley Furniture Outlet locations across the country."
The current Ashley HomeStore Outlet space will become an expansion of the Ashley HomeStore, allowing added space for more product lines and assortments.
The new Ashley Furniture Outlet is scheduled to open on Friday, October 2, 2020. The Outlet will be open on Fridays, Saturdays and Sundays. Most of the products will have a take-with-you policy after purchase from the store; otherwise the product will be available for pick-up at Ashley's distribution center.
---
Ashley Furniture Industries, Inc. feels that every person deserves more value for their money. Established in 1945, Ashley is one of the largest manufacturers of home furnishings in the world, and was named one of America's Best Employers by Forbes in 2017. From design through fulfillment, Ashley is committed to delivering the world's best home furnishing values, selection and service, and earning the loyalty and trust of its customers every day. Visit Ashley online at ashleyfurnitureindustriesinc.com and "like" Ashley Furniture Industries, Inc. on Facebook.
Ashley HomeStore is committed to being your trusted partner and style leader for the home. This commitment has made Ashley HomeStore the largest retail furniture store brand in North America and one of the world's best-selling furniture store brands with more than 1,050 locations in 60 countries.
Start designing your dream home today. Visit Ashley HomeStore online at ashleyhomestore.com. "Like" Ashley HomeStore on Facebook, follow us on Twitter and Instagram , or see our design-focused boards on Pinterest.
###