Ashley Furniture Industries & Wanek Family Donate $170,000 to Arcadia Ambulance Project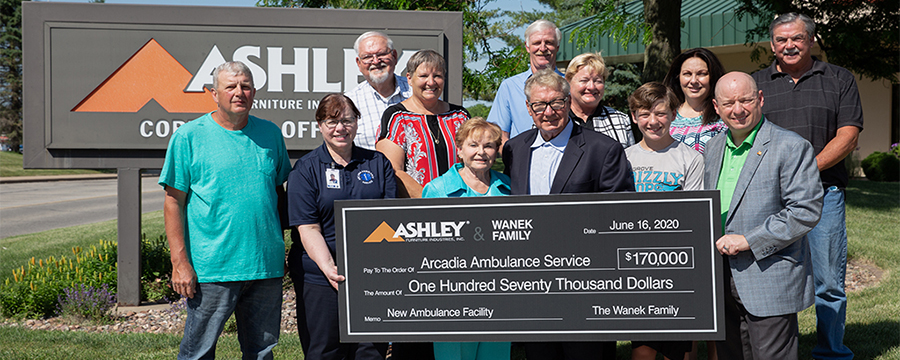 ARCADIA, Wis. – On Tuesday, June 16, members of the Wanek Family and representatives of Ashley Furniture Industries, Inc. (Ashley) presented a donation check to the Arcadia Ambulance Service for the construction of their new ambulance facility in Arcadia.
Ashley, which has a large manufacturing and distribution facility in Arcadia, donated $100,000 to the organization for the project. An additional $70,000 was donated from the Wanek families of Ron and Joyce Wanek ($25,000), Todd and Karen Wanek ($25,000), Shari (Wanek) and Kevin Wagner ($10,000), and Kati (Wanek) and Mark Forsythe ($10,000). The family has resided in Arcadia since 1970 when Ron Wanek, Founder and Chairman of Ashley Furniture Industries, started Arcadia Furniture Company and settled with his wife, Joyce.
"Like Ashley Furniture, the Arcadia Ambulance Service has been in this community for 50 years," said Todd Wanek, President and CEO of Ashley Furniture Industries. "We've been very grateful as a community to have a strong Ambulance Service and are thankful they continue to serve not only Arcadia, but the surrounding communities that many of our employees reside. On behalf of Ashley and the Wanek Family, we look forward to the completion of this new facility, allowing our Ambulance Service to support our community for years to come."
Over the past four years, the Arcadia Ambulance Service was stationed at Ashley's Chapel Hill Advanced Technology Center (old Mayo hospital), where Ashley renovated storage and office space and added restroom facilities for the Ambulance crew to utilize. In addition, Ashley has provided free housing for members of the Arcadia Ambulance Service to utilize. These efforts have allowed the Arcadia Ambulance Service to save expenses while fundraising for their new facility.
"Ashley Furniture Industries supported the ambulance service during a time of uncertainty with the local hospital closure," said Cletus Foegen, Ambulance Board President. "It is with their generosity that we were able to maintain our local ambulance operation. That generosity continues today, with this donation."
The Arcadia Ambulance Service was established in 1970 and is community owned by eight municipalities which include the cities of Arcadia and Independence, Townships of Arcadia, Burnside, Dodge, Glencoe, Montana, and Waumandee. The organization provides emergency services to a population of approximately 8,000 and covers 480 square miles.
---
Ashley Furniture Industries, Inc. is celebrating 75 years in business this year. Founded in 1945, as a sales company, Ashley has grown into the World's Largest Manufacturer of Furniture with over 25 million square feet of manufacturing & distribution capacity. From design through fulfillment, Ashley is committed to delivering the world's best home furnishing values, selection, speed and service, and earning the loyalty and trust of its customers every day.
Visit Ashley online at www.ashleyfurnitureindustriesinc.com and "like" Ashley Furniture Industries, Inc. on Facebook.
###