Ashley Furniture's Ecru Manufacturing Facility Producing Gowns for Local Hospital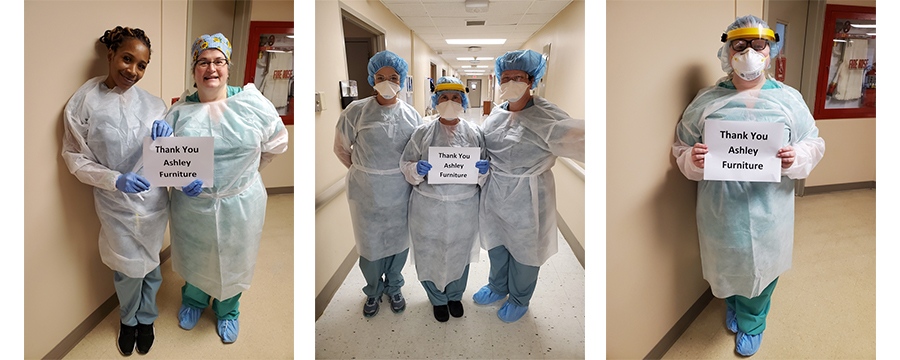 ECRU, Miss. – Ashley Furniture Industries, Inc., (Ashley) believes in being a good corporate citizen and continues to find ways to serve their local communities during this time of need. After learning of shortages on medical gowns from a local hospital, Magnolia Regional Health Center (MRHC), Ashley was determined to investigate how they could assist.
After extensive research and finalizing the design and material need, production began. Ashley team members began cutting patterns, sewing, folding and packing the gowns into boxes. To date, the company has created 2,100 gowns for Magnolia Regional Health Center, and hope to make about 4,000 more.
"We're proud to support our local communities especially during this challenging time," said Travis Wagner, Sr. Vice President, Global Operations, Ashley Furniture Industries, Inc. "The determination and effort of our Ashley Family has never been more visible. I commend these team members which have taken this process from start to finish, all out of their own goodwill and motivation to help others in need."
"MRHC is extremely thankful for the ongoing contribution Ashley has made to assist our organization in the fight against COVID-19," said Ben Tucker, Director of Marketing and Strategic Planning at Magnolia Regional Health Center. "The safety of our staff and patients is our top priority, and these gowns will help ensure our team members on the frontlines remain safe and able to provide the care the patients in our community and region need."
Since the pandemic of COVID-19, Ashley Furniture has implemented the below efforts to aid our communities throughout the country. These efforts include, but are not limited to:
Donation of over 4.4 Million meals through Feeding America.

Donation of over 1,200 meals in partnership with local restaurants.

Donation of thousands of Ashley manufactured medical gowns for hospitals.

Ashley has transported essential goods, comprised of medical supplies, masks, grocery items, water, agricultural supplies and more on their transportation fleet.

D

onation of over 1,200 mattresses and hundreds of bed frames to various

children's organizations, churches, medical shelters and non-profit organizations throughout the nation.
---
Ashley Furniture Industries, Inc. (Ashley) feels that every person deserves more value for their money. Established in 1945, Ashley is one of the largest manufacturers of home furnishings in the world, and was named one of America's Best Employers by Forbes in 2017. From design through fulfillment, Ashley is committed to delivering the world's best home furnishing values, selection and service, and earning the loyalty and trust of its customers every day. Visit Ashley online at www.ashleyfurnitureindustriesinc.com and "like" Ashley Furniture Industries, Inc. on Facebook.
Magnolia Regional Health Center is a 200-bed acute care community hospital that is jointly owned by the City of Corinth and Alcorn County. MRHC is fully accredited by The Joint Commission and has been in existence since 1965, growing into the largest employer in Alcorn County with more than 1,500 employees. With 18 clinic locations and over 40 medical services, MRHC provides care to patients in northeast Mississippi and southern Tennessee. For more information on Magnolia Regional Health Center, visit https://nam01.safelinks.protection.outlook.com/?url=http%3A%2F%2Fwww.mrhc.org%2F&data=02%7C01%7CBWaldera%40ashleyfurniture.com%7Ccce77999acfb478c971b08d7ed37c0a9%7C5a9d9cfdc32e4ac1a9edfe83df4f9e4d%7C0%7C0%7C637238696024993470&sdata=vWHdVCRoDdDxIcPNWPr5TGyBQuN%2BNaLWF6fHwjeL6ng%3D&reserved=0.
###