Ashley HomeStore Donates 250,000 Meals to Feeding Tampa Bay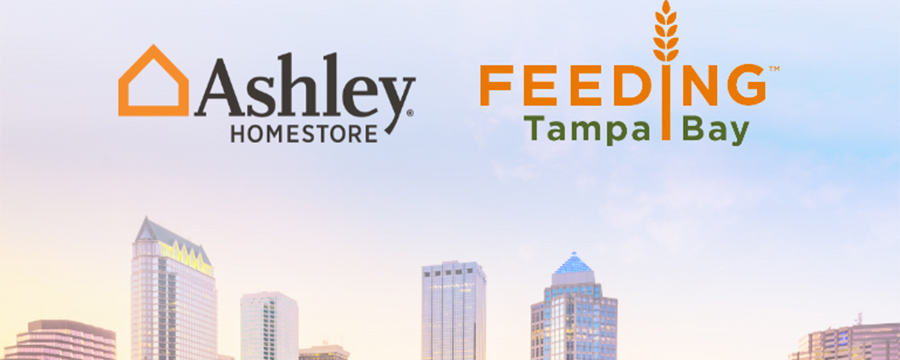 TAMPA, Fla. – Furniture retailer Ashley HomeStore (Ashley) announced they are donating 250,000 meals to Feeding Tampa Bay, part of the national Feeding America network, during the current crisis. The donation will help Feeding Tampa Bay's programs and ensure neighbors in need have required food and resources.
As COVID-19 continues to impact the Tampa region, along with the 10-county service areas served daily, Feeding Tampa Bay has seen a 40% increase in need for their services. Ashley's contribution will not only help cover those Feeding Tampa Bay already serves daily, but it will help feed others at risk, specifically:
Children who are out of school and will have no access to school meals or after-school meals.
High-risk seniors and others who cannot reach food.
Families experiencing higher expenses and lower wages who would not normally need their services.
Due to recent events, the size and scope of these populations are now significant and Feeding Tampa Bay's response reflects that growing reality.
"We are in the midst of a time when more people than ever before are facing challenges in getting the food and supplies they need," said Thomas Mantz, President and CEO of Feeding Tampa Bay. "Ashley HomeStore is standing with Feeding Tampa Bay, giving us the ability to direct these crucial resources to our neighbors who need them most," said Mantz.
Ashley HomeStore is proud to call Tampa home to its Corporate Retail Headquarters, located in Ybor City. Giving back to the communities in which they serve is at the center of the company's purpose statement, "To inspire the love of home and enrich the lives of those around us."
"At this time, there are a lot of needs that must be met both in our communities and around the world," said Greg Kammer, Executive Vice President of Retail & Sales Operations, Ashley HomeStore. "It is important for us to do our part, spread positivity and remind everyone that we are in this together."
---
Ashley HomeStore is committed to being your trusted partner and style leader for the home. This commitment has made Ashley HomeStore the largest retail furniture store brand in North America and one of the world's best-selling furniture store brands with more than 1,025 locations in 60 countries.
Start designing your dream home today. Visit Ashley HomeStore online at www.ashleyhomestore.com. "Like" Ashley HomeStore on Facebook, follow us on Twitter and Instagram , or see our design-focused boards on Pinterest.
Ashley Furniture Industries, Inc. (Ashley) feels that every person deserves more value for their money. Established in 1945, Ashley is the largest manufacturer of home furnishings in the world, and was named one of America's Best Employers by Forbes in 2017. From design through fulfillment, Ashley is committed to delivering the world's best home furnishing values, selection and service, and earning the loyalty and trust of its customers every day. Visit Ashley online at www.ashleyfurnitureindustriesinc.com and "like" Ashley Furniture Industries, Inc. on Facebook.
# # #