8TH ANNUAL STEP AHEAD AWARDS RECOGNIZE WOMEN FOR EXCELLENCE IN MANUFACTURING

The Manufacturing Institute Will Honor Evelina Rurek & Andrea Baker of Ashley Furniture Industries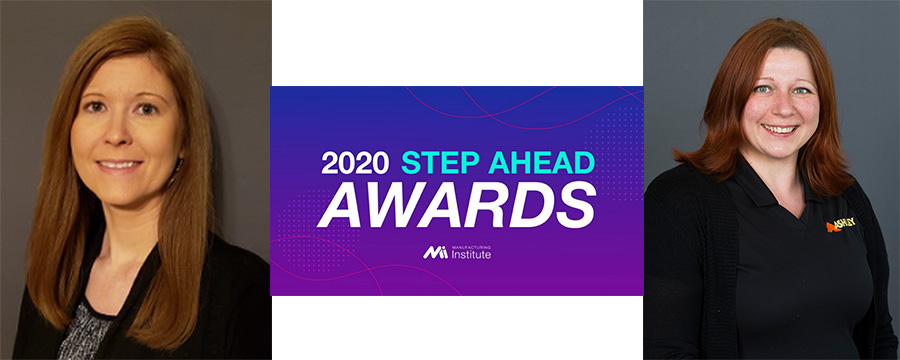 ARCADIA, Wis., Sep. 17, 2020: The Manufacturing Institute announced they will award Evelina Rurek and Andrea Baker, of Ashley Furniture Industries, with a STEP Ahead Award. The STEP Ahead Awards honor women who have demonstrated excellence and leadership in their careers and represent all levels of the manufacturing industry from the factory floor to the C-suite.
"It is an honor to be recognized as a leader in manufacturing, and as someone who truly believes that it is our duty to help mentor, train, and develop the next generation of leaders," stated Evelina Rurek, Director of Casegoods Operations, Ashley Furniture Industries, Inc. "Women are a great source of talent for manufacturing and it's our example of success that motivates more of them to join our industry, and to show there are no limits for what one can achieve."
"Ashley Furniture has many intelligent and talented women helping us meet our vision of being the Best Furniture Company. We couldn't be more proud to have two of our very own be honored with this prestigious award," stated Ron Wanek, Founder & Chairman, Ashley Furniture Industries, Inc. "Evelina and Andrea show an outstanding amount of hard work and commitment as leaders in their job and in their communities every day. This recognition is well deserved!"
"I am humbled by this award. I'm proud of the 20 years I have been with Ashley and I look forward to 20 more; their recognition of women in manufacturing is a prime example of why this is a great company to work for," stated Andrea Baker, Quality Control Labs Manager, Ashley Furniture Industries, Inc.
"The 2020 STEP Ahead Honorees and Emerging Leader Awards reinforce the exciting opportunities available in manufacturing and help inspire more women to pursue these careers," said Erika Peterman, 2020 STEP Ahead chair and senior vice president of BASF Corporation's Chemical Intermediates North America business. "A natural evolution of the manufacturing workforce is taking place as more women enter into leadership roles, bringing innovative ideas and transforming how we work and increase productivity."
"Companies across the U.S. agree there is a talent shortage in manufacturing. Through the STEP Ahead Awards, we hope to take another step toward closing this gap by highlighting the stories of successful women in manufacturing and giving them a platform to encourage other women to join the industry and be role models for the next generation," said Manufacturing Institute Executive Director Carolyn Lee. "The women being honored demonstrate what modern manufacturing careers are all about: making an impact in their communities with meaningful careers that offer significant opportunities for growth."
The STEP Women's Initiative is the nation's marquee program to close the gender gap in manufacturing. STEP works to foster a 21st-century manufacturing workforce by empowering and inspiring women in the manufacturing industry through recognition, research and leadership, as well as by motivating alumnae to pay it forward by mentoring the next generation.
The STEP Ahead Awards honor exceptional women in manufacturing and motivate them to mentor the next generation through an annual awards gala and alumnae programs. The stories of these women and the leadership they show will help inspire next-generation female leaders in manufacturing and support current female talent within the industry. In the program's first five years, STEP Ahead Award winners impacted more than 300,000 individuals—from peers in the industry to school age children.
The biggest challenge facing manufacturers continues to be the growing workforce crisis—the shortage of skilled talent to fill open positions. Manufacturers can close the skills gap by 50% simply by bringing 10% more women into the industry.
Women account for about half of the U.S. labor force but represent less than one-third of the manufacturing workforce. STEP Ahead empowers and inspires women in the manufacturing industry. The goal is to build networks for women to have support in their industry and to elevate the role models that can motivate and mentor the next generation.
On Sept. 24, The Manufacturing Institute will recognize 130 recipients of the STEP Ahead Awards in a virtual ceremony. The STEP Ahead Awards program will highlight each honoree's story, including her leadership and accomplishments in manufacturing.
---
Ashley Furniture Industries, Inc. feels that every person deserves more value for their money. Established in 1945, Ashley is one of the largest manufacturers of home furnishings in the world, and was named one of America's Best Employers by Forbes in 2017. From design through fulfillment, Ashley is committed to delivering the world's best home furnishing values, selection and service, and earning the loyalty and trust of its customers every day. Visit Ashley online at ashleyfurnitureindustriesinc.com and "like" Ashley Furniture Industries, Inc. on Facebook.
ABOUT THE MANUFACTURING INSTITUTE
The Manufacturing Institute grows and supports the manufacturing industry's skilled workers for the advancement of modern manufacturing. The Manufacturing Institute's diverse initiatives support all American workers, including women, veterans and students, through skills training programs, community building and the advancement of their career in manufacturing. As the workforce development and education partner of the National Association of Manufacturers, The Manufacturing Institute is a trusted adviser to manufacturers, equipping them with resources necessary to solve the industry's toughest challenges. For more information, please visit www.themanufacturinginstitute.org.
###