Ashley Furniture Supports Next-Generation Workforce Development With $36,000 Contribution to Local SkillsUSA Chapters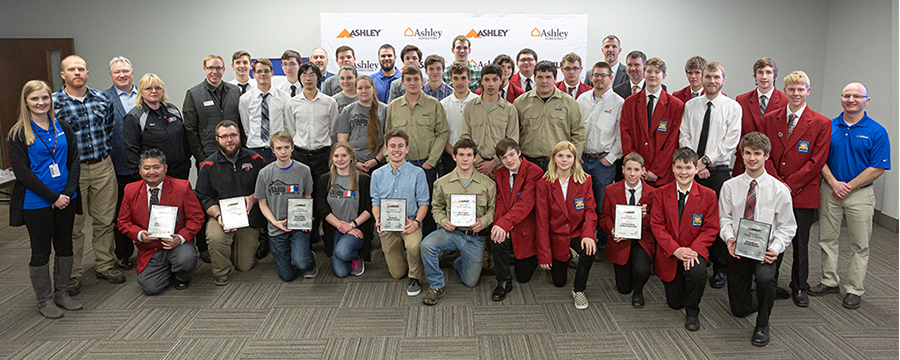 ARCADIA, Wis. – Ashley Furniture Industries, Inc. (Ashley) recently awarded $36,000 to SkillsUSA chapters allowing districts to expand their offerings to students and to increase student involvement by decreasing out-of-pocket costs students may incur.
After a successful launch of Ashley's SkillsUSA Chapter Scholarship in the 2018-2019 school year in western Wisconsin, Ashley expanded the opportunity to the communities surrounding their manufacturing facilities in Mississippi and North Carolina. In addition to expanding the reach of Ashley's support, the company more than tripled the amount awarded.
SkillsUSA is a national membership association serving middle school, high school, and college students who are preparing for careers in trade, technical and skilled service occupations, as well as for further education. The organization provides opportunities for students to participate in educational programs, events and competitions that support career and technical education in the nation's classrooms. Ashley is proud to continue to support the SkillsUSA mission which is to empower its members to become world-class workers, leaders and responsible American citizens.
The furniture company hosted onsite events for students to accept their chapter's check and tour the advanced-manufacturing facility to learn about the many career paths available at the company.
"With the support of Ashley Furniture, we have been able to send more students to compete at the district and state SkillsUSA competitions," said Tony Elliot, Director of Tippah Career & Technology Center. "This type of involvement from industry is helping us expose students to future career paths as well as teach valuable work skills that will help not only our students, but also the future workforce."
Receiving school districts in Mississippi: Itawamba Community College, Northeast Mississippi Community College, Pontotoc Ridge Career & Technology Center, Tippah Career & Technology Center and Tupelo Career Technical Center. In Wisconsin: Alma Center Lincoln, Black River Falls, Blair-Taylor, Chippewa Valley Technical College, Eleva-Strum, Gale-Ettrick-Trempealeau, and Whitehall. In North Carolina: Davidson County Community College and Davy County High School.
SkillsUSA is a partnership of students, teachers and industry working together to ensure America has a skilled workforce. Ashley Furniture is proud to serve the role of industry in the SkillsUSA model.
--
Ashley Furniture Industries, Inc. (Ashley) feels that every person deserves more value for their money. Established in 1945, Ashley is one of the largest manufacturers of home furnishings in the world, and was named one of America's Best Employers by Forbes in 2017. From design through fulfillment, Ashley is committed to delivering the world's best home furnishing values, selection and service, and earning the loyalty and trust of its customers every day. Visit Ashley online at www.ashleyfurnitureindustriesinc.com and "like" Ashley Furniture Industries, Inc. on Facebook.
SkillsUSA is a nonprofit partnership of education and industry to strengthen our nation's skilled workforce. Driven by employer demand, SkillsUSA helps students develop necessary personal and workplace skills along with technical skills grounded in academics. This SkillsUSA Framework empowers every student to succeed at work and in life, while helping to close the "skills gap" in which millions of positions go unfilled. Through SkillsUSA's championships program and curricula, employers have long ensured schools are teaching relevant technical skills, and with SkillsUSA's new credentialing process, they can now assess how ready potential employees are for the job. SkillsUSA has more than 360,000 annual members nationwide in high schools, colleges and middle schools, covering over 130 trade, technical and skilled service occupations, and is recognized by the U.S. departments of Education and Labor as integral to career and technical education. For more information: www.skillsusa.org
# # #