Ashley Furniture is bigger than you think

Article reposted with permission from Business of Home.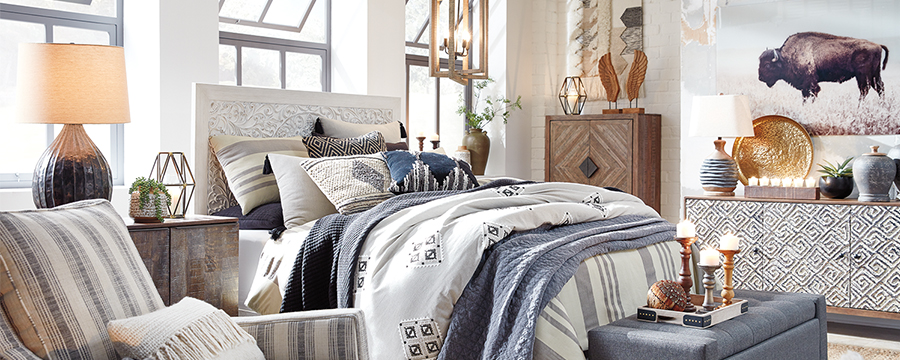 When you think of the biggest furniture brand in the country, names like Broyhill, Basset or Thomasville probably come to mind. Try to guess the biggest furniture retailer in the country, and maybe you come up with Rooms To Go, RH or Ikea.
In all of these choices, you would be dead wrong.
The biggest supplier and retailer of furniture in the country is a brand that may or may not be on your radar, but most certainly is for the American home furnishings buying public: Ashley. And with the recent opening of its 1,000th Ashley HomeStore, the company—unlike any other consumer product brands in the country—is the largest player on both ends of the product pipeline. It's as if Amazon made every product it sells, or if General Foods controlled every supermarket in the country.
Ashley is so dominant in what is still a highly fragmented furniture industry, that it remains one of the few consumer product categories in the country with a still-robust independent specialty store component and a supplier base that stretches from the hills of North Carolina all the way to China and Vietnam.
With some $5 billion in annual revenue and now with its thousand retail stores (most are franchises or licensees), Ashley has achieved something no other company has been able to do.
It's what makes Ashley's story and modern positioning all the more remarkable. Privately owned by the Wanek family and headquartered in the wilds of Wisconsin, it seemingly would have been one of the most unlikely candidates around to have reached the pinnacle of the business.
Started in the 1970s as Arcadia Furniture in the town of the same name, Ashley was originally a hole-in-the-wall producer of cabinets and tables that sold its products through a Chicago-based sales agency called Ashley Furniture Corp. The two companies merged in 1982, but even then it was just a tiny player compared to powerhouses like Broyhill or La-Z-Boy. But from those modest (read: very modest) origins, Ashley started to do things few others were doing—and it generally did them better than anybody else in the business.
As early as 1984, when the vast majority of furniture was still made domestically, the company began setting up production overseas in Asia. At the same time, it invested heavily in modern American manufacturing facilities, leveraging the best of both worlds—not just figuratively, but literally—to become a low-cost producer. It also borrowed a page from another rapidly growing American company, Walmart, by focusing on logistics and supply chain technology in a way that was still largely foreign to the furniture business. All the while, Ashley was expanding its product line, first into bedroom, then dining, and eventually into leather and upholstery. It created a sub-brand called Millennium that featured a proprietary finish, and built that business into a state-of-the-art plant in Wisconsin.
Under Ron Wanek, who was later joined in the business by his son Todd Wanek, the company continued to expand. Unlike competitors such as Furniture Brands or La-Z-Boy, its growth was internal rather than through acquisitions. In 1997, Ashley entered the retail side of the business with its first Ashley HomeStore in Anchorage, Alaska—perhaps to keep it away from the prying eyes of competitors who were curious to see what the company was up to next. The first international store, located in Japan, followed three years later, at the same time as the company continued to invest in Chinese manufacturing facilities.
By 2005, Ashley proclaimed itself the largest manufacturer of furniture in the world; at the time, its store count had grown to 200. Many were, and continue to be, operated by conventional furniture retailers who set up freestanding Ashley units adjacent to or nearby their existing full-line stores. Two years later, in 2007, Ashley announced that it had supplanted Walmart as the largest retailer of furniture and mattresses in the country, a ranking it continues to hold today by a wide margin.
Over the past decade, the achievements have kept on coming: plants in Vietnam, entry into the mattress and outdoor furniture businesses, significant philanthropic initiatives, more overseas expansion of its retail fleet, and a next-day-delivery program. All have been under the watch of Todd Wanek, who became CEO in 2002 and is credited by many in the industry for the company's unparalleled success.
And while rumors surfaced a few years ago—on the front page of The Wall Street Journal, no less—that Ashley might go public, for now it remains in private hands. One of the reasons stated for remaining private was the family's belief that there were many more opportunities out there yet to be taken advantage of. What would they be? "I don't know," Jerry Epperson, a leading industry analyst, recently wrote at Furniture Today. "But I bet the folks at Ashley do. They study and analyze our market like no other company, looking for new ways to leverage its industry leading logistics and technology."
____________
Warren Shoulberg is the former editor in chief for several leading B2B publications. He has been a guest lecturer at the Columbia University Graduate School of Business; received honors from the International Furnishings and Design Association and the Fashion Institute of Technology; and been cited by The Wall Street Journal, The New York Times, The Washington Post, CNN and other media as a leading industry expert. He was also a guest on the BOH podcast, and his Retail Watch columns offer deep industry insights on major markets and product categories.
Reposted from: https://businessofhome.com/articles/ashley-furniture-is-bigger-than-you-think?