Ashley Furniture Donates $150,000 to Local School Districts to Support Robotics Education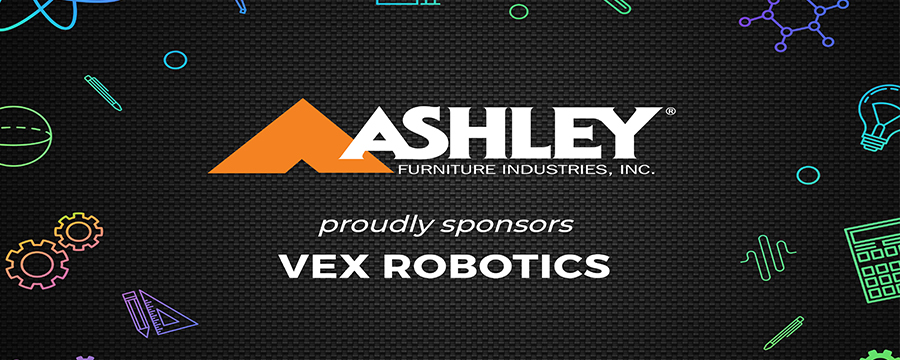 ARCADIA, Wis. – This school year, more than 1,500 students will have the opportunity to expand their creativity and critical thinking skills through donated funds by Ashley Furniture Industries, Inc. (Ashley). Area school districts, near Ashley's advanced manufacturing and distribution facilities, were awarded with $130,000 to enhance the offerings of robotics instruction throughout all grade levels in the states of Mississippi, North Carolina and Wisconsin.
At the beginning of the school year, Schuylkill Valley School District, in Leesport, Pennsylvania, also received a $20,000 donation from Ashley, to begin their middle school robotics program.
Ashley offered the schools a grant opportunity to apply for financial support to either assist with establishing or expanding VEX Robotics offerings within their school district. Funds were awarded to schools based on their overall strategy for incorporating robotics into K-12 classroom curriculum and/or extra-curricular competition robotics programs.
With this donation, schools were able to purchase VEX Robotics equipment, allowing students to learn STEM (Science, Technology, Engineering, and Math) concepts with innovative, age-appropriate equipment. Students in grades K-12 will design and build their own robot with the snap-together pieces and then watch their creation come to life as they apply the basic principles of programming.
VEX Robotics is a leading provider of educational and competitive robotics products to schools around the world. With multiple lines of equipment for different grade levels, the platform provides a streamlined approach to align robotics education in an entire school district. VEX also provides curriculum options for educators to integrate lesson plans into the classroom and easily customize projects to meet the level of students' abilities.
Ashley and VEX Robotics envision a world where students have the opportunity to be inspired by the excitement of hands-on STEM learning. By familiarizing students with programming, sensors and automation, they hone critical computational thinking skills needed to succeed in both the 21st century's workforce and in everyday life.
"Our students will benefit greatly from this donation of VEX Robotics Kits from Ashley Furniture, said Amanda Wood, Engineering Instructor, Pontotoc County School District. "When students are introduced to robotics at an early age, it piques their interest in STEM related careers which can close gender and socioeconomic gaps in these fields. Robotics promotes 21st century skills such as communication, collaboration, creativity, and critical thinking which will ensure our students' success inside and outside of the classroom."
VEX Robotics equipment can also be utilized for extracurricular competition programs where students are tasked with designing and building a robot to play with other teams in a game-based engineering challenge. Beyond science and engineering principles, robotics teaches students creativity, teamwork, leadership, and problem-solving skills.
"This program is a great way for young students to learn career-readiness skills," said Ron Wanek, Founder and Chairman, Ashley Furniture Industries, Inc. "We continue to support STEM education to inspire the next generation of skilled workers and help secure our country's position as a world-leader in technology and advanced manufacturing."
Benefiting school districts include:
Alma Area Schools (WI)

School District of Alma Center-Humbird-Merrillan (WI)

School District of Arcadia (WI)

School District of Black River Falls (WI)

Cochrane-Fountain City School District (WI)

School District of Eleva-Strum School (WI)

Gale-Ettrick-Trempealeau School District (WI)

Holy Family Catholic School (WI)

Melrose-Mindoro Area School District (WI)

Pepin Area Schools (WI)

Westby Area School District (WI)

Whitehall School District (WI)

Davie County School District (NC)

Blue Mountain Schools (MS)

Pontotoc County School District (MS)
--
Ashley Furniture Industries, Inc. (Ashley) feels that every person deserves more value for their money. Established in 1945, Ashley is one of the largest manufacturers of home furnishings in the world and has been named one of America's Best Employers by Forbes. From design through fulfillment, Ashley is committed to delivering the world's best home furnishing values, selection and service, and earning the loyalty and trust of its customers every day. Visit Ashley online at www.ashleyfurniture.com and "like" Ashley Furniture Industries, Inc. on Facebook.
# # #