Ashley Furniture Sponsors FIRST Robotics Programs and Mentors Local Students


Supporting Local High Schools FIRST Robotics Programs with a $20,000 Contribution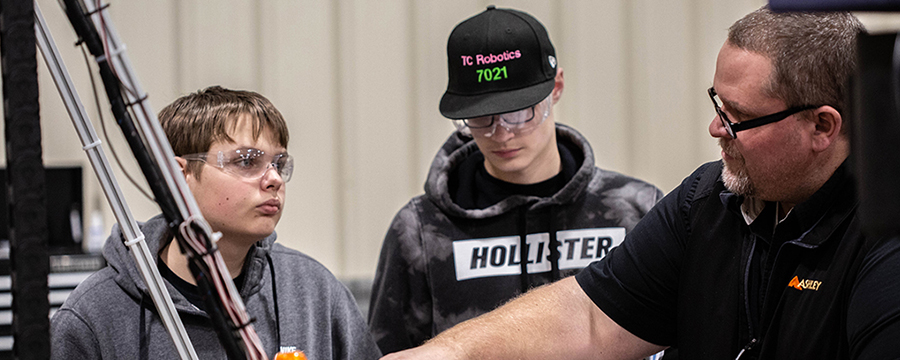 ARCADIA, Wis. – Ashley Furniture (Ashley) is a proud sponsor of FIRST (For Inspiration and Recognition of Science and Technology) Robotics. FIRST Robotics is an international, volunteer-driven program that encourages students to be leaders in science and technology while aiming to inspire young minds in the areas of science, technology, engineering and mathematics (STEM).
Ashley engineers and employees volunteer their time and expertise mentoring a FIRST Robotics team that calls themselves TC Robotics – a diverse team made up of high school students from Trempealeau County school districts. With a $10,000 financial donation from the company and the help of industry experts, students are learning and applying the fundamentals of engineering including electronics, drafting and programming. The team practices in Ashley's state-of-the-art automation facility where students also have the opportunity to use advanced tools such as a Haas CNC mill, CNC water jet, and SolidWorks. After a six week build season the team will take their robot to competition where their hard work will be put to the test.
"Ashley's support lets us work at their facility and allows us to see real-world machines used in the industry," said Cochrane-Fountain City High School sophomore Brandon Stolz. "We are extremely grateful for all they supply us with."
FIRST Robotics is not your typical battle bots, but a much more developed program where students embrace "gracious professionalism" which encourages high-quality work and emphasizes respect for individuals and the community. In this program, the robot is the vehicle for students to learn more than the technical skills, but also many life skills including leadership, teamwork, and communication – all valued employability skills.
High school team members also have the opportunity to build connections within the company and learn industry-ready skills which could result in valuable internships and career opportunities at the company during and after high school.
"Having the support of a big company, like Ashley, just pushes me to try even harder," said Jose Corona Acosta, junior at Arcadia High School. "Ashley's support to our team shows us that we have someone who believes in us, allowing us to have more confidence in ourselves and our teammates."
Ashley also financially supported the 7 Rivers Robotics Coalition (7RRC) with an additional $10,000 donation. 7RRC consists of nine other local FIRST Robotics teams: Caledonia, Holmen, Houston, La Crescent, La Crosse - Aquinas, Onalaska Luther, Onalaska, West Salem and Westby.
--
Ashley Furniture Industries, Inc. (Ashley) feels that every person deserves more value for their money. Established in 1945, Ashley is one of the largest manufacturers of home furnishings in the world, and was named one of America's Best Employers by Forbes in 2017. From design through fulfillment, Ashley is committed to delivering the world's best home furnishing values, selection and service, and earning the loyalty and trust of its customers every day. Visit Ashley online at www.ashleyfurniture.com and "like" Ashley Furniture Industries, Inc. on Facebook.
About FIRST®
Accomplished inventor Dean KamenfoundedFIRST® (For Inspiration and Recognition of Science and Technology) in 1989 to inspire an appreciation of science and technology in young people. Based in Manchester, N.H., FIRST designs accessible, innovative programs to build self-confidence, knowledge, and life skills while motivating young people to pursue opportunities in science, technology, and engineering. With support from over 200 of the Fortune 500 companies and more than $50 million in college scholarships, the not-for-profit organization hosts the FIRST® Robotics Competitionfor students in Grades 9-12; FIRST® Tech Challengefor Grades 7-12; FIRST®LEGO® Leaguefor Grades 4-8; and FIRST® LEGO® League Jr. for Grades K-4.Gracious Professionalism® is a way of doing things that encourages high-quality work, emphasizes the value of others, and respects individuals and the community. To learn more about FIRST, go to www.firstinspires.org.
# # #