Ashley Furniture Donates Nearly $40,000 to Eleva-Strum School District in Support of Career and Technical Education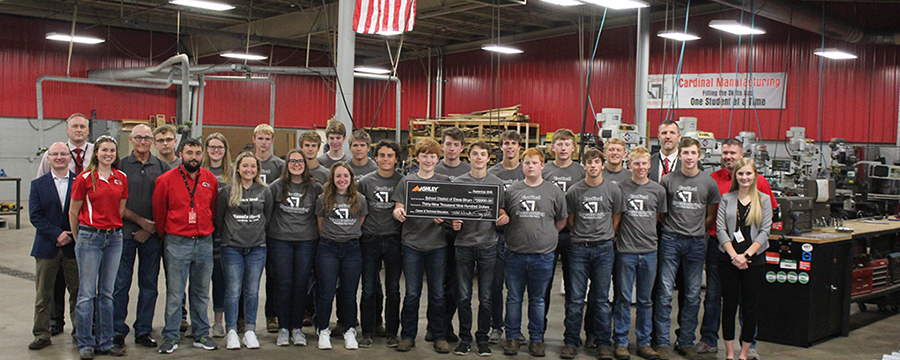 ARCADIA, Wis. – Ashley Furniture Industries, Inc. (Ashley) presented Eleva-Strum School District with $39,900 to assist in hiring an additional Career and Technical Education (CTE) instructor. This three-year commitment will provide $13,300 annually to allow the district to expand their offerings of CTE classes including computer-aided design and manufacturing, engineering, woodworking and CNC programming.
"For the past five years, the Ashley team has traveled the world researching exceptional programs in the area of career and technical education," said Ron Wanek, Founder and Chairman, Ashley Furniture Industries, Inc. "The School District of Eleva-Strum has established one of the finest technology & engineering programs throughout the U.S., including the school's student-run manufacturing business, Cardinal Manufacturing. The school continues to revolutionize technology education and provides our future workforce with the technical skills needed to grow Wisconsin businesses and the economy."
Cardinal Manufacturing, a nationally recognized student-run business, teaches students career-ready skills in welding, machining, engineering, office management, marketing, project management, and production management. The addition of a CTE instructor allows the program to expand as more students can enroll in technology and engineering courses. The goal of the program is to help students achieve career success by teaching them soft skills, technical skills, employability skills, and provide real-life work experience to high school students.
"We are very appreciative of the generous donation from Ashley Furniture to help fund an additional teacher at the Eleva-Strum High School," said Craig Cegielski, Program Director of Cardinal Manufacturing/Technology and Engineering Instructor. "Our program has grown tremendously over the past several years, and with the help of Ashley, we look forward to continuous growth."
Ashley has developed a number of partnerships with K-12 as well as post-secondary schools over the past five years. Combined efforts have included investing in STEM-based learning opportunities, scholarships, providing students with exposure to technical trades and career opportunities, instructor training, and robotics programs. As manufacturing continues to advance and the global economy evolves, training and educating our current and future workforce will be a crucial part of our country's success.
--
Ashley Furniture Industries, Inc. (Ashley) feels that every person deserves more value for their money. Established in 1945, Ashley is one of the largest manufacturers of home furnishings in the world, and was recently named one of America's Best Employers by Forbes in 2017. From design through fulfillment, Ashley is committed to delivering the world's best home furnishing values, selection and service, and earning the loyalty and trust of its customers every day. Visit Ashley online at www.ashleyfurniture.com and "like" Ashley Furniture Industries, Inc. on Facebook.
# # #