Ashley Furniture Awards Over 100 Students with Scholarships Through Their Scholarship Program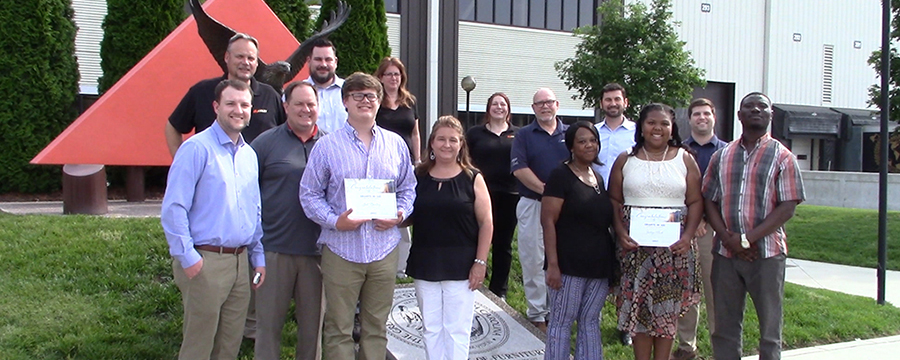 ARCADIA, Wis. –Ashley Furniture Industries, Inc. (Ashley) and the Wanek family are recognizing students who are choosing to further their education by contributing over $235,000 in scholarships across the country. Over 100 students located near Ashley facilities have been awarded a scholarship to put towards their college tuition as they head back to school this fall.
Each year, Ashley provides two separate scholarship opportunities for children of Ashley employees who are graduating high school. The 'Ashley Grants-in-Aid Scholarship' provides a $2,000, one-time scholarship to graduating high school students who are enrolled in an accredited college or university during the following fall semester. The 'Wanek Engineering and Design Scholarship' is a one-time, $3,333.33 scholarship provided to graduating high school students pursuing a secondary degree in an Engineering or Design field. Scholarships were awarded in Wisconsin, Pennsylvania, North Carolina, Mississippi, Texas and California this year.
"I am so grateful to Ashley Furniture for helping my son realize his dream and begin the first phase of his path to the rest of his life, it is one of the ways this company gives back to its employees and their families," said Deb Clohisey, Ashley Furniture. "I'm blessed to be a part of such a wonderful tradition."
"I have become more goal-oriented in my life and determined to succeed in anything I set my mind to. Being accepted into my university of choice has been the first true indicator that my shift in focus is leading me down the right path to a bright future," said Nick Clohisey, Ashley Scholarship Recipient.
Ashley and the Wanek family have provided millions of dollars towards education initiatives, in-kind services and more than 2,000 student scholarships. As manufacturing continues to advance and the global economy evolves, training and educating the future workforce will be a crucial part of our country's success.
---
Ashley Furniture Industries, Inc. (Ashley) feels that every person deserves more value for their money. Established in 1945, Ashley is the largest manufacturer of home furnishings in the world, and was named one of America's Best Employers by Forbes in 2017. From design through fulfillment, Ashley is committed to delivering the world's best home furnishing values, selection and service, and earning the loyalty and trust of its customers every day. Visit Ashley online at www.ashleyfurnitureindustriesinc.com and "like" Ashley Furniture Industries, Inc. on Facebook.
Ashley HomeStore is committed to being your trusted partner and style leader for the home. This commitment has made Ashley HomeStore the largest retail furniture store brand in North America and one of the world's best-selling furniture store brands with more than 975 locations in 56 countries.
Start designing your dream home today. Visit Ashley HomeStore online at www.ashleyhomestore.com. "Like" Ashley HomeStore on Facebook, follow us on Twitter and Instagram , or see our design-focused boards on Pinterest.
###