Ashley Furniture Continues to Expand STEM Summer Camp Offerings

With participation from over 500 elementary, middle and high school-aged students from local school districts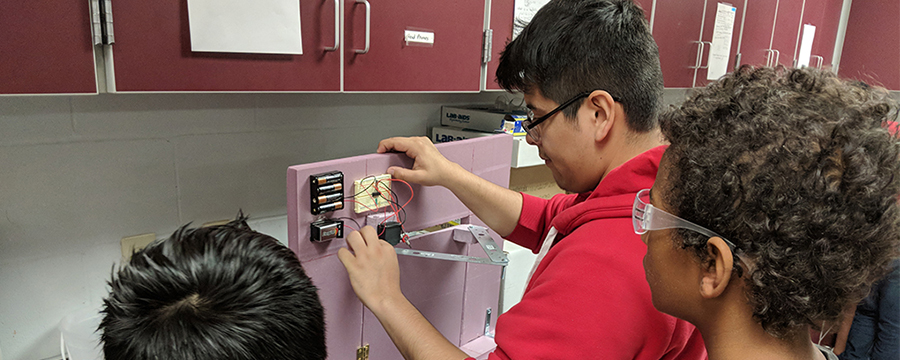 ARCADIA, Wis. – This summer, students of all ages had the opportunity to explore, design and ignite their creativity while participating in STEM (Science, Technology, Engineering and Math) Summer Camps, sponsored by Ashley Furniture Industries, Inc. (Ashley).
This marked the third-year Ashley partnered with area schools to provide hands-on summer learning experiences that support STEM education at no cost to participating students. Over the past three years, participation has grown from 15 students at one school, to 564 students across five area school districts.
In conjunction with the summer school programs at the school districts of Arcadia, Blair-Taylor, Gale-Ettrick-Trempealeau, Independence and Whitehall, Ashley provided support for two new educational projects. Elementary students were introduced to the field of packaging engineering through curriculum created by Engineering is Elementary (EiE). Students used their knowledge of plants to design and construct a package needed to keep a plant safe and healthy for several days. Students in middle and high school had the opportunity to partake in the Lemelson-MIT Program where they explored mechanical systems, servo motors, electricity and circuits – all needed to construct a working model of a garage door opener.
Along with financial support, Ashley also hosted a training session for educators to develop a deep understanding of the possibilities with the curriculum of the two projects. This training session was provided by Steve Meyer, STEM Education and Development Manager at Fox Valley Technical College.
"Seeing the growth of this program in just a short number of years has been incredible," said Kristopher Gengler, Ashley Furniture Industries. "This has become a great opportunity that allows many students to continue learning throughout the summer at no-cost to them or their families."
Ashley also hosted a SOLIDWORKS Robotics Camp, where FIRST Robotics students and mentors from around the region learned how to use the computer-aided design and engineering software. This camp was taught and facilitated by Ashley employees and took place at Ashley's new Advanced Technology Maker Center (ATMC) in Arcadia. The ATMC was designed to provide educational training opportunities for Ashley employees, local schools and community members in support of advanced manufacturing. At the end of the week-long course, all participants were provided with a free 1-year educational license of the SOLIDWORKS software.
"This opportunity showed students and mentors how to engineer their competition robots in the latest CAD software of SOLIDWORKS," said Betty Baker, Ashley Furniture Industries and Trempealeau County
Robotics mentor. "The robotics teams joined together to learn from each other and use the knowledge gained to better compete against each other and other teams in competitions next season."
Ashley Furniture has developed a number of partnerships with K-12 as well as post-secondary schools over the past five years. Combined efforts have included investing in STEM-based learning opportunities, scholarships, providing students with exposure to technical trades and career opportunities, instructor training, and robotics programs. As manufacturing continues to advance and the global economy evolves, training and educating our current and future workforce will be a crucial part of our country's success.
--
Ashley Furniture Industries, Inc. (Ashley) feels that every person deserves more value for their money. Established in 1945, Ashley is one of the largest manufacturers of home furnishings in the world, and was named one of America's Best Employers by Forbes in 2017. From design through fulfillment, Ashley is committed to delivering the world's best home furnishing values, selection and service, and earning the loyalty and trust of its customers every day. Visit Ashley online at www.ashleyfurnitureindustriesinc.com and "like" Ashley Furniture Industries, Inc. on Facebook.
###