Ashley Furniture Sends Local Students to National Flight Academy Program in Pensacola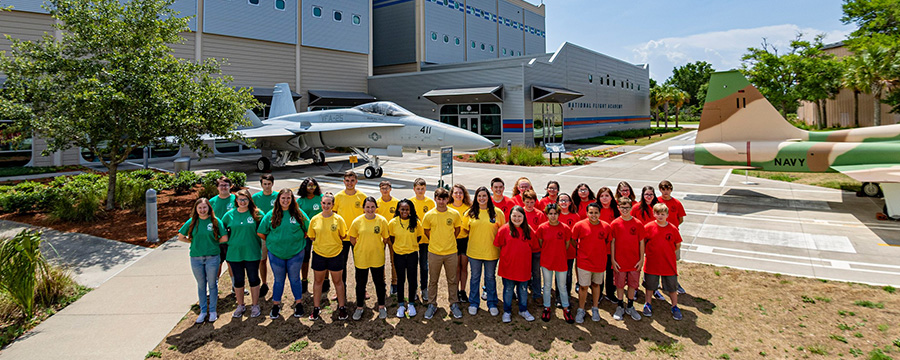 PENSACOLA, FL – On Friday, June 7th, in the atrium of the National Naval Aviation Museum, complete with a 4-ship of the Blue Angels [the Navy's Flight Demonstration Team] suspended overhead, 1 Florida and 29 Mississippi students joined 65 other students from across the U.S. for National Flight Academy graduation.
Ashley Furniture Industries, Inc. (AFI) sponsored 30 middle and high school students, local to their Mississippi and Florida facilities, to attend the program, covering their program tuition and travel expense totaling more than $45,000.
The week-long "deployment" is geared to inspire interest in Science, Technology, Engineering and Mathematics (STEM) coursework and careers. Participants stay in a multi-story facility, adjacent to the National Naval Aviation Museum, where they experience theme-park style thrills surrounded by advanced technology, flight simulators, and virtual reality games that ignite imagination and encourage learning.
During the program, students were immersed in life as Naval Aviators aboard a modern aircraft carrier, planning and conducting humanitarian missions while living aboard the simulated aircraft carrier, "AMBITION CVT-11." These missions were a test to their mental agility, preparedness, and communication skills, and demonstrated the importance of teamwork and goal completion. After planning the missions, they provided air traffic control for the simulated jets their fellow students were flying.
Following an action-packed week, Lieutenant General Duane Thiessen, USMC (retired), President and CEO of the Naval Aviation Museum Foundation, hosted a graduation ceremony to celebrate the students' major accomplishments
"My daughter recently attended the National Flight Academy through Ashley Furniture. This has truly been a once and a life-time experience and inspiration that she will forever treasure," said Bowen Chapman, Ashley Furniture Industries. "Since being back home, she has expressed interest in entering a career in the armed services that would allow her to design airplanes."
"After my son returned from the National Flight Academy, he started researching 3-D modeling and is looking at that as an area of study and a potential career interest. This experience has opened his eyes to that fact that he can do so much more than he ever thought," said Missy Dawson, Ashley Furniture Industries.
Ashley and the Wanek family have contributed millions of dollars in the area of education, particularly in support of STEM programs and advanced manufacturing for our current and future workforce. The company has developed a number of partnerships with K-12, as well as post-secondary schools, investing in STEM (Science, Technology, Engineering and Math) and career and technical education.
---
Ashley Furniture Industries, Inc. (Ashley) feels that every person deserves more value for their money. Established in 1945, Ashley is the largest manufacturer of home furnishings in the world, and was named one of America's Best Employers by Forbes in 2017. From design through fulfillment, Ashley is committed to delivering the world's best home furnishing values, selection and service, and earning the loyalty and trust of its customers every day. Visit Ashley online at www.ashleyfurnitureindustriesinc.com and "like" Ashley Furniture Industries, Inc. on Facebook.
# # #