Ashley for the Arts Prepares for Another Can't-Miss Summer Event, Bringing Thousands to Western Wisconsin for a Good Cause

Three-day charity event featuring Lady Antebellum, 3 Doors Down, Brothers Osborne, 38 Special & more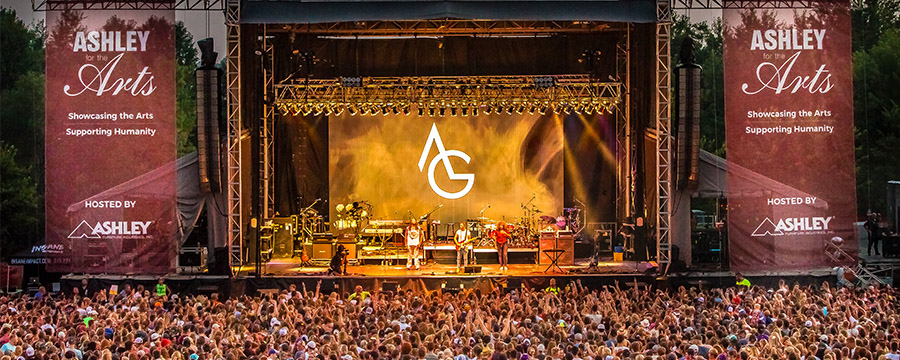 ARCADIA, Wis. – Coming off a record-breaking, 10th anniversary year, Ashley for the Arts is well under way with renovations and planning for their annual, three-day music and art festival. The non-profit event takes place August 8, 9 and 10 and will host another star-studded lineup of musical entertainment as well as a variety of art and craft displays, food and family-friendly activities.
Sustaining continuous growth from 300 attendees in 2009, to more than 70,000 throughout the weekend last year, Ashley for the Arts is one of Wisconsin's largest charity events. Last year, the event raised over $535,500 for more than 50 supported non-profit organizations. In addition to the picturesque backdrop of the event, the most desirable factor is the three-day admission of $15, drawing a fan base from all over the Midwest. Event parking is free and includes free bus shuttles to and from the grounds.
Ashley for the Arts takes place in Arcadia, population 2,925; the small town comes to life for the weekend, welcoming guests and showcasing the scenic region. Memorial Park's 54-acres are home to the festival. The park is known for its Soldier's Walk, one of the premier war memorials in the U.S. outside of Washington, D.C., a must-see while onsite.
This year's Main Stage performances will include a diverse lineup comprised of award-winning Country, Pop, and Rock bands. Those featured include: Lady Antebellum, Brothers Osborne, 3 Doors Down, X Ambassadors, 38 Special, Mat Kearney, Billy Ray Cyrus, Morgan Evans and Chris Kroeze.
The festival will also feature a talented selection of musical performances on the Pavilion and Soldier's Walk stages in between Main Stage performances, including: SpaceHeaters, The Memories, Kari Lynch Band, LYGA, Raizin' Kane, Johnny Holm Band, Richie Yurkovich & Polkarioty, The Mondays, Tremendos Musical del Sur, The Two Tracks, Corey Wise, Pop Rocks and Pan-Handlers. The iconic Millennium Amphitheater will showcase 11 area schools' musical performances throughout the weekend, demonstrating the region's student talent.
Not interested in the music? There's still something to catch your attention - guests will find a variety of off-stage entertainment including: street performers, balloon artists, a 20th century circus, silly stilt walkers, an interactive drum circle, a number of family fun activities, and an expanded selection of food and craft beer vendors.
The parks' ballfields will feature an Art & Craft Fair comprised of nearly 100 vendors (some even demonstrating their skills live), an interactive art space (offering a variety of art classes on a first come, first serve basis), and an air park (including bounce houses and obstacle courses). Additional attractions found throughout the park will include a car show, an unforgettable firework display, and hot-air balloon launches.
Thursday's festivities will feature the Pursuit of a Cure 5K run/walk and charity raffle, which raise money to advance medical research and help offset medical costs that patients incur. All funds raised will benefit the American Cancer Society, Rita Tranberg Memorial, and the Arcadia Ambulance Service. New to Thursday's lineup are Painting in the Park, a canvas painting class, and Yoga in the Park, hosted by Devine Yoga.
Get your admission wristbands at participating Ashley HomeStores through August 3rd. Participating Ashley HomeStores include: Arcadia, Wis., Eau Claire, Wis., Prairie du Chien, Wis. and Rochester, Minn. Ashley for the Arts and Ashley HomeStore will be giving away meet & greets weekly as well as providing one lucky winner with an Ultimate Fan Package which includes seats, meet & greets and more! Admission wristbands will also be available at the gate, August 8-10.
For more information, visit www.AshleyfortheArts.com.
Ashley for the Arts is a non-profit initiative that provides the entire family with world class entertainment, art, exercise and family fun for a remarkably low cost. It is also one of Wisconsin's largest charity events, raising $535,500 in 2018 for 51 non-profit organizations, including participating schools, children's charities and medical research. This music and arts festival was conceptualized and established by Ashley Furniture Industries, Inc. (Ashley) in 2009. Today, more than 70,000 people attend the event held in Arcadia, Wisconsin's Memorial Park.
For more information on Ashley for the Arts, visit www.AshleyfortheArts.com. "Like" Ashley for the Arts on Facebook or follow us on Twitter at @AshleyfortheArt.
Ashley Furniture Industries, Inc. (Ashley) feels that every person deserves more value for their money. Established in 1945, Ashley is the largest manufacturer of home furnishings in the world, and was named one of America's Best Employers by Forbes in 2017. From design through fulfillment, Ashley is committed to delivering the world's best home furnishing values, selection and service, and earning the loyalty and trust of its customers every day. Visit Ashley online at www.ashleyfurnitureindustriesinc.com and "like" Ashley Furniture Industries, Inc. on Facebook.
###