Memorial Day Flag Raising Ceremonies Held at Ashley Furniture Industries Facilities Across the Nation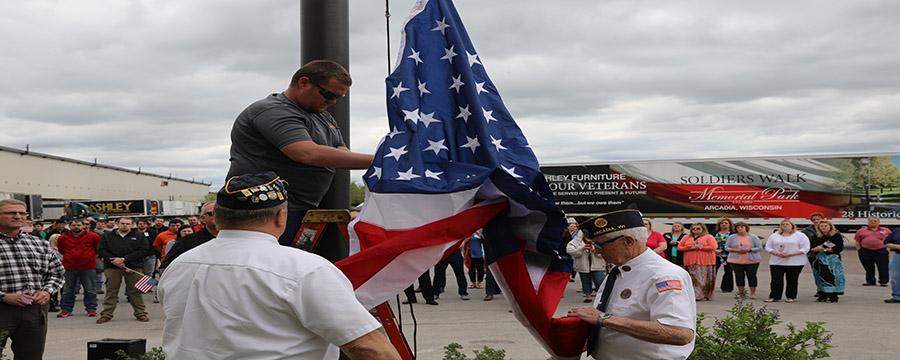 ARCADIA, Wis. — On Thursday, May 23, in honor of Memorial Day, Ashley Furniture Industries, Inc. (Ashley) held a flag raising ceremony at each of their U.S. advanced manufacturing and distribution facilities. The ceremonies were led by Ashley executives from Mississippi, North Carolina, Pennsylvania, and Wisconsin, along with members of their local military groups. Employees gathered to remember those who served our country and reflect on the true meaning of Memorial Day. Ashley employees who are current or past service members were also recognized during the ceremonies.
"Patriotism is the glue that unites a country. It is important because it allows people to appreciate the efforts done by the heroes before them in order to attain the freedom that this country enjoys today," said Joe Murphy (Sgt., U.S. Marine Corps), Ashley Furniture Industries. "The flag raising ceremonies allow Ashley's employees a moment to remember those who have fallen and appreciate their efforts. Patriotism allows a nation to take pride of the country's past, present and future achievements."
Following the flag raising ceremony, a moment of silence was held to honor those who have passed in the line of duty.
"We're proud to host flag raising ceremonies nationwide, to gather in unity as a company with our local community members to pay respect to those who made the ultimate sacrifice for the freedom of our country," said Todd Wanek, President and CEO, Ashley Furniture Industries. "As a day of remembrance for our fallen heroes, it is important that we never lose sight of the true meaning of Memorial Day."
Ashley Furniture Industries would like to wish everyone a safe Memorial Day weekend.
--
Ashley Furniture Industries, Inc. (Ashley) feels that every person deserves more value for their money. Established in 1945, Ashley is the largest manufacturer of home furnishings in the world, and was named one of America's Best Employers by Forbes in 2017. From design through fulfillment, Ashley is committed to delivering the world's best home furnishing values, selection and service, and earning the loyalty and trust of its customers every day. Visit Ashley online at www.ashleyfurniture.com and "like" Ashley Furniture Industries, Inc. on Facebook.
Ashley HomeStore is committed to being your trusted partner and style leader for the home. This commitment has made Ashley HomeStore the largest retail furniture store brand in North America and one of the world's best-selling furniture store brands with more than 925 locations in 55 countries.
Start designing your dream home today. Visit Ashley HomeStore online at www.ashleyhomestore.com. "Like" Ashley HomeStore on Facebook, follow us on Twitter and Instagram , or see our design-focused boards on Pinterest.
###