Ashley Furniture Donates Over $25,000 in First Year Partnership with SkillsUSA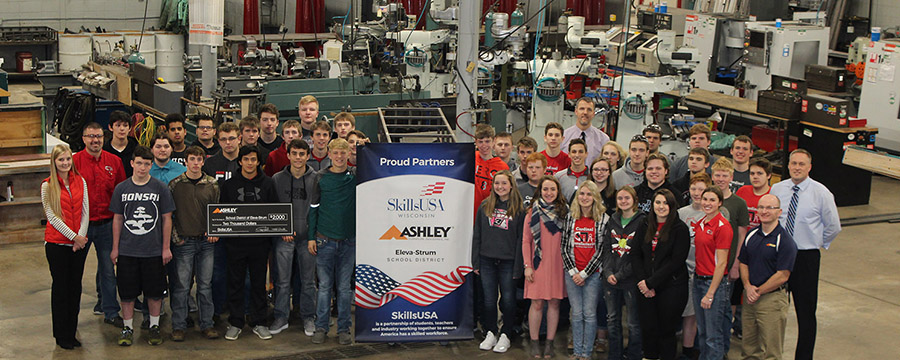 ARCADIA, Wis. – Ashley Furniture Industries, Inc. (Ashley) has partnered with SkillsUSA Wisconsin in support of the organization's values and mission. SkillsUSA is a partnership of students, teachers and industry working together to ensure America has a skilled workforce. The organization helps middle and high school students excel by providing opportunities to participate in educational programs, events and competitions that support career and technical education in the nation's classrooms.
Ashley was the Diamond Sponsor of the 2019 SkillsUSA State Conference, pledging $14,000 to the organization. The event, held at the Alliant Energy Center in Madison last week, hosted nearly 1,800 students competing in a variety of events including architectural drafting, CNC milling, diesel equipment technology, HVAC, robotics and automation, and many more. Ashley representatives dedicated their time to volunteering in events specific to their fields.
At the event, Ashley was awarded the Business and Industry Partner Award recognizing the company for their demonstration of significant commitment to supporting the SkillsUSA mission: SkillsUSA empowers its members to become world-class workers, leaders and responsible American citizens. Every business that receives this prestigious award believes in the importance of career and technical education.
"With the increased demand for trade careers in the U.S., it is important for industry to partner with educational organizations to ensure skills and needs are aligned," said Ron Wanek, Founder and Chairman, Ashley Furniture Industries, Inc. "By getting students involved in these areas early on, we can showcase the value and evolvement of these trades and careers."
The company also offered a team scholarship for local teams this year, awarding $11,000 to the chapters of Arcadia, Blair-Taylor, Gale-Ettrick-Trempealeau, Eleva-Strum and Whitehall. These funds helped assist the chapters pay registration fees and upgrade their equipment.
Ashley Furniture has developed a number of partnerships with K-12 as well as post-secondary schools over the past five years. Combined efforts have included investing in STEM-based learning opportunities, scholarships, providing students with exposure to technical trades and career opportunities, instructor training, and robotics programs. As manufacturing continues to advance and the global economy evolves, training and educating our current and future workforce will be a crucial part of our country's success.
--
Ashley Furniture Industries, Inc. (Ashley) feels that every person deserves more value for their money. Established in 1945, Ashley is one of the largest manufacturers of home furnishings in the world, and was named one of America's Best Employers by Forbes in 2017. From design through fulfillment, Ashley is committed to delivering the world's best home furnishing values, selection and service, and earning the loyalty and trust of its customers every day. Visit Ashley online at www.ashleyfurnitureindustriesinc.com and "like" Ashley Furniture Industries, Inc. on Facebook.
SkillsUSA is a nonprofit partnership of education and industry to strengthen our nation's skilled workforce. Driven by employer demand, SkillsUSA helps students develop necessary personal and workplace skills along with technical skills grounded in academics. This SkillsUSA Framework empowers every student to succeed at work and in life, while helping to close the "skills gap" in which millions of positions go unfilled. Through SkillsUSA's championships program and curricula, employers have long ensured schools are teaching relevant technical skills, and with SkillsUSA's new credentialing process, they can now assess how ready potential employees are for the job. SkillsUSA has more than 360,000 annual members nationwide in high schools, colleges and middle schools, covering over 130 trade, technical and skilled service occupations, and is recognized by the U.S. departments of Education and Labor as integral to career and technical education. For more information: www.skillsusa.org
# # #