Ashley for the Arts Donates $10,000 to Davie County Schools' Arts Smart Festival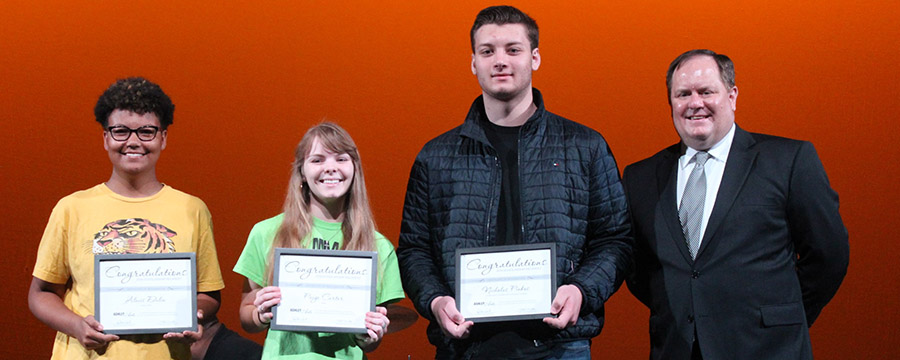 MOCKSVILLE, N.C. — Davie County Schools partnered once again with Ashley for the Arts for their 9th annual Arts Smart Festival held at the Davie County High School on April 27th. Clark Bunting, from Ashley Furniture Industries (Ashley) in Advance, presented Davie County Schools Interim Superintendent, Bill Steed, and Assistant Superintendent, Jinda Haynes, with a $10,000 donation for the School District. Additionally, each year Ashley for the Arts awards three students with a $500 scholarship for their artistic work throughout the school year and at the event. A special congratulations to this year's scholarship recipients: Nicholas Pinkos (choral arts, theatre arts and musical theatre), Paige Carter (band) and Alexis Dulin (visual arts).
The Arts Smart Festival featured student artists, singers, dancers, musicians and actors from all of the Davie County Schools Arts Education Departments. With help from the North Carolina Arts Council Grassroots grant, the event was able to welcome two guest artists this year. The Joe Robinson Jazz Quartet performed during the opening ceremony and provided tips on playing jazz music, and Senora Richardson Lynch, a Native American potter, led a hands-on workshop in making clay turtles.
Following the check presentation, Ashley presented the annual Ashley for the Arts 'Humanitarian Award' which was conceptualized to honor the individuals who go above and beyond helping to make their school and community a better place. These people are true role models who inspire those around them to become better human beings. This year, Jimmy Snow was presented with this prestigious award. Below is the Selection Committee's write-up for Jimmy's Humanitarian Award:
"Jimmy has worked for 30 years for the state of North Carolina and has worked for the NCDOT in facilities and maintenance. He has dedicated countless hours volunteering and supporting the arts. Husband to Elaine Snow, who is retiring from the choral program at Davie High, Jimmy has been working behind the scenes throughout Elaine's career, especially during her 19 years at Davie High. Jimmy is always willing to work backstage during concerts. He moves risers and videos concerts, he has helped build and tear down sets for musicals, he has chaperoned all of the Vocal Ensemble performance trips and has assisted the tour director on most of them. Jimmy has organized and prepared all of the food for the Madrigal Dinner performances, including leading other volunteers and handling all of the clean-up afterwards. In addition, he helps with the Vocal Ensemble end of year dinner. All of this work is done quietly but dependably behind the scenes, without the spotlight, without fanfare. We are so grateful for Jimmy's support of the arts, and specifically for his dedication to the choral arts over so many years!
The students and staff at Davie County Schools would like to express our appreciation and recognize Mr. Jimmy Snow as the 2019 Ashley for the Arts Humanitarian."
--
Ashley for the Arts is a non-profit, family-friendly initiative that provides communities with affordable access to world class art, music and entertainment while supporting a wide range of non-profits. Conceptualized by Ashley Furniture Industries in 2009, Ashley for the Arts events take place annually in Florida, North Carolina and Wisconsin.
Ashley Furniture Industries, Inc. (Ashley) feels that every person deserves more value for their money. Established in 1945, Ashley is the largest manufacturer of home furnishings in the world, and was named one of America's Best Employers by Forbes in 2017. From design through fulfillment, Ashley is committed to delivering the world's best home furnishing values, selection and service, and earning the loyalty and trust of its customers every day. Visit Ashley online at www.ashleyfurniture.com and "like" Ashley Furniture Industries, Inc. on Facebook.
Ashley HomeStore is committed to being your trusted partner and style leader for the home. This commitment has made Ashley HomeStore the largest retail furniture store brand in North America and one of the world's best-selling furniture store brands with more than 925 locations in 54 countries.
Start designing your dream home today. Visit Ashley HomeStore online at www.ashleyhomestore.com. "Like" Ashley HomeStore on Facebook, follow us on Twitter and Instagram , or see our design-focused boards on Pinterest.
###