Ashley Furniture Industries Hosts Career Day for Area Students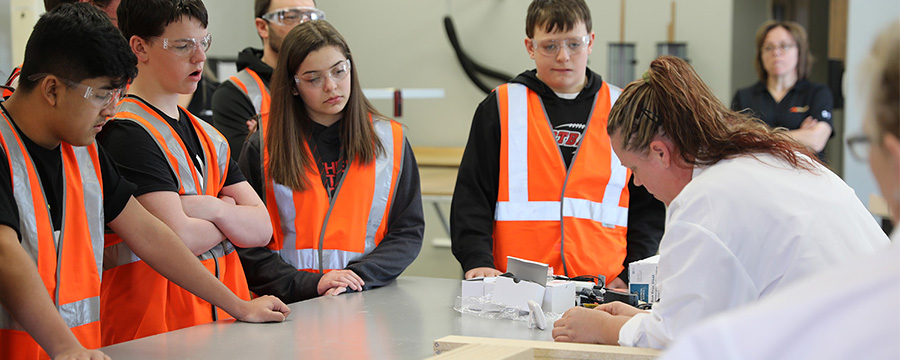 ARCADIA, Wis. – Throughout the month of March, Ashley Furniture Industries, Inc. (Ashley) hosted onsite Career Day events to inspire students about their futures and expose them to a variety of career opportunities available throughout the company. The Arcadia Ashley facility hosted more than 350 eighth grade students from Arcadia, Arcadia Holy Family, Blair-Taylor, Gale-Ettrick-Trempealeau, Independence, Independence St. Peter and Paul, and Whitehall School Districts.
Students participated in a panel discussion focused on one of four career clusters including business, creative arts, engineering, or machine and maintenance. In the panel discussions, students heard from six professionals regarding their skills, job duties, work environment and educational background. More than 25 departments participated including Automation Engineering, Information Technology, Supply Chain Planning, CNC Programming, Product Design, Electromechanical Maintenance and many more.
"Career Day is a great opportunity not only for local students, but for myself as well," said Manufacturing Engineer, Eric Kramer. "My colleagues and I love the opportunity to interact with the students and describe our respective jobs and backgrounds, while also fostering an interest in STEM related education and career paths."
After students heard from industry professionals, those who attended the engineering or machine and maintenance cluster toured the facility where they saw first-hand what these careers look like on a day-to-day basis. Students saw how automation improves manufacturing processes, explored a semi-cab, and learned how products go from a drawing to production. Students who participated in the business or creative arts cluster tried their hand in the field by participating in career-focused activities including designing inspiration boards, creating slogans, and reading blue-prints.
"Ashley's 8th Grade Career Day was an extremely beneficial experience for our students," said Rob Vanderloop, Independence Elementary and Middle School Principal. "This event blends well with our 8th Grade Academic and Career Planning program. We are grateful to Ashley for the opportunities they provide our students."
Ashley has developed a number of partnerships with K-12 as well as post-secondary schools over the past five years. Combined efforts have included investing in STEM-based learning opportunities, scholarships, providing students with exposure to technical trades and career opportunities, instructor training, and robotics programs. Ashley believes, that as manufacturing continues to advance and the global economy evolves, training and educating our current and future workforce will be a crucial part of our country's success.
--
Ashley Furniture Industries, Inc. (Ashley) feels that every person deserves more value for their money. Established in 1945, Ashley is one of the largest manufacturers of home furnishings in the world, and was recently named one of America's Best Employers by Forbes in 2017. From design through fulfillment, Ashley is committed to delivering the world's best home furnishing values, selection and service, and earning the loyalty and trust of its customers every day. Visit Ashley online at www.ashleyfurniture.com and "like" Ashley Furniture Industries, Inc. on Facebook.
# # #