Ashley for the Arts Donates Over Half a Million Dollars to Local Nonprofits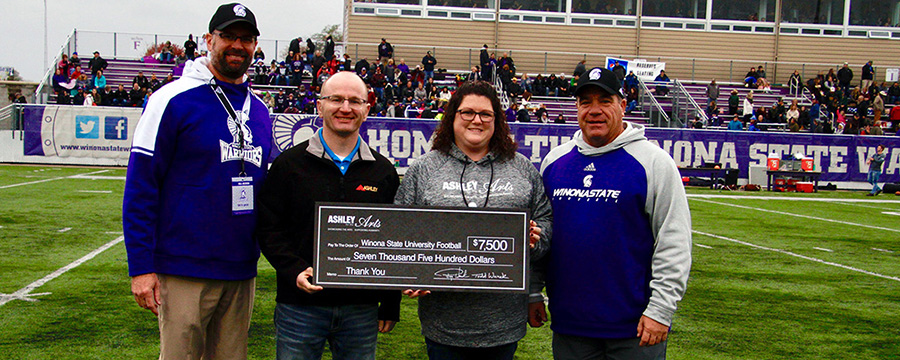 Arcadia, Wis. – Ashley for the Arts, a non-profit organization that raises funds in support of the arts, education, children's charities and medical research, hosted more than 70,000 visitors at their 10th anniversary music and art festival in Arcadia's Memorial Park last August. The festival raised a record-breaking $535,500 in support of more than 50 participating schools and non-profit organizations. Throughout the winter months, the Ashley for the Arts committee presented the recipient organizations with their donations and honored 15 individuals for their dedication and support in their local communities.
Donations were awarded to participating organizations, based on involvement. Each group raises funds per volunteer that assists at the event as well as additional funds for schools who perform at the event. This year's event supported the following schools and school districts: Alma, Alma Center-Humbird-Merrillan, Aquinas, Arcadia, Black River Falls, Blair-Taylor, Cochrane-Fountain City, Cotter, Eleva-Strum, Galesville-Ettrick-Trempealeau, Holmen, Holy Family, Hope Lutheran, Independence, Logan, Osseo-Fairchild, Saints Peter & Paul, St. Boniface, St. Matthews, West Salem, Whitehall, Winona and Winona State.
In addition, Ashley for the Arts supported the following non-profit organizations: American Cancer Society, Arcadia Chamber of Commerce, Arcadia Lion's Club, Arcadia Lioness Club, Ashley's Angels, Blue Angels Gymnastics, Owen-Withee-Curtiss Fire Explorer Post 521, Frenchville Cloverleaves 4H, Independence Power Lifting, Merrick Park, Montana Ridge Pioneers 4H, Rita Tranberg Memorial, Team Vogel vs. Cancer, Titans Wrestling, Trempealeau County Fair, Trempealeau County Humane Society, Trempealeau County Robotics, Troop 43 (Boy Scouts), United for a Dream, USAA Charity and Venturing Crew 13 (Boy Scouts).
Ashley for the Arts created the Humanitarian Award to honor people who go above and beyond to make their schools and communities better. The award recognizes people who are role models and inspire others to become better human beings. Each year, participating school districts select a Humanitarian recipient and acknowledge them during the Ashley for the Arts check presentation ceremony. This year's Humanitarian recipients included: Vicki Schultz (Alma), Mary Mandigo (Alma Center-Humbird-Merrillan), Regina Quandt (Arcadia), Dr. Al and Jeanette Lahmayer (Black River Falls), Sandy Serum (Blair-Taylor), Peter Horton (Cotter), Norm and Linda Dodge (Eleva-Strum), Lynette Speltz (Independence), Del Deberg (Melrose-Mindoro), Tera Simpson (Osseo-Fairchild), Amanda Bentor (St. Matthews Catholic School), Becky Poulos (Whitehall) and Bill and Jill Schmidt (Winona).
Ashley for the Arts would also like to acknowledge and provide additional thanks to the surrounding emergency service organizations for their participation in the event. These groups play a significant role in keeping the event safe throughout the weekend: Arcadia Police Department, Trempealeau County Sheriff's Department, Independence Police Department, Arcadia Fire Department, Dodge Fire Department and Arcadia Ambulance Service.
This year, the festival will take place on August 8, 9 and 10 at Memorial Park in Arcadia, Wis. Headlining entertainers Lady Antebellum, 3 Doors Down, Brothers Osborne, 38 Special, X Ambassadors, Wisconsin's own Chris Kroeze and more have already been announced. To learn more about Ashley for the Arts and to receive event updates, visit www.ashleyforthearts.com or "like" Ashley for the Arts on Facebook.
---
Ashley for the Arts is a non-profit initiative that provides the entire family with world class entertainment, art, exercise and family fun for a remarkably low cost. It is also one of Wisconsin's largest charity events, raising $535,500 in 2018 for more than 50 non-profit organizations, including participating schools, children's charities and medical research. This music and arts festival was conceptualized and established by Ashley Furniture Industries, Inc. (Ashley) in 2009. Today, more than 70,000 people attend the event held in Arcadia, Wisconsin's Memorial Park.
For more information on Ashley for the Arts, visit www.AshleyfortheArts.com. "Like" Ashley for the Arts on Facebook or follow us on Twitter at @AshleyfortheArt.
###