Ashley Furniture HomeStore Opens New Store in Hobart and Donates to Tasmanian Bushfire Relief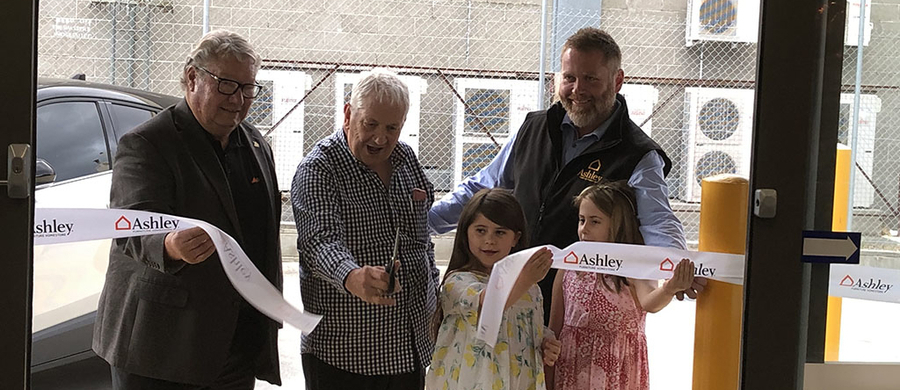 Hobart, Tasmania, Australia
On February 20th, Ashley Furniture HomeStore in Hobart, Australia celebrated the Grand Opening and Ribbon Cutting of its new 20,000 sq. ft. showroom located at 156 Main Road, Moonah Tasmania. Special guests included the Founder and Chairman of Ashley Furniture Industries, Inc., Ron Wanek, who assisted in cutting the ribbon to celebrate the opening. President of Ashley's International Sales, Chuck Spang and several local politicians and business owners also joined employees and guests at the event.
The new store is owned by Ashley Furniture HomeStore Licensee, Peter Shepherd, managed by Troy Turner and also supported by Operations Manager, Nathan King, who managed the renovation of the store into a world class showroom. This location is the first Ashley Furniture HomeStore for Shepherd and is also the first in the state of Tasmania. The new store will employ approximately 12 people and expected to expand quickly in the months ahead. Ashley Furniture HomeStore, the number one selling furniture store brand in the world, has more than 900 locations worldwide.
South of Hobart, the state of Tasmania, has been suffering severe bushfires since December. In conjunction with their grand opening, Ashley Furniture HomeStore-Hobart is honored to announce a donation of $12,000 to the Tasmanian Bushfire Appeal.
We are thrilled to bring the number one selling furniture store brand to Hobart, offering our local customers access to a global brand while delivering on quality, value, style and service, stated Shepherd. We are also very honored to make this furniture donation to those who were impacted by this local devastation. We understand that we can't replace the sentiments lost, but we hope that this donation will help begin their rebuilding process.
The store's interior architectural design includes high attention to detail in the multiple different styled areas, a meandering walkway through the showroom, unique and inspiring wall finishes and a Dream Destination area offering a large range of mattresses. The showroom features complete lifestyle vignettes, down to the final detail of lighting, rugs, wall art and shoppable accessory boutiques. Product categories include bedroom, dining room, upholstery, occasional tables, home office, recliners, mattresses and accessories. Technology enhances the environment, incorporating various elements to improve the customer shopping experience. To celebrate our grand opening, we are offering a 20% discount to our customers for the first five days.
Ashley Furniture HomeStore hours are: Monday through Friday 9:00 am – 5:30 pm, Saturday 10:00 am – 4:00 pm and Sunday 11:00 am – 4:00 pm. Follow Ashley Furniture HomeStore Tasmania on Facebook to stay up to date with promotions and events.
Ashley HomeStore is committed to being your trusted partner and style leader for the home. This commitment has made Ashley HomeStore the No. 1 furniture retailer in the U.S. and one of the world's best-selling furniture store brands with more than 800 locations in 45 countries. Start designing your dream home today. Visit Ashley HomeStore online at www.ashleyhomestores.com.Like Ashley HomeStore on Facebook, follow us on Twitter and Instagram, or see our design-focused boards on Pinterest.
Ashley Furniture Industries, Inc. (Ashley) feels that every person deserves more value for their money. Established in 1945, Ashley is one of the largest manufacturers of home furnishings in the world, and was recently named one of America's Best Employers by Forbes in 2017. From design through fulfillment, Ashley is committed to delivering the world's best home furnishing values, selection and service, and earning the loyalty and trust of its customers every day. Visit Ashley online at www.ashleyfurniture.com and like Ashley Furniture Industries, Inc. on Facebook.