Ashley's Angels Delivers Gifts and Holiday Cheer to More Than 1,700 Children in Need

The organization raised over $400,000 in Mississippi, North Carolina, Pennsylvania and Wisconsin throughout 2019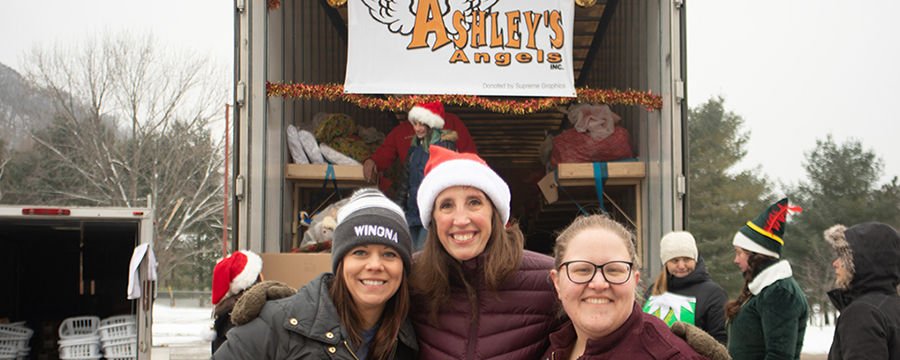 ARCADIA, Wis. – Ashley's Angels, a non-profit organization led by Ashley Furniture Industries, Inc. (Ashley), had a busy year of fundraising and hosting a variety of community events. The organization uses their funds annually to provide food, clothing and special gift requests for children in need during the holiday season. Ashley's Angels was able to make a significant impact to the communities surrounding Ashley facilities in Mississippi, Wisconsin, Pennsylvania and North Carolina, with a total of 1,706 receiving children and over $400,000 raised.
Each year in early December, the organization holds shopping days where volunteers help shop for the children, filling giant gift bags with new coats, boots, clothes, toys and more. All of the gift bags are then loaded onto an Ashley semi where they await their delivery - just in time for Christmas.
"We had an outstanding year for fundraising, I am so proud of the Buck-A-Week program, which alone raised over $13,000 from Ashley employees' paychecks. This generosity lets us know that they believe in our organization's mission, providing children with a better holiday," said Jessica Tilley, Ashley's Angels of North Carolina. "In just three days, we shopped for 493 children, this was our biggest year yet. We hope that we are able to continue to help the community for many years to come."
The all-volunteer organization works with local churches and schools to identify families in need of extra assistance. Every child in the program, along with his or her sibling(s), receives winter apparel and shoes (as needed), clothes, a blanket, and a special Christmas present. Each child's family also receives all the necessary grocery items to cook a delicious holiday meal.
Ashley's Angels was established by an Ashley truck driver from Mississippi in 1997 after he heard about a girl who was living in a car with her mother. The Ashley driver recruited help from fellow drivers to provide food, clothing, and additional assistance by helping the family find proper housing before Christmas. Seeing the impact their efforts had made in this family's life encouraged those involved to form Ashley's Angels.
Ashley's Angels encourages anyone interested in volunteering to sign up online at www.ashleyangels.org under the 'volunteer' tab or email info@ashleyangels.org with their contact information.
Ashley's Angels Video: https://www.youtube.com/watch?v=8t-35KUAOuI
--
Ashley's Angels is an all-volunteer non-profit organization that provides food, clothing, blankets, and special gift requests for children in need each year. The organization has generated over $3,000,000 in donations and benefited more than 20,000 children in Mississippi, Wisconsin, Pennsylvania and North Carolina since 1997. The community patrons of Ashley's Angels, including local businesses and volunteers, partner with area schools to provide necessities to children who need it most. For more information on Ashley's Angels and upcoming events, we invite you to visit www.ashleyangels.org. And for those of you who are interested, we encourage you to volunteer at www.ashleyangels.org/contact-us.html.
Ashley Furniture Industries, Inc. (Ashley) feels that every person deserves more value for their money. Established in 1945, Ashley is the largest manufacturer of home furnishings in the world, and was named one of America's Best Employers by Forbes in 2017. From design through fulfillment, Ashley is committed to delivering the world's best home furnishing values, selection and service, and earning the loyalty and trust of its customers every day. Visit Ashley online at www.ashleyfurnitureindustriesinc.com and "like" Ashley Furniture Industries, Inc. on Facebook.
###