Ashley Furniture Celebrates National Wreaths Across America Day by Hosting Wreath Laying Ceremony at Soldier's Walk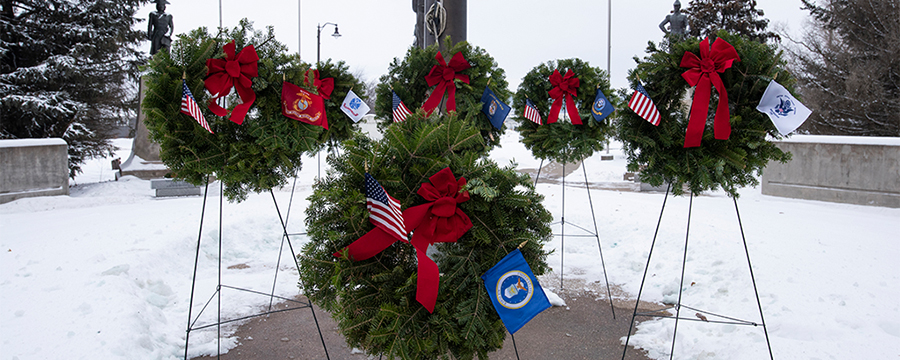 ARCADIA, Wis. – On Saturday, December 14th, Ashley Furniture Industries, Inc. (Ashley) hosted a free and public ceremony with Wreaths Across America to honor and remember our veterans for their service. The event took place at Soldiers Walk in Arcadia's Memorial Park, one of the premier war memorials in the United States outside of Washington, D.C. This is the fourth year Ashley has sponsored this event to commemorate National Wreaths Across America Day.
The mission of Wreaths Across America is to REMEMBER the fallen, HONOR those that serve and their families, and TEACH the next generation about the value of freedom. This year's theme was "Everyone plays a part"- a recommendation made by ten-year-old "Mighty" Miles Worcester, the grandson of the founders of Wreaths Across America, Morrill and Karen Worcester. Last May, while in Washington D.C. for an event, Miles saw a U.S. Service member in uniform at the hotel where he was staying. As he always does, Miles walked up to the gentleman, reached out to shake his hand and thanked him for his service. And his response was simple and impactful: "Thank you…everyone plays a part." Miles went directly to his grandmother, WAA Executive Director Karen Worcester, to tell her that he believed this statement would be the perfect theme because, as he said, "those serving in the military are doing their part, but it is our part as Americans to remember and honor them, and that's what Wreaths Across America does."
During the ceremony, veterans, community members and Ashley volunteers laid wreaths at each of the war memorials along Soldiers Walk. Simultaneously, thousands of volunteers and sponsors in over 1,600 additional locations across the country, at sea, and abroad held their own wreath-laying ceremonies to honor the contributions and sacrifice of U.S. veterans.
Leading up to this day, beginning in Maine, a parade of trucks traveled down the East Coast on a mission to lay remembrance wreaths at the grave sites of veterans at Arlington National Cemetery in Arlington, Virginia, and other Veterans' cemeteries along the way. As part of the "Honor Fleet," Ashley Distribution Services proudly sent three Ashley trucks and trailers to deliver wreaths at 18 locations across Pennsylvania, Louisiana, Texas and California. This is the third year the organization has assisted in delivering wreaths.
---
Wreaths Across America is a 501(c)(3) nonprofit organization founded to continue and expand the annual wreath-laying ceremony at Arlington National Cemetery begun by Maine businessman Morrill Worcester in 1992. The organization's mission – Remember, Honor, Teach – is carried out in part each year by coordinating wreath-laying ceremonies in December at Arlington, as well as at hundreds of veterans' cemeteries and other locations in all 50 states and beyond.
For more information or to sponsor a wreath please visit www.wreathsacrossamerica.org.
Ashley Furniture Industries, Inc. feels that every person deserves more value for their money. Established in 1945, Ashley is the largest manufacturer of home furnishings in the world, and was named one of America's Best Employers by Forbes in 2017. From design through fulfillment, Ashley is committed to delivering the world's best home furnishing values, selection and service, and earning the loyalty and trust of its customers every day. Visit Ashley online at www.ashleyfurnitureindustriesinc.com and "like" Ashley Furniture Industries, Inc. on Facebook.
Ashley Distribution Services, LTD was established in 1974 by Ashley Furniture Industries, Inc. and today is one of the industry's largest private fleets. Ashley Distribution Services delivers Ashley Furniture to Ashley HomeStores and customers throughout the U.S. With a growing fleet, Ashley Distribution Services continues to expand beyond delivering furniture. Visit Ashley Distribution Services online at www.ashleydistributionservices.com.
###