Ashley Furniture's Flagship Upholstery Facility Breaks Ground on Largest Expansion in History

Over 430,000 sq. ft. addition will feature an E-Commerce Fulfillment and Distribution Center and new transportation maintenance facility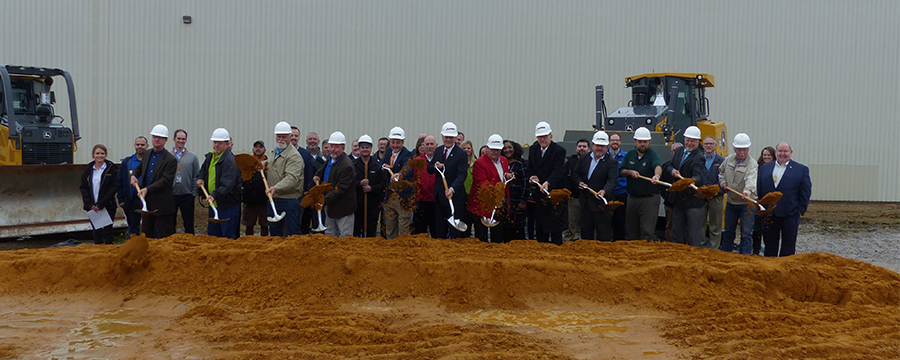 ECRU, Miss. – December 6, 2019 – Today, Ashley Furniture Industries, Inc. (Ashley) celebrates the groundbreaking of the company's largest expansion of the Ecru manufacturing and distribution facility. Governor Phil Bryant joined city officials, community leaders and company executives at the ground-breaking site of the 437,794 sq. ft. addition. The newest expansion will feature an E-Commerce Fulfillment and Distribution Center as well as a new transportation maintenance facility.
"Northeast Mississippi's furniture industry is a strong economic driver throughout the region, employing thousands of Mississippians – many of whom are employed at Ashley Furniture," Gov. Phil Bryant said. "Ashley has had tremendous success at its Ecru facility, and the addition of 100 more jobs for the area's skilled workforce will help ensure the company enjoys many more years of growth and success in Pontotoc County."
To enhance Ashley's ability to fulfill E-Commerce orders, which is an emerging demand, the addition will allow Ashley a better "speed to market" approach by storing more furniture on-site to better serve the regions customers. It also allows for the storage of the increased product from the company's Saltillo (mattress) and Ripley (motion upholstery) production facilities. Additionally, the largest private fleet in the industry, Ashley Distribution Services, will build a new transportation maintenance facility to keep their trucks serviced and prepared for their journey to our customers.
"Ashley Furniture has had a presence in Mississippi for 25 years, starting with 129,000 square feet of facility space to begin Ashley's production of upholstery furniture," stated Ron Wanek, Founder and Chairman, Ashley Furniture Industries, Inc. "Since then, we have expanded our Ecru facility 14 times, creating a 2.4 million square foot manufacturing and distribution footprint. These expansions are a testament to our regional support, great employees and customers, and Ashley's position in serving a global market."
"When Ron and I first visited the Ecru facility in 1994, we knew within minutes that this location and this city were a perfect place to begin our endeavor into the upholstery category," said Todd Wanek, President and CEO, Ashley Furniture Industries, Inc. "We have amazing employees, amazing talent, and we have continued to manufacture beautiful home furnishings here for our growing customer base. We look forward to this expansion allowing us to greater serve the region."
Since 1994, Ashley Furniture's manufacturing workforce in Mississippi has grown to nearly 3,600 employees. Today's announcement reflects continued growth for Ashley Furniture to better serve the region and our global customers.
---
Ashley Furniture Industries, Inc. (Ashley) feels that every person deserves more value for their money. Established in 1945, Ashley is the largest manufacturer of home furnishings in the world, and was named one of America's Best Employers by Forbes in 2017. From design through fulfillment, Ashley is committed to delivering the world's best home furnishing values, selection and service, and earning the loyalty and trust of its customers every day. Visit Ashley online at www.ashleyfurnitureindustriesinc.com and "like" Ashley Furniture Industries, Inc. on Facebook.
Ashley HomeStore is committed to being your trusted partner and style leader for the home. This commitment has made Ashley HomeStore the largest retail furniture store brand in North America and one of the world's best-selling furniture store brands with more than 1,000 locations in 58 countries.
Start designing your dream home today. Visit Ashley HomeStore online at www.ashleyhomestore.com. "Like" Ashley HomeStore on Facebook, follow us on Twitter and Instagram , or see our design-focused boards on Pinterest.
###