Ashley Furniture Partners with Gateway Technical College and Area School Districts to Prepare Students for New-Age Careers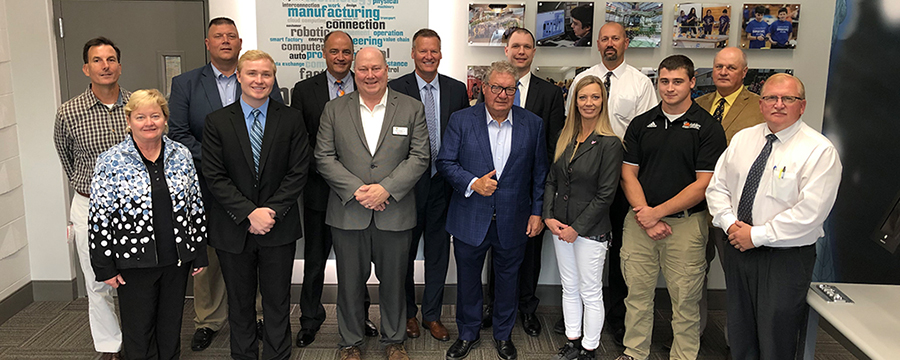 ARCADIA, Wis. – In today's global economy, businesses of all kinds are seeking an answer for how to recruit and retain a highly skilled and trained workforce. Ashley Furniture Industries (Ashley) along with leaders from Gateway Technical College, LAB Midwest and the Trempealeau Valley Cooperative 2.0 (TVC 2.0) have developed a collaborative partnership focused on providing technical skill training to students at all levels of education in search of the answer to this question.
In September, leaders from industry and education arrived at Ashley's Advanced Technology Maker Center (ATMC) in Arcadia to continue the development of Industry 4.0 skillsets for both students and adults to prepare them for high-demand careers. Industry 4.0, also known as the Fourth Industrial Revolution, is the enhancement of computers and automation with smart and autonomous systems fueled by data and machine learning.
The ATMC, a $2 million investment, was designed to provide cutting-edge, technical educational opportunities to Ashley employees and local high school students. It features an e-learning and hands-on training curriculum offering over 300 courses, including a custom-built 180-hour course, specific to the needs of Ashley maintenance and automation employees. The facility also features a Haas mill and lathe, a 3D printer, and FANUC and Yaskawa robot trainers.
Over the past three years, Ashley has developed a partnership with the TVC 2.0, comprised of Arcadia, Blair-Taylor, Independence and Whitehall school districts. Last year, Ashley unveiled its $3 million Mobile Skills Laboratory (MSL) to the four districts, fully equipped with curriculum and advanced training technology. Combined with the technical expertise from LAB Midwest, students and educators are learning Industry 4.0 skills that include automation, robotics, smart manufacturing technology, programmable logic control, data analytics, mechanical drives and much more.
"It is extremely important that the development of Industry 4.0 curriculum and experiential learning matches the pace set by industry," said Matt Kirchner, President of LAB Midwest. "Following the example of early adopters like Ashley, Wisconsin's educators are leading the nation in creating course content, learning opportunities, degrees and certifications that incorporate all six Building Blocks of Industry 4.0 learning."
Gateway Technical College, one of the leading institutions in the education of Industry 4.0, has applauded Ashley's efforts and plans to recognize the four courses of Mechatronics, Industrial Control Systems, Industrial Robotics and Industrial Internet of Things (IIoT) taken place in the MSL and ATMC. Through these courses, students will receive an accredited "Introductory to Industry 4.0" certification. The completion of the four-course certification will save students over $1,000 in tuition
###
costs and provides the opportunity for individuals to begin working towards an associate degree in Advanced Manufacturing Technology through Gateway. As employers are continuously seeking a highly skilled workforce, this initiative will allow students to enter the workforce at a much faster rate.
"Our students have a tremendous opportunity as they explore and develop their career paths," said Lance Bagstad, Superintendent of Arcadia School District. "The Introductory to Industry 4.0 certification through Gateway Technical College is free to our students and will allow them to unlock their true potential."
To better prepare students for higher education and to become career ready, the Wisconsin Department of Public Instruction (DPI) has continued to support and strengthen its Career & Technical Education (CTE) programs. Each student in Wisconsin who completes the "Introductory to Industry 4.0" certification, their school district will be eligible to receive a $1,000 CTE Incentive Grant. This grant is intended to grow CTE programming through industry-recognized certifications to grow a skilled workforce in Wisconsin.
Another opportunity that has recently been created to provide Industry 4.0 skills is the Smart Automation Certification Alliance (SACA). It provides different levels of Industry 4.0 certification that are affordable and accessible through the MSL and ATMC.
Ashley Furniture has developed a number of partnerships with K-12 as well as post-secondary schools over the past five years. Combined efforts have included investing in STEM-based learning opportunities, scholarships, providing students with exposure to technical trades and career opportunities, instructor training, and robotics programs. As manufacturing continues to advance and the global economy evolves, training and educating our current and future workforce will be a crucial part of our country's success.
--
Ashley Furniture Industries, Inc. (Ashley) feels that every person deserves more value for their money. Established in 1945, Ashley is one of the largest manufacturers of home furnishings in the world, and was named one of America's Best Employers by Forbes in 2017. From design through fulfillment, Ashley is committed to delivering the world's best home furnishing values, selection and service, and earning the loyalty and trust of its customers every day. Visit Ashley online at www.ashleyfurnitureindustriesinc.com and "like" Ashley Furniture Industries, Inc. on Facebook.
Gateway Technical College's mission is to deliver industry-focused education that is flexible, accessible and affordable for our diverse community. The college collaborates with communities in Kenosha, Racine and Walworth counties to ensure economic growth and viability by providing education, training, leadership and technological resources to meet the changing needs of students, employers and communities.
LAB Midwest is all about securing the American Dream for the future of advanced manufacturing and industry by connecting educators with the best curriculum, training equipment and e-learning for technical education. With best-in-class suppliers, we support schools and employers with a wide range of educational materials, including advanced manufacturing, automation and robotics, mechatronics, Industry 4.0, welding, CNC machine, fluid power, engineering, process control, heavy equipment operation and more.