HPU Celebrates Grand Opening of the Wanek School of Natural Sciences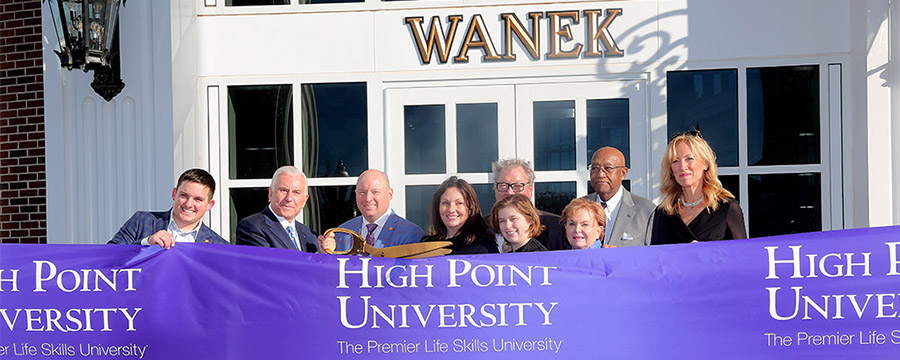 HIGH POINT, N.C., October 17, 2019 – High Point University honored the Wanek family and celebrated the grand opening of its newest facility, the Wanek School of Natural Sciences, on Oct. 17.
"We are here to celebrate the opening of this amazing facility that our faculty and students can engage in research, classroom collaboration and various community events, and to honor a family who represents the American dream", said HPU President Nido Qubein. "The Wanek family have been long time supporters and friends of HPU. We are incredibly grateful for their continued generosity."
The Wanek School of Natural Sciences is named in honor of Todd Wanek, the president and CEO of Ashley Furniture, and Karen Wanek, the board woman of Superior Fresh. They are parents of two High Point University graduates.
"I've been so blessed to be a part of the HPU community," said Todd Wanek. "We believe in the vision of HPU to prepare students for tomorrow. Our children received an amazing education here, so we are proud to continue our support."
Ashley Furniture, headquartered in Wisconsin, is the world's largest furniture manufacturing and distribution company. The company employs 30,000 people worldwide, remains a major presence at the High Point Market and has a manufacturing and distribution facility in Advance, North Carolina.
Superior Fresh raises Atlantic salmon and rainbow trout through sustainable agriculture. The water for the fish is filtered through a connecting greenhouse that grows a variety of leafy greens, both of which are sold within a 400-mile radius of company headquarters in Hixton, Wisconsin.
The Waneks are strong supporters of HPU. Ron Wanek, chairman of Ashley Furniture, and his wife, Joyce, have been previously honored with the naming of the R.G. Wanek Center. They are the parents of Todd Wanek.
"We are so grateful for the Wanek family's support to build this great space for our students," said Dr. Angela Bauer, founding dean of the Wanek School of Natural Sciences. "Our new facility provides our students with an amazing educational experience in state-of-the-art research labs and classroom spaces. The new facility will help us accommodate rapidly growing undergraduate programs in the natural sciences, while also allowing us to expand on the experiential learning opportunities for our students."
About the Wanek School of Natural Sciences
The $72 million, 128,000-square-foot facility features four stories of innovative lab and classroom space, as well as the Culp Planetarium. Students in biology, chemistry, physics, biochemistry and neuroscience began learning in the facility's new state-of-the-art laboratories at the start of this academic year. The programs complement HPU's graduate programs in pharmacy, physical therapy and physician assistant studies.
CONTACT: Katie Hamlin
Media Relations Manager
336-841-9811
At High Point University, every student receives an extraordinary education in an inspiring environment with caring people.® HPU, located in the Piedmont Triad region of North Carolina, is a liberal arts institution with 5,400 undergraduate and graduate students. It is ranked No. 1 by U.S. News and World Report for Best Regional Colleges in the South, No. 1 for Most Innovative Regional Colleges in the South and No. 1 for Best Undergraduate Teaching in the South. The Princeton Review named HPU in the 2020 edition of "The Best 385 Colleges" and on the Best Southeastern Colleges "2020 Best Colleges: Region by Region" list. HPU was recognized as a Great School for Business Majors and a Great School for Communication Majors. HPU was also recognized for Most Beautiful Campus (No. 18), Best College Dorms (No. 5) and Best Campus Food (No. 20). For nine years in a row, HPU has been named a College of Distinction with special recognition for business and education programs and career development, and The National Council on Teacher Quality ranks HPU's elementary education program as one of the best in the nation. The university offers 60 undergraduate majors, 64 undergraduate minors and 13 graduate degree programs. It is a member of the NCAA, Division I and the Big South Conference. Visit High Point University on the web at highpoint.edu.
Source: https://www.highpoint.edu/blog/2019/10/hpu-celebrates-grand-opening-of-the-wanek-school-of-natural-sciences/