Ashley Furniture Celebrates Grand Opening of Advanced Technology Maker Center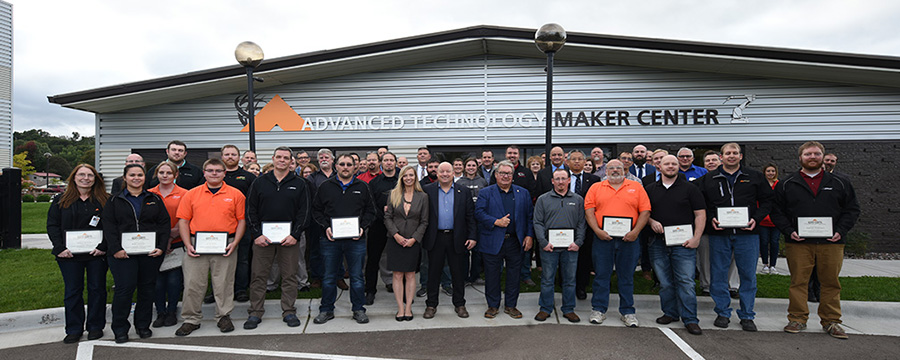 ARCADIA, Wis. – On Thursday, October 3, Ashley Furniture Industries, Inc. (Ashley) was joined by local school representatives and community members in celebration of the grand opening of the company's Advanced Technology Maker Center (ATMC). This state-of-the-art training facility offers a wide range of possibilities for Ashley Furniture employees, local schools, and the community.
As the manufacturing industry continues to evolve and advance, Ashley Furniture is dedicated to investing in its employees through this $2 million project. The ATMC was designed to provide educational opportunities to continuously improve processes, productivity and efficiencies, resulting in a better product to meet our customer's ever-changing expectations.
The ATMC provides an e-learning and hands-on training curriculum offering over 300 courses, including a custom-built 180-hour course, specific to the needs of Ashley maintenance and automation employees. By taking these courses, employees have the opportunity to receive an accredited "Introductory to Industry 4.0" certification. The completion of the four-course certification is equivalent to $1,000 in tuition costs and provides the opportunity for individuals to begin working towards an associate degree in Advanced Manufacturing Technology through Gateway Technical College.
The facility also features a Haas mill and lathe, a 3D printer, FANUC and Yaskawa robot trainers, and provides cutting-edge equipment and curriculum in the areas of electronics, manufacturing processes, automation and robotics through Amatol E-Learning and hands-on, competency-based trainers.
"We are a growth-focused company," said Todd Wanek, President and CEO of Ashley Furniture Industries, Inc. "Our employees are the key to our success and we want to provide the very best opportunities that allow them to grow their careers with Ashley."
This facility is more than a training center with a multitude of events happening throughout the year including summer camps for kids, technical college and university instructor summits, K-12 teacher training, and so much more!
--
Ashley Furniture Industries, Inc. (Ashley) feels that every person deserves more value for their money. Established in 1945, Ashley is one of the largest manufacturers of home furnishings in the world, and was named one of America's Best Employers by Forbes in 2017. From design through fulfillment, Ashley is committed to delivering the world's best home furnishing values, selection and service, and earning the loyalty and trust of its customers every day. Visit Ashley online at www.ashleyfurniture.com and "like" Ashley Furniture Industries, Inc. on Facebook.
# # #