Ashley Furniture Employees Make Significant Donation to Le Bonheur and St. Jude Children's Hospitals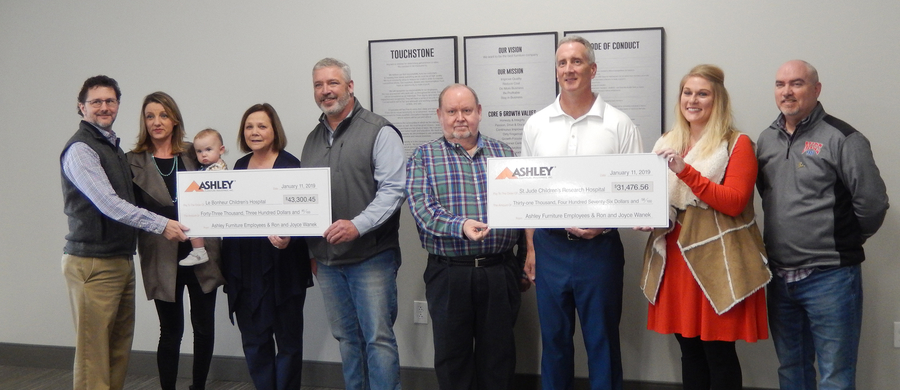 Ashley's Ecru, Verona, Ripley and Saltillo Mississippi locations donated nearly $70,000 through their "Dollar a Week" program
ECRU, Miss– Employees of Ashley Furniture Industries, Inc. (Ashley) in Mississippi are pleased to announce a donation of $38,300 to Le Bonheur's Children's Hospital. This donation, made possible through Ashley's "Dollar a Week" program, was raised through employee contributions from Ashley's Ecru, Verona, Ripley, and Saltillo, Mississippi locations to support one of the leading children's hospitals in the United States. This is the thirteenth-year Ashley employees have contributed to this great cause, totaling $195,830 to date.
Along with representation from Le Bonheur Children's Hospital, Mary Michael Kimbrough (a patient of Le Bonheur) and her family attended the check presentation. Kimbrough endured a surgery at just 7 months old to move her aorta, which was putting pressure on her windpipe, causing severe breathing issues. Thanks to Le Bonheur, she can now breathe properly. The family received a personalized tour of Ashley's Ecru facilities to learn more about where the supporting employees work, and how they manufacture world-class furniture.
The Dollar a Week program also supports St. Jude Children's Research Hospital. Today, Ashley employees also awarded $26,476 to one of the world's premier pediatric cancer research centers. This money will help pay for children diagnosed with cancer to go through treatment at no cost. Since 2012, Ashley's Mississippi employees have contributed $147,107.
Many operations at St. Jude, including research and treatments, are funded solely by personal donations, including businesses and individuals. Because of the amazing hearts of the Ashley employees, patients and families at St. Jude Children's Research Hospital never receive a bill for treatment, travel, housing, or food. All parents worry about is spending precious time with their children, said Colby Maxwell, Regional Development Representative, St. Jude Children's Research Hospital. Our founder, Danny Thomas once said, 'I'd rather have a million people give me a dollar than one person give me a million. That way you've got a million people involved in this mission.' What amazing and life-changing work being done here. On behalf of our patients and their families, thank you!
Our employees should feel very proud today for their impactful donations to these organizations. It's truly remarkable to see their continued support and commitment year after year, said Ron Wanek, Founder and Chairman, Ashley Furniture Industries, Inc. Our company, family, and employees care deeply about Le Bonheur and St. Jude Children's Hospital's mission to find cures for childhood diseases.
In addition to these employee contributions, Ron Wanek, Founder and Chairman of Ashley Furniture Industries, and his wife Joyce made a personal donation of $5,000 to each organization.
Ashley Furniture Industries, Inc.
(Ashley) feels that every person deserves more value for their money. Established in 1945, Ashley is the largest manufacturer of home furnishings in the world, and was recently named one of America's Best Employers by Forbes in 2017. From design through fulfillment, Ashley is committed to delivering the world's best home furnishing values, selection and service, and earning the loyalty and trust of its customers every day. Visit Ashley online at
www.ashleyfurnitureindustriesinc.com
and
like
Ashley Furniture Industries, Inc. on
Facebook
.
Ashley HomeStore is committed to being your trusted partner and style leader for the home. This commitment has made Ashley HomeStore the No. 1 furniture retailer in the U.S. and one of the world's best-selling furniture store brands with more than 850 locations in 45 countries. Start designing your dream home today. Visit Ashley HomeStore online at www.ashleyhomestore.com.Like Ashley HomeStore on Facebook, follow us on Twitter and Instagram , or see our design-focused boards on Pinterest.
About Le Bonheur Children's Hospital
Le Bonheur Children's Hospital in Memphis, Tenn., treats more than 250,000 children each year in a 255-bed hospital that features state-of-the-art technology and family-friendly resources. Nationally recognized, Le Bonheur has been named by U.S. News & World Report as a Best Children's Hospital. Serving as a primary teaching affiliate for the University Tennessee Health Science Center, the hospital trains more pediatricians than any other hospital in the state. For more information, please call (901) 287-6030 or visit www.lebonheur.org. Follow us on Twitter at twitter.com/lebonheurchild or like us on Facebook at facebook.com/lebonheurchildrens.
About St. Jude Children's Research Hospital
St. Jude Children's Research Hospital is leading the way the world understands, treats and cures childhood cancer and other life-threatening diseases. It is the only National Cancer Institute-designated Comprehensive Cancer Center devoted solely to children. St. Jude is ranked the No. 1 pediatric cancer hospital by U.S. News & World Report. Treatments developed at St. Jude have helped push the overall childhood cancer survival rate from 20 percent to 80 percent since the hospital opened more than 50 years ago. St. Jude freely shares the breakthroughs it makes, and every child saved at St. Jude means doctors and scientists worldwide can use that knowledge to save thousands more children. Families never receive a bill from St. Jude for treatment, travel, housing and food — because all a family should worry about is helping their child live. To learn more, visit stjude.org or follow St. Jude on social media at @stjuderesearch