Ashley HomeStore to Launch New Product Line at Pandoras Hometown Country Event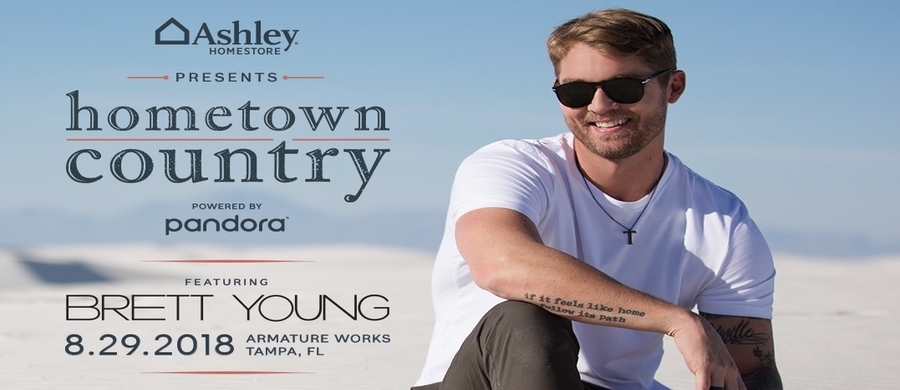 Following the event, over $15,000 of product will be donated to non-profit organization, A Kid's Place
TAMPA, Fla. - Ashley HomeStore (Ashley) is thrilled to announce that through their partnership with Pandora, they are hosting Hometown Country, starring country music artist Brett Young. This concert will be hosted in Tampa, where the company's retail headquarters are located, at Tampa Armature Works on August 29th at 7:00pm. The event is free and open to the public with an RSVP which can be made on the link below. This is a 21+ event, and a valid ID must be presented prior to entry. (Http://ashpresentshometowncountrysplashthat.com).
Hometown Country will feature Ashley HomeStore's newest product lifestyle, mane + mason™. A variety of products, specifically comfortable lounge-style seating, will be displayed throughout the venue.
mane + mason™ is a modern approach to classic farmhouse design, it features sleek clean lines with a cozy, warm and natural farmhouse aesthetic. The product line includes everything needed to furnish any room in the home, including dining room, entertainment, home office, accessories, bedroom and living room.
We are so excited to invite guests to this unique event, allowing them to learn more about our Ashley HomeStore brand and our products, said Kelly Davis, Sr. Director, Marketing Strategy. Ashley HomeStore is dedicated to providing the best value to our customer on the latest trends, which is why mane and mason™ is a great addition to our lifestyle assortment.
After the event, Ashley will donate all of the furniture showcased throughout the venue, to A Kid's Place-Tampa Bay, a donation of more than $15,000. A Kid's Place Tampa Bay is a unique non-profit organization in Tampa, providing foster care and a loving home for abused, neglected, and abandoned children.
We can't thank Ashley HomeStore enough for their generosity! The furniture that they are so graciously donating helps create a welcoming and comfortable home where brothers and sisters can begin to heal. It is with the help and support of wonderful partnerships like Ashley HomeStore that allows us to provide a safe, loving, and nurturing home for foster children, said Brad Gregory, CEO, A Kid's Place.
Ashley HomeStore is committed to being your trusted partner and style leader for the home. This commitment has made Ashley HomeStore the No. 1 furniture retailer in the U.S. and one of the world's best-selling furniture store brands with more than 800 locations in 45 countries. Start designing your dream home today. Visit Ashley HomeStore online at www.ashleyhomestores.com.Like Ashley HomeStore on Facebook, follow us on Twitter and Instagram, or see our design-focused boards on Pinterest.
Ashley Furniture Industries, LLC (Ashley) feels that every person deserves more value for their money. Established in 1945, Ashley is one of the largest manufacturers of home furnishings in the world, and was recently named one of America's Best Employers by Forbes in 2017. From design through fulfillment, Ashley is committed to delivering the world's best home furnishing values, selection and service, and earning the loyalty and trust of its customers every day. Visit Ashley online at www.ashleyfurniture.com and like Ashley Furniture Industries, LLC on Facebook.
A Kid's Place provides residential services to children from birth to age 18, who have been removed from their homes due to abuse, neglect or abandonment, and to provide a variety of services which meet the social, educational, medical, and psychological needs of the child. Our primary focus is to keep sibling groups together in a safe, stable, home-like environment until a more permanent placement can be provided. Since inception we have provided a nurturing and loving home for over 1,400 children and 600 families.