Ashley for the Arts to Donate Over a Half-Million Dollars Raised During 10th Anniversary Celebration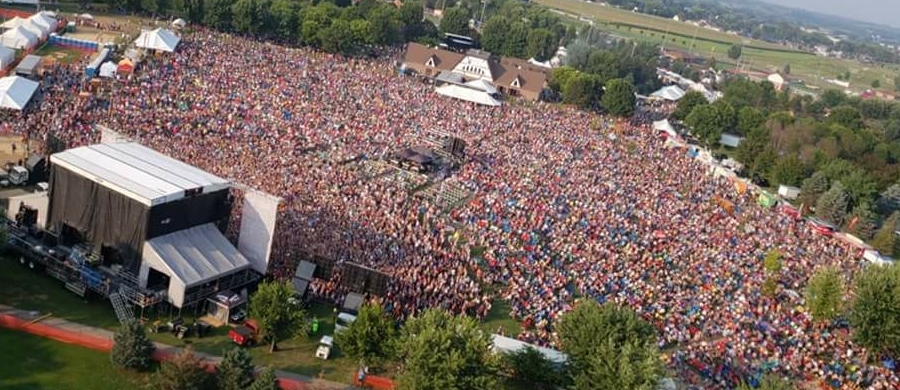 The three-day event welcomed over 70,000 guests which raised $535,500 for area school districts and non-profit organizations
ARCADIA, Wis - Ashley for the Arts, one of Wisconsin's largest charity events, hosted more than 70,000 guests at the three-day music and art festival in Arcadia's Memorial Park this past weekend. The event, celebrating its 10th anniversary, saw an increase of 20,000 visitors in attendance over last year. With a vision of showcasing the arts and supporting humanity, Ashley for the Arts raised $535,500 for 51 participating school districts and non-profit organizations over the weekend.
Thursday, August 9, commenced the event with the annual Pursuit of a Cure 5K (and Miracle Mile) Run-Walk. Pursuit of a Cure is a fundraiser to advance medical research and help offset the medical-related costs that patients incur. Each of the 165+ participants selected the charitable organization that 100% of their registration funds went towards. More than $18,000 was raised throughout the weekend benefitting the American Cancer Society, Rita Tranberg Memorial and the Arcadia Ambulance Service.
AOn Friday, over 100 art and craft vendors lined the north side of Memorial Park Drive and the baseball field, displaying their unique artwork and products. Coupled with the tropical sound of the Panhandlers steel drum band, guests participated in interactive art classes such as needle felting, acrylic painting and more. The aroma of numerous food vendors filled the air while stilt walkers, an interactive drum circle, two air parks, circus acts and more captured the crowd's attention. Two of the 23 supported school districts, Aquinas and Hope Lutheran, performed on the iconic Amphitheater Stage to kick off the night's musical entertainment. On the Main Stage, headlining entertainers ZZ Ward, Rick Springfield, Daughtry and Chris Janson delivered incredible performances to over 22,000 people followed by the Tim Sigler Band debuting the venue's new Soldier's Walk side stage to end the night's festivities.
The third and final day of Ashley for the Arts opened with the Cruisin' for the Arts car show. Nine additional supported school districts lead the music entertainment on the Amphitheater stage. Arcadia (the Accidentals and Jazz Ensemble), Blair-Taylor Band, Cotter Marching Band, Lincoln High School, Independence Music Department, Galesville-Ettrick-Trempealeau Jazz Band, Eleva-Strum and Whitehall's Music Departments.
As Saturday progressed, more than 50,000 people filled into Memorial Park to see headlining performances which kicked off with LYGA followed by Carly Pearce and Dan + Shay, who had the crowd screaming loud while hot air balloons sailed over the stage. In between the Main Stage acts, Galesville-Ettrick-Trempealeau's Vocal Point showcased area school talent by performing three A Cappella songs. Andy Grammer played a memorable set that was followed up with a grand fireworks display, put on by Maximum Load Fireworks, that lit up the night sky and set the tone for the final, largest act Ashley for the Arts has ever hosted, Rascal Flatts.
A few main factors led to the success of this record-breaking year. Through host sponsor Ashley Furniture Industries, and numerous community and corporate sponsorships, Ashley for the Arts remained able to provide affordable access to the arts with the low admission cost of $10 for the entire weekend. In addition, it took over 3,400 volunteer shifts to put on this one-of-a-kind non-profit event. The event staff also commends local emergency service personnel and security personnel for their assistance.
Ashley for the Arts looks forward to maintaining its popularity as one of Wisconsin's largest charity events and a world-class music and art fest destination. Save the date for 2019, August 8, 9 and 10 in Arcadia, Wisconsin.
Ashley for the Arts is a non-profit initiative that provides the entire family with world class entertainment, art, exercise and family fun for a remarkably low cost. It is also one of Wisconsin's largest charity events, raising more than $425,000 in 2017 for more than 40 non-profit organizations, including participating schools, children's charities and medical research. This music and arts festival was conceptualized and established by Ashley Furniture Industries, LLC (Ashley) in 2009. Today, more than 50,000 people attend the event held in Arcadia, Wisconsin's Memorial Park. For more information on Ashley for the Arts, visit www.AshleyFortheArts.com. Like Ashley for the Arts on Facebook or follow us on Twitter at @AshleyfortheArt.
Ashley Furniture Industries, LLC (Ashley) feels that every person deserves more value for their money. Established in 1945, Ashley is the largest manufacturer of home furnishings in the world, and was recently named one of America's Best Employers by Forbes in 2017. From design through fulfillment, Ashley is committed to delivering the world's best home furnishing values, selection and service, and earning the loyalty and trust of its customers every day. Visit Ashley online at www.ashleyfurnitureindustriesllc.com and like Ashley Furniture Industries, LLC on Facebook.
Ashley HomeStore is committed to being your trusted partner and style leader for the home. This commitment has made Ashley HomeStore the No. 1 furniture retailer in the U.S. and one of the world's best-selling furniture store brands with more than 800 locations in 45 countries. Start designing your dream home today. Visit Ashley HomeStore online at www.ashleyhomestore.com. Like Ashley HomeStore on Facebook, follow us on Twitter and Instagram , or see our design-focused boards on Pinterest.