Ashley Furniture Industries Donates Grotto to Holy Family Catholic Church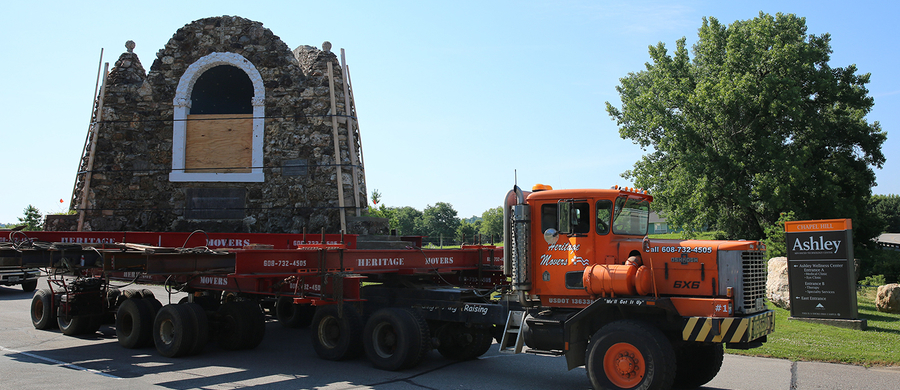 ARCADIA, Wis. – A religious, historical structure was donated this month by Ashley Furniture Industries, LLC (Ashley) and the Wanek family to Holy Family Catholic Church in Arcadia, Wisconsin. The three-sided catholic shrine, was built in the 1950s at the site of the former St. Joseph's Hospital. Ashley purchased the hospital from Mayo, after it sat empty for six years, the facility has since been remodeled as the company's Chapel Hill Advanced Technology Center. The grotto was included in the property purchase.
The former hospital and chapel was first built in 1948 by the Franciscan Sisters (Laetitia Grentrup, Theodosia Christ, Adelpha Jakobs and Modesta Stroh) and members of the community. It was their mission to provide healthcare that was affordable to community members who were in need. The grotto was built over a period of two and a half years by Henry Fernholz. With the assistance of LaVern Dworschak and Lester Schmidtknecht, the project was started in November of 1951 and built out of rough flint rock from the hills surrounding Arcadia, as well as shells and agate fragments. The grotto was erected to serve as a place of reflection for patients and guests of the hospital.
The grotto has been a part of Arcadia for nearly 70 years, we are very happy to see it moved to a location that better suits its meaning and allows the community to utilize it for its intended purpose, stated Ron Wanek, Founder & Chairman, Ashley Furniture Industries, LLC. The Franciscan Sisters made it their lives work building the hospital and serving the community in a time of need, this donation is in memory and honor of them.
Our parishioners have expressed gratitude for the move of the Grotto to the Church, said Father Sebastian Kolodziejczyk, Holy Family Parish. Many of our members remember visiting the Grotto growing up, and truly appreciate its new home and that this piece of history will be preserved.
Every effort was taken to preserve the delicacy of this historic structure throughout the moving process which had an estimated moving cost of $70,000 (paid for by the Wanek family). A professional moving company was hired to load the grotto onto steel beams and was then transported through town to its new home at the church. Landscaping will conclude this week as the finishing touch to the grotto's new location.
Ashley Furniture Industries, LLC(Ashley) feels that every person deserves more value for their money. Established in 1945, Ashley is the largest manufacturer of home furnishings in the world, and was recently named one of America's Best Employers by Forbes in 2017. From design through fulfillment, Ashley is committed to delivering the world's best home furnishing values, selection and service, and earning the loyalty and trust of its customers every day. Visit Ashley online at www.ashleyfurnitureindustriesllc.com and like Ashley Furniture Industries, LLC on Facebook.
Ashley HomeStore is committed to being your trusted partner and style leader for the home. This commitment has made Ashley HomeStore the No. 1 furniture retailer in the U.S. and one of the world's best-selling furniture store brands with more than 850 locations in 45 countries. Start designing your dream home today. Visit Ashley HomeStore online at www.ashleyhomestore.com.Like Ashley HomeStore on Facebook, follow us on Twitter and Instagram , or see our design-focused boards on Pinterest.