Ashley Furniture a Futuremaker Partner for Western Technical College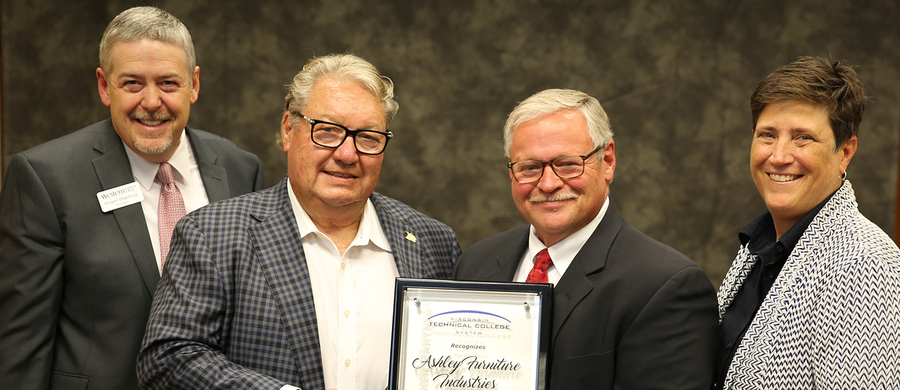 Company recognized for dynamic partnership with college
La Crosse, WI – The Wisconsin Technical College System (WTCS) and Western Technical College honored Ashley Furniture Industries on Tuesday evening. Ashley, a long-time partner of the college, has provided leading support for equipment and facilities modernization in support of the college's manufacturing programs. The WTCS Futuremaker Partner award recognizes the unique, dynamic partnerships between Wisconsin's technical colleges and their employer partners.
We are delighted to honor Ashley Furniture because of its strong relationship with Western Technical College and efforts to help prepare students for the future of manufacturing in Wisconsin,said WTCS Board President S. Mark Tyler, who is the founder and President of Woodville-based OEM Fabricators. Ashley is innovating at all levels of education and investing in building a talent pipeline for advanced manufacturing, inspiring a new generation to compete in a world of automation.
Ashley's support of Western enhances the skills of both students and instructors. With the company's donation of six robots and three simulators, the college's Ashley Robotics Lab will open on the main campus in La Crosse in fall 2018. This will allow Western to provide expanded instruction to students and incumbent workers in the operation and programming of robots in a manufacturing setting. Ashley also covered the cost for two instructors to become certified to teach the Yaskawa Dx200 Basic Programming Course.
In addition to the robotics lab, Ashley provided a portable training robot located at Western's Independence campus, which allows Western instructors to demonstrate the equipment at numerous high school events throughout this rural region. This arrangement allows the partners to more widely showcase the technology used in advanced manufacturing.
Ashley's partnership with Western continued to grow when Ashley recently announced the donation of three maintenance robots to the college, paired with funding to certify an additional two instructors in the Dx200 Maintenance Course. The maintenance robots can be disassembled by students, allowing for hands-on instruction in robotic maintenance and repair.
To fully showcase for Western faculty and staff the latest trends in automation, Ashley funded delegation visits to Germany and other countries where guests attended trade shows and visited technical colleges with leading-edge automation programs. Company staff serve on a number of Western's program advisory committees, and it regularly hires Western graduates.
As a reliable partner in the development and promotion of hands-on career awareness and exploration, Ashley Furniture is also helping to strengthen Western's relationship with K-12 and higher education partners throughout the region and the state.
We are honored for Ashley to be presented the Futuremaker Partner award, said Ashley Furniture Industries founder and Chairman of the Board Ron Wanek. In a global economy that continues to evolve, we believe in the importance of developing long-lasting partnerships with our technical colleges to prepare the current and future workforce for success in areas of advanced manufacturing.
Our partnership with Ashley Furniture is extraordinary, said Western Technical College President Roger Stanford. Partnerships like this allow our students to work with cutting-edge technology and acquire the skills to help Wisconsin companies compete globally, Stanford said.
ABOUT WISCONSIN TECHNICAL COLLEGE SYSTEM
The Wisconsin Technical College System (WTCS) offers more than 500 programs awarding two-year associate degrees, one- and two-year technical diplomas and short-term technical diplomas and certificates. In addition, the System is the major provider of customized instruction and technical assistance for Wisconsin employers. More than 300,000 people enroll at a technical college each year.
ABOUT WESTERN TECHNICAL COLLEGE
With over 100 programs, Western Technical College provides relevant, high quality education that changes the lives of students, while growing the La Crosse and surrounding communities. For more information on Western's programs or services, call 608.785.9200 or visit www.westerntc.edu
Ashley Furniture Industries, LLC(Ashley) feels that every person deserves more value for their money. Established in 1945, Ashley is the largest manufacturer of home furnishings in the world, and was recently named one of America's Best Employers by Forbes in 2017. From design through fulfillment, Ashley is committed to delivering the world's best home furnishing values, selection and service, and earning the loyalty and trust of its customers every day. Visit Ashley online at www.ashleyfurnitureindustriesllc.com and like Ashley Furniture Industries, LLC on Facebook.
Ashley HomeStore is committed to being your trusted partner and style leader for the home. This commitment has made Ashley HomeStore the No. 1 furniture retailer in the U.S. and one of the world's best-selling furniture store brands with more than 800 locations in 45 countries. Start designing your dream home today. Visit Ashley HomeStore online at www.ashleyhomestores.com.Like Ashley HomeStore on Facebook, follow us on Twitter and Instagram, or see our design-focused boards on Pinterest.
Source: https://www.wtcsystem.edu/news-media/newsroom/ashley-furniture-a-futuremaker-partner-for-western