Ashley for the Arts Celebrates 10th Anniversary with Star-Studded Lineup and Added Attractions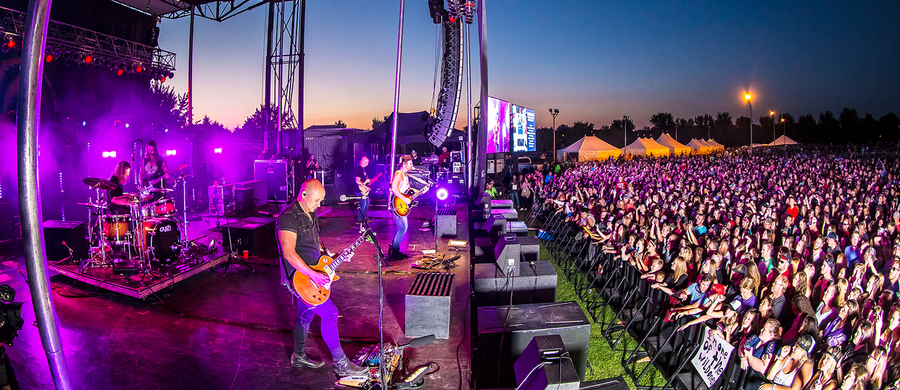 Three-day charity music and art festival will feature Rascal Flatts, Daughtry, Rick Springfield and more
ARCADIA, Wis – The summer temperatures are heating up – almost as hot as the lineup for Ashley for the Arts' 10th Anniversary in Arcadia, Wis. The music and art festival planning is well underway and looking forward to this milestone year happening August 9, 10 and 11. The non-profit event is stacked with a star-studded lineup of musical entertainment as well as numerous family-friendly activities and some new additions to the venue.
As one of Wisconsin's largest charity events, Ashley for the Arts has sustained record-breaking growth, year over year. From 300 attendees in 2009, to more than 50,000 in 2017, the phenomenal reviews have traveled quickly by word of mouth. One desirable factor is the three-day festival's $10 weekend admission, drawing an audience from Chicago, Minneapolis, St. Paul, Rochester and more.
Ashley for the Arts takes place in Arcadia, population 2,925; the small town comes to life for the weekend, welcoming guests and showcasing the scenic region. Memorial Park's 54-acres serve as the backdrop for the event. The park is known for its Soldier's Walk, one of the premier war memorials in the U.S. outside of Washington, D.C., a must-see while onsite.
With four stages this year, you won't want to miss a beat! The Main Stage will host headline entertainment, the Amphitheater will portray participating school performances as well as entertaining circus acts, the Pavilion stage hosts early to mid-day side-stage performances and the brand-new Soldier's Walk stage will create a unique ambiance for local bands to perform outdoors the second half of the day.
Ashley for the Arts' 10th anniversary headline lineup will include Rascal Flatts, with ten albums, 16 Number One hits, over 23 million records and 10 million tickets sold, this group will be the largest act Ashley for the Arts has ever hosted; Daughtry, an American Idol finalist who has released four albums, all of which reached the Billboard Top Ten; Rick Springfield, creator of some of the finest power-pop of the '80s, a Grammy winning singer, songwriter, and musician who has scored 17 U.S. Top 40 hits, including Jessie's Girl; Chris Janson, Nashville country artist with No. 1 Platinum single Buy Me A Boat, and No. 1 single Fix a Drink; Andy Grammer, Multi-platinum selling pop artist with hits, Keep Your Head Up, Fine By Me and Honey, I'm Good, one of the best-selling songs of 2015; Dan + Shay, award-winning American Country music duo, produced three top 40 singles, 19 You + Me, Show You Off, and Nothin' Like You; Carly Pearce, with her gold-certified No. 1 blockbuster title track from her debut album, Every Little Thing; and ZZ Ward, fedora-rocking, guitar-shredding, Blues/R&B vocal powerhouse.
The three-day festival will also feature upbeat musical performances by Gary's Ridgeland Dutchmen, LASKA, Johnny Rogers, The Mondays, Divided Highway, Pop Rocks, Tim Sigler Band, Amanda Grace, The Memories, Big River Radio Wave, Tommy Bentz, LYGA, Them Coulee Boys, and Tremendos Musical del Sur. In addition, 11 area schools will participate in the event's activities and demonstrate the region's student talent through performances on Friday and Saturday.
Additionally, guests will find a variety of off-stage entertainment including a living statue, balloon sculptors, Root Berry juggling and sword swallowing, a mariachi band, The Bubbleologist Steve Langley, silly stilt walkers, an interactive drum circle, Magician Professor Pinkerton, and many more entertaining audiences throughout the grounds
The park features nearly 100 art and craft vendors (some even demonstrating their skills live), a new interactive art space (which offers a variety of art classes on a first come, first serve basis), a classic car show, two air parks (including bouncy houses and obstacle courses), a kid's fitness course and a jungle gym/playground area. Ashley for the Arts also hosts the Pursuit of a Cure 5K run/walk on Thursday and a spectacular firework display on Saturday.
From mini donuts to barbeque to gyros and frybread, an expanded selection of food trucks will decorate Memorial Park Drive along with Arcadia's staple charcoal chicken, grilled to perfection in North America's largest indoor chicken pit. A newly added beer garden, next to the main stage, will offer specialty beer and wine options for the adult audience. Event parking is free along with free bus shuttles to and from the grounds; including the county campground (Pietrek Park) just five miles north of Arcadia.
Nestled in the rolling hills of Western Wisconsin, you won't want to miss this festival at Memorial Park, August 9, 10 and 11, in Arcadia. For the full event schedule, visit www.AshleyfortheArts.com.
Ashley for the Arts is a non-profit initiative that provides the entire family with world class entertainment, art, exercise and family fun for a remarkably low cost. It is also one of Wisconsin's largest charity events, raising more than $425,000 in 2017 for more than 40 non-profit organizations, including participating schools, children's charities and medical research. This music and arts festival was conceptualized and established by Ashley Furniture Industries, LLC (Ashley) in 2009. Today, more than 50,000 people attend the event held in Arcadia, Wisconsin's Memorial Park. For more information on Ashley for the Arts, visit www.AshleyFortheArts.com. Like Ashley for the Arts on Facebook or follow us on Twitter at @AshleyfortheArt.
Ashley Furniture Industries, LLC (Ashley) feels that every person deserves more value for their money. Established in 1945, Ashley is the largest manufacturer of home furnishings in the world, and was recently named one of America's Best Employers by Forbes in 2017. From design through fulfillment, Ashley is committed to delivering the world's best home furnishing values, selection and service, and earning the loyalty and trust of its customers every day. Visit Ashley online at www.ashleyfurnitureindustriesllc.com and like Ashley Furniture Industries, LLC on Facebook.
Ashley HomeStore is committed to being your trusted partner and style leader for the home. This commitment has made Ashley HomeStore the No. 1 furniture retailer in the U.S. and one of the world's best-selling furniture store brands with more than 800 locations in 45 countries. Start designing your dream home today. Visit Ashley HomeStore online at www.ashleyhomestore.com. Like Ashley HomeStore on Facebook, follow us on Twitter and Instagram , or see our design-focused boards on Pinterest.