Ashley Furniture Receives 2018 Albert Boscov Economic Development Award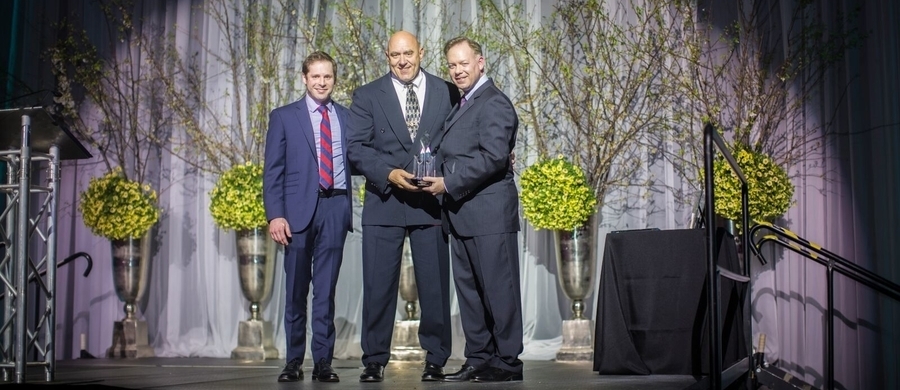 LEESPORT, Penn – On Thursday, May 31st, Ashley Furniture Industries, LLC (Ashley) was awarded the 2018 Albert Boscov Economic Development Award on behalf of the Greater Reading Chamber Alliance (GRCA). Members of the Boscov family as well as GRCA leadership presented the award to Ashley Furniture representatives at the GRCA Annual Dinner at the Santander Arena.
This annual award, which launched in 2017, highlights a company that demonstrates a significant investment in job creation and economic growth for Berks County, Pennsylvania. The award is also symbolic of the merger of the Greater Reading Chamber of Commerce & Industry, Greater Berks Development Fund and the Greater Reading Economic Partnership that has created the GRCA, united the voice of Berks County economic development.
Boscov's and the Boscov family are gratified to know that Albert's legacy of community outreach and development is being commemorated with the addition of the Al Boscov Economic Development Award. Albert believed in Reading and the success of its future, and he would be humbled and proud that his dreams for an improved Reading continue, said Jim Boscov, CEO, Boscov's Department Stores.
We are honored to be awarded by the Greater Reading Chamber Alliance and look forward to continuing our partnership with them, as well as the communities in which we serve, to help further create jobs and a thriving economic impact, said Todd Wanek, President and CEO, Ashley Furniture Industries, LLC. We've had a presence in Leesport for more than 14 years, the support we have received from the Chamber has helped us continue to grow our business here and we look forward to continuing to serve this region for years to come.
The past year has been a tremendous one for growth in our local economy. With the groundbreaking of a new e-commerce fulfillment and distribution center in Leesport, Ashley's investment in Berks County added jobs and kept an important business hub right here in our community. This project is a significant example of why efforts surrounding business growth matters just as much as those focusing on business attraction to the health of our local economy, said Randy Peers, GRCA President/CEO.
In addition to the awards ceremony, the more than 900 guests enjoyed a presentation by football and entertainment legend Terry Bradshaw as well as entertainment, food and networking.
Ashley Furniture broke ground on a 465,000-sq. ft. E-Commerce Fulfillment and Distribution Center last summer. The addition to the facility in Leesport will now total 1.7 million sq. ft. The newly expanded facility will be operational in July.
Ashley Furniture Industries, LLC(Ashley) feels that every person deserves more value for their money. Established in 1945, Ashley is the largest manufacturer of home furnishings in the world, and was recently named one of America's Best Employers by Forbes in 2017. From design through fulfillment, Ashley is committed to delivering the world's best home furnishing values, selection and service, and earning the loyalty and trust of its customers every day. Visit Ashley online at www.ashleyfurnitureindustriesllc.com and like Ashley Furniture Industries, LLC on Facebook.
About the Greater Reading Chamber Alliance: Our mission is to be Berks County's leading unified resource for building a healthy, competitive business community. Our vision is to assist companies to retain, expand and grow their operations and employment and attract new business to Berks County.