Ashley HomeStore Donates Over $100,000 in Furniture to Furnish Treasure House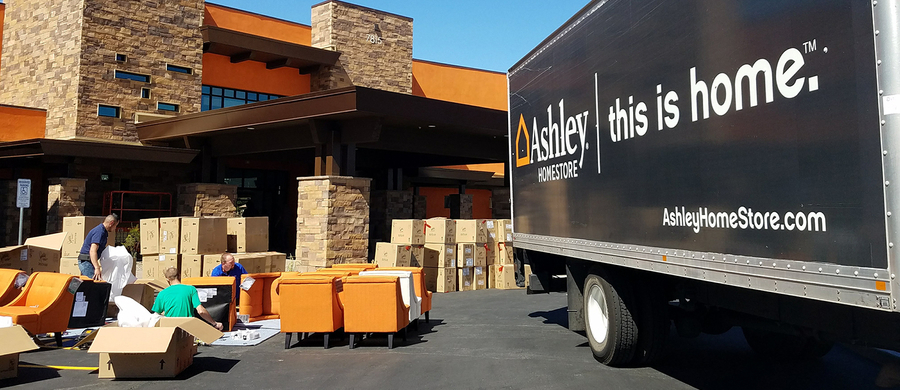 PHOENIX, Ariz – On Friday, May 18th, Ashley HomeStore joined the Treasure House team in Glendale, Arizona, to furnish their brand new facility with over $100,000 in furniture.
Treasure House is a supportive living community for young adults with intellectual and developmental disabilities (IDD). A strong emphasis on independence, respect, and community integration will provide an optimal environment for residents to live, work, and enjoy recreational activities while being part of a larger family. This new facility will be home to 26 young adults with intellectual and developmental disabilities as well as four Community Assistants as they share life together.
Each individual will have his/her own studio apartment and the community will gather together in the family-style kitchen, family room, game room, and patio. The furnished spaces will provide opportunities for the community to gather together for recreation, learning, and volunteering.
Working with Treasure House has been a tremendous experience, said Kurt Haines, Senior Vice President, Ashley HomeStore. Having the ability to work with such a great group of people with a vision for bettering the future of those in need is truly remarkable. Ashley HomeStore is honored to have a part in building this beautiful home and community.
We are extremely excited about the opening of our first Treasure House here in the Valley. It has been a long process, but thanks to many key partners, we are in a position to truly impact the lives of numerous young men/women with intellectual and developmental disabilities and their families, said Kurt Warner, Treasure House Co-Founder and Pro Football Hall of Fame Quarterback. One of our generous partners has been Ashley HomeStore, who joined the Treasure House team and furnished the residents' rooms and common areas of our first location. We are extremely grateful to Ashley HomeStore, and all of our partners, for recognizing the continual need in our community to present everyone with the chance to live a full life and for understanding the importance of accepting and celebrating our differences.
Ashley HomeStore is committed to being your trusted partner and style leader for the home. This commitment has made Ashley HomeStore the No. 1 furniture retailer in the U.S. and one of the world's best-selling furniture store brands with more than 800 locations in 45 countries. Start designing your dream home today. Visit Ashley HomeStore online at www.ashleyhomestores.com.Like Ashley HomeStore on Facebook, follow us on Twitter and Instagram, or see our design-focused boards on Pinterest.
Ashley Furniture Industries, LLC (Ashley) feels that every person deserves more value for their money. Established in 1945, Ashley is one of the largest manufacturers of home furnishings in the world, and was recently named one of America's Best Employers by Forbes in 2017. From design through fulfillment, Ashley is committed to delivering the world's best home furnishing values, selection and service, and earning the loyalty and trust of its customers every day. Visit Ashley online at www.ashleyfurniture.com and like Ashley Furniture Industries, LLC on Facebook.
Treasure House is a supportive living environment where young adults with intellectual and developmental disabilities can participate in their community, achieve independence, and realize their purposes. For more information, and to apply to be a resident at Treasure House, please visit www.TreasureHouse.org.