Ashley HomeStore Partners with Habitat For Humanity to Build Seven New Homes for Families in Need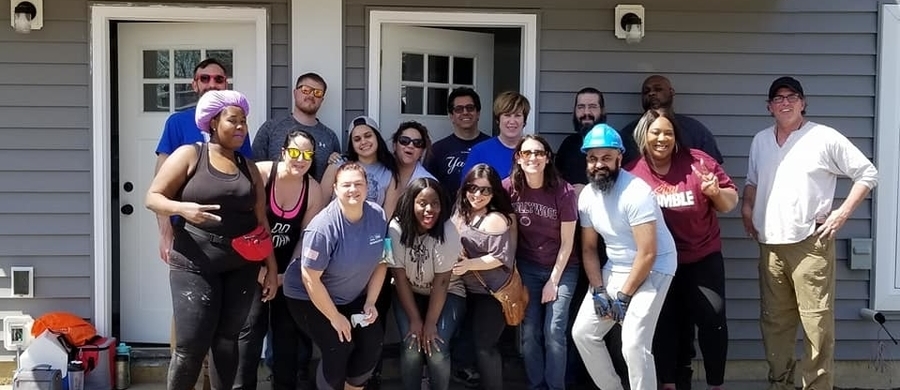 TRENTON, N.J. – Ashley HomeStores of Metro New York/New Jersey have partnered with Habitat for Humanity of Burlington County and Greater Trenton-Princeton (HFHBCGTP) to help build homes for those in need. With one of the HFHBCGTP core areas focusing in decent and affordable housing, Ashley HomeStore of Metro New York/New Jersey is determined to lend helping hands to community members needing a home.
CEO of Ashley HomeStore of Metro New York/New Jersey, Eugene Chrinian, created an internal program called Give a Day in effort for employees to help support the local community. Sixty employees volunteered with the HFHBCGTP team during the month of May helping build seven housing units that will be given to seven families later this year.
Eugene Chrinian stated, We're excited to have this opportunity to help families from our local community. I feel strongly about giving back to our community and the selflessness spirit, that I pay our employees to take a day off and use this give a day to volunteer. This partnership allows us to continue to live out our mission to amaze our team members, guests and communities we serve through every personal interaction.
Ashley HomeStore of Metro New York/New Jersey is an independently owned licensee group of 15 stores. This group is part of Ashley HomeStore which has more than 825 locations in 45 countries. Ashley HomeStore is the #1 furniture and mattress retailer in America and the #1 selling furniture store brand in the World.
Ashley HomeStore is committed to being your trusted partner and style leader for the home. This commitment has made Ashley HomeStore the No. 1 furniture retailer in the U.S. and one of the world's best-selling furniture store brands with more than 800 locations in 45 countries. Start designing your dream home today. Visit Ashley HomeStore online at www.ashleyhomestores.com.Like Ashley HomeStore on Facebook, follow us on Twitter and Instagram, or see our design-focused boards on Pinterest.
Ashley Furniture Industries, LLC (Ashley) feels that every person deserves more value for their money. Established in 1945, Ashley is one of the largest manufacturers of home furnishings in the world, and was recently named one of America's Best Employers by Forbes in 2017. From design through fulfillment, Ashley is committed to delivering the world's best home furnishing values, selection and service, and earning the loyalty and trust of its customers every day. Visit Ashley online at www.ashleyfurniture.com and like Ashley Furniture Industries, LLC on Facebook
.
Habitat for Humanity of Burlington County and Greater Trenton-Princeton works in partnership with people from all walks of life to build homes, communities and hope. We sell homes to low-income families and offer 0% interest loans with no down payment required. Habitat homeowners make monthly mortgage payments that don't exceed 30% of their gross monthly income. Habitat homeowners work hard to create a permanent solution to their housing struggles. Each Habitat partner family must complete 250 to 400 hours of sweat equity to build their home and the homes of other Habitat families, work in our ReStores, and attend Homeowner Education classes, meetings, and special events. Sweat equity can be done during the week, in the evenings and on the weekends. To volunteer, donate, or own a Habitat home, visit http://www.habitatbcgtp.org.