Ashley HomeStore and Boys & Girls Clubs of Metro Atlanta Host Hope to Dream Event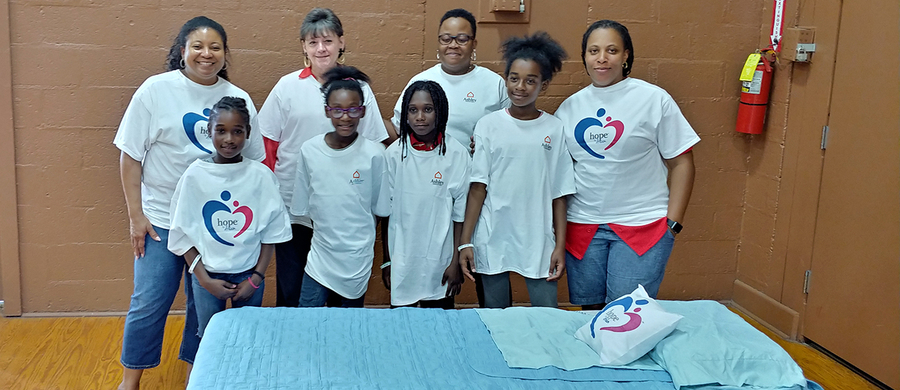 50 beds donated to local children during End of Year Bash
ATLANTA, Ga. The end of the school year is here, and 50 children in the Metro Atlanta area are starting their summer vacations sleeping on a new bed, thanks to a collaboration between Ashley HomeStore and the Boys & Girls Clubs of Metro Atlanta.
Fifty children and their families attended an "End of the School Year" event on Friday May 18th, at the Newnan/Coweta Boys & Girls Club, located at 72 Wesley Street in Newnan, GA. The children participated in kickball, a water balloon toss, face painting, and more. After the activities, each child was presented with a bed set, which included a twin mattress set, pillow, sheets and comforter, from Ashley HomeStore's Hope to Dream Program. Ashley HomeStore, the number one selling furniture store brand in the world, dedicates a portion of proceeds from every mattress sale at participating locations to the Hope to Dream program, which has donated more than 50,000 new beds to children in need since 2010.
We're so glad to have partners like Ashley HomeStore that have the spirit of giving – the same spirit we try to instill in our club members,said Lauren Odom, Executive Director of Newnan/Coweta and Howard Warner Boys & Girls Club. The furniture donations will provide more comfort to our chosen club members and their families as our club staff continues to help the kids we serve get college ready, live healthy, and become leaders.
Tarsha Terrell, Hope to Dream Ambassador in the Atlanta region, said, What a wonderful time to give a child a bed so they can get a healthy night's sleep. Forging a partnership with the Boys & Girls Clubs of Atlanta is just so natural because we are both helping create brighter futures for our youth.
Hope to Dream - Ashley HomeStore believes that every child deserves a good night's sleep. Founded in 2010 on that guiding principle, Ashley HomeStore's "Hope to Dream" program provides beds to less fortunate children across the U.S. A portion of the proceeds for every mattress purchased at a participating Ashley HomeStore helps pay for beds for children in need. Since its inception, more than 50,000 children have received a brand new bed. Those wishing to nominate a child can visit Hope to Dream Opens in a new window. In-store applications are also available at participating locations.
Ashley HomeStore is committed to being your trusted partner and style leader for the home. This commitment has made Ashley HomeStore the No. 1 furniture retailer in the U.S. and one of the world's best-selling furniture store brands with more than 775 locations in 43 countries.
Start designing your dream home today. Visit Ashley HomeStore online Opens in a new window. "Like" Ashley HomeStore on Facebook Opens in a new window, follow us on Twitter Opens in a new window and Instagram Opens in a new window, or see our design-focused boards on Pinterest Opens in a new window.
About Boys & Girls Clubs of Metro Atlanta
Boys & Girls Clubs of Metro Atlanta's mission is to save and change the lives of children and teens, especially those who need us most, by providing a safe, positive and engaging environment and programs that prepare and inspire them to achieve Great Futures. Through 25+ Clubs in 10 metro counties, trained and professional staff serve more than 3,300 youth (ages 6-18) daily through programs that foster academic success, healthy lifestyles and character and leadership development. BGCMA also oversees Camp Kiwanis, a 160-acre outdoor residence camp. While the cost to effectively serve those who need us most is more than $5,700 per member, families are asked to pay between $60 and $135 per child each year based on income; and no child is turned away due to inability to pay. For more information, please visit www.bgcma.org.