Ashley HomeStore Opens New Store in Woodhaven, MI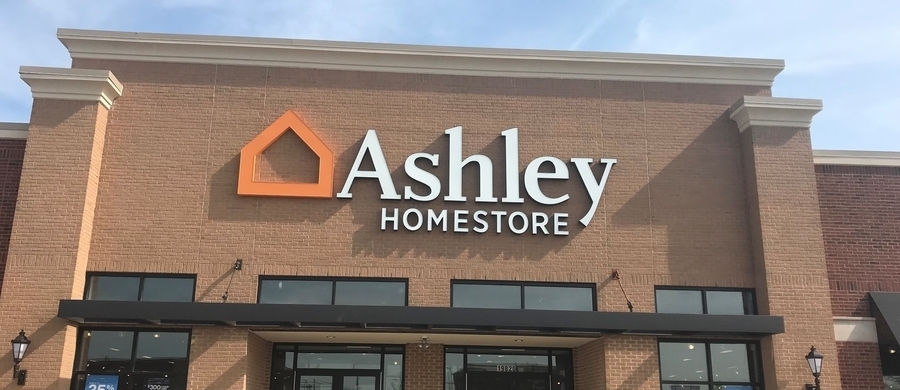 WOODHAVEN, Mich. – On Friday, May 11, Ashley HomeStore in Woodhaven, MI celebrated the soft opening of its new 35,000 sq. ft. showroom located on the corner of West and Allen at 19820 West Rd. The Grand Opening Ribbon Cutting ceremony is scheduled for Friday, June 8 at 10:00 am.
The new store is owned and operated by Zahi Abdelaziz, who also owns the Ashley HomeStore Westland. This is the second, of fourteen planned stores, for the Aziz Group in the Southeast Michigan Market. The Woodhaven store will employ approximately 35 people. Ashley HomeStore, the number one selling furniture store brand in the world, has more than 825 locations worldwide.
Scott Patrick, Executive Vice President of Sales, stated, We are honored to bring Ashley HomeStore to Woodhaven. This new store allows us to be closer to our customers and provide a world-class experience to our guests. Ashley HomeStore is a brand name that people have come to trust. This trust has led to its growth into the #1 selling furniture store brand in the world.
The store's interior architectural design includes a modern twist on brick and mortar furniture stores that you'll have to see to believe. The showroom features complete lifestyle vignettes, down to the final detail of lighting, rugs and wall art. Product categories include mattresses, bedroom, dining room, upholstery, leather, occasional tables, home office, youth bedroom, recliners, and a plethora of accessories. Technology enhances the environment, incorporating various elements to improve the customer shopping experience.
Joe Satterfield, Store Manager, stated, I'm honored and thrilled to be a part of the rapidly growing Aziz Group and Ashley HomeStore. This is very special to me, especially because I have memories as a kid shopping at the old K-Mart that was in this very location. I look forward to partnering with the City of Woodhaven and being a staple in the community for many years to come.
The store is currently running their Memorial Day promotion; up to 40% off or up to 72 Months 0% Interest Financing. The Ashley HomeStores in Woodhaven and Westland are open: Monday through Saturday 10:00-9:00, and Sunday 11:00-6:00. Follow AshleyHomestoreWoodhaven on Facebook or Ashley Homestores of South East Michigan to stay up to date with promotions and events.
Ashley HomeStore is committed to being your trusted partner and style leader for the home. This commitment has made Ashley HomeStore the No. 1 furniture retailer in the U.S. and one of the world's best-selling furniture store brands with more than 800 locations in 45 countries.
Start designing your dream home today. Visit Ashley HomeStore online at www.ashleyfurnitureindustriesinc.com . Like Ashley HomeStore on Facebook, follow us on Twitter and Instagram, or see our design-focused boards on Pinterest.
Ashley Furniture Industries, Inc. (Ashley) feels that every person deserves more value for their money. Established in 1945, Ashley is one of the largest manufacturers of home furnishings in the world, and was recently named one of America's Best Employers by Forbes in 2017. From design through fulfillment, Ashley is committed to delivering the world's best home furnishing values, selection and service, and earning the loyalty and trust of its customers every day. Visit Ashley online at www.ashleyfurnitureindustriesinc.com and like Ashley Furniture Industries, Inc. on Facebook
.