Ashley Furniture Supports Local Middle School Robotics Teams Competing at State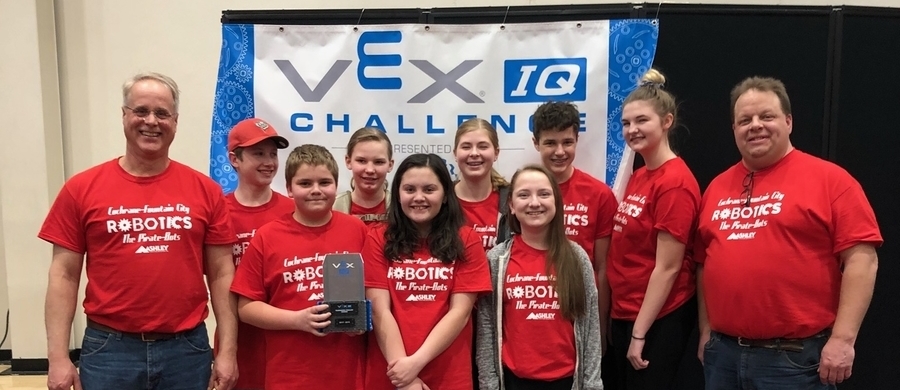 ARCADIA, Wis. – Ashley Furniture Industries donated $10,000 worth of VEX Robotics kits to eight area middle schools in Wisconsin to accompany STEM (Science, Technology, Engineering and Math) education programs and build students' interest in these areas. This donation allowed the schools to begin a local competition called Greater Western Wisconsin VEX IQ Challenge.
The competition was held at Whitehall Memorial High School in January. Participating schools included Arcadia, Arcadia Holy Family, Blair-Taylor, Cochrane-Fountain City (C-FC), Eleva-Strum, Gale-Ettrick-Trempealeau (G-E-T), Independence, Whitehall and Wausau. Eighteen teams competed for a spot at the Wisconsin VEX IQ State Championship hosted at the Milwaukee School of Engineering in March.
Three schools had VEX teams qualify for the State Championship including Arcadia Holy Family, C-FC and G-E-T. Arcadia Holy Family and C-FC each had two teams participate in the State Championship where 32 teams battled for the state title.
One team from Arcadia Holy Family also competed in the US Open Challenge earlier this month in Iowa where they competed against 81 teams from the United States and China. They qualified for this challenge after winning the Excellence Award in January.
Being able to attend the state competition and seeing all the possibilities the students can create with their robots has sparked their interest to keep working hard, said Nikki Michalak, Principal at Arcadia Holy Family Catholic School. VEX Robotics not only teaches students about science, technology and engineering, but also how to be a team player, collaborate with people you don't know and never give up.
C-FC teams qualified for the State Championship after capturing first place in the Alliance Challenge and highest score in the Skills Challenge. A total of eight students from C-FC competed in Milwaukee, three of which also submitted a STEM research project for scoring.
One of C-FC's teams placed first in the state Alliance Challenge earning them a spot at World Championships in Louisville, Kentucky, on April 30. This award goes to two different teams that work together to achieve the highest score in a match.
As manufacturing continues to advance, support of educating our current and next generation of leaders has become more crucial. Ashley and the Wanek family have made several contributions in the area of education. In addition to the support of STEM initiatives, millions of dollars in funds and in-kind services have been provided to assist local schools and universities, and more than 2,000 scholarships during the past ten years to help offset the escalating costs of higher education.
Ashley Furniture Industries, Inc.(Ashley) feels that every person deserves more value for their money. Established in 1945, Ashley is the largest manufacturer of home furnishings in the world, and was recently named one of America's Best Employers by Forbes in 2017. From design through fulfillment, Ashley is committed to delivering the world's best home furnishing values, selection and service, and earning the loyalty and trust of its customers every day. Visit Ashley online at www.ashleyfurnitureindustriesinc.com and like Ashley Furniture Industries, Inc. on Facebook.
About VEX Robotics VEX Robotics is a leading provider of educational and competitive robotics products to schools, universities and robotics teams around the world. Their VEX IQ and VEX EDR product lines span elementary, middle, and high schools with accessible, scalable, and affordable robotics solutions. Beyond science and engineering principles, a VEX Robotics project encourages teamwork, leadership and problem solving among groups. It allows educators to easily customize projects to meet the level of students' abilities as they inspire & prepare the STEM problem-solvers of tomorrow.