Ashley for the Arts Partners with Davie County Schools for 8th Annual Arts Smart Festival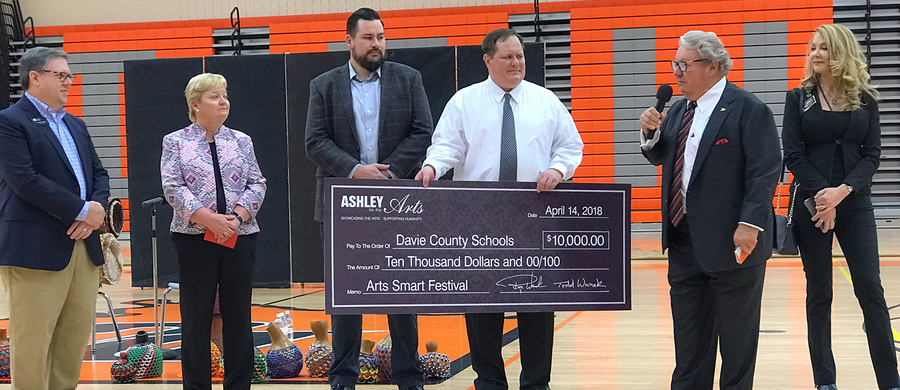 MOCKSVILLE, N.C. –Davie County Schools partnered once again with Ashley for the Arts for their 8th annual Arts Smart Festival held at the brand new Davie County High School on April 14th. Ron Wanek, Ashley's Founder and Chairman, along with representatives from Ashley Furniture Industries (Ashley) presented Davie County Schools Superintendent, Darrin Hartness, and Assistant Superintendent, Jinda Haynes, with a $10,000 donation for the School District. Additionally, three students were selected to receive a $500 scholarship for their artistic work at the event.
The Art Smart Festival's theme was Art Unites Us,featuring student artists, singers, dancers, musicians and actors from all of the Davie County Schools Arts Education Departments. Simultaneous performances were scheduled throughout the afternoon in the large and small gyms, and additional attached classrooms. The Healing Force also performed during the event and provided a hands-on opportunity for children and adults to participate in playing drums.
In addition to the check presentation, Ashley representatives presented the annual Ashley for the Arts 'Humanitarian Award' which was conceptualized to honor the individuals who go above and beyond helping to make their school and community a better place. These people are true role models who inspire those around them to become better human beings. This year, Edwin Owens was presented with this prestigious award. Below is the Selection Committee's write-up for Edwin's Humanitarian Award:
Edwin Owens is known for being genuine, positive, dependable, community-focused, and even selfless. He has a passion for his community and for the arts, especially band. Raised in Cooleemee, Edwin is an alumnus of the Davie High and Appalachian State band programs and is likely Davie County's most dedicated volunteer. He has assisted with the band every year since graduating in 1981. Edwin is an assistant, a bus driver, a first aid medic, an advisor, mentor and friend, the very foundation of the band family. He has such a presence; he is always there and willing to do whatever is needed. In fact, he has been mistaken as one of the band directors more than once. Beyond his dedication to Davie County bands, Edwin is dedicated to his community. He has been active with the Boy Scouts, served as a volunteer firefighter, is an active rotary club member, volunteers at a summer camp for burn victims, and the list goes on. Edwin truly embodies what it means to be a humanitarian. Davie County Schools students and staff would like to express our appreciation and recognize Mr. Edwin Owens as the 2018 winner of Ashley for the Arts' Humanitarian Award.
Ashley for the Arts is a non-profit, family-friendly initiative that provides communities with affordable access to world class art, music and entertainment while supporting a wide range of non-profits. Conceptualized by Ashley Furniture Industries in 2009, Ashley for the Arts events are now located in Florida, North Carolina and Wisconsin.
Ashley Furniture Industries, Inc. (Ashley) feels that every person deserves more value for their money. Established in 1945, Ashley is the largest manufacturer of home furnishings in the world, and was recently named one of America's Best Employers by Forbes in 2017. From design through fulfillment, Ashley is committed to delivering the world's best home furnishing values, selection and service, and earning the loyalty and trust of its customers every day. Visit Ashley online at www.ashleyfurnitureindustriesinc.com and like Ashley Furniture Industries, Inc. on Facebook.
Ashley HomeStore is committed to being your trusted partner and style leader for the home. This commitment has made Ashley HomeStore the No. 1 furniture retailer in the U.S. and one of the world's best-selling furniture store brands with more than 800 locations in 45 countries. Start designing your dream home today. Visit Ashley HomeStore online at www.ashleyhomestore.com. Like Ashley HomeStore on Facebook, follow us on Twitter and Instagram , or see our design-focused boards on Pinterest.