Local High School Robotics Team Battles Way to World Championship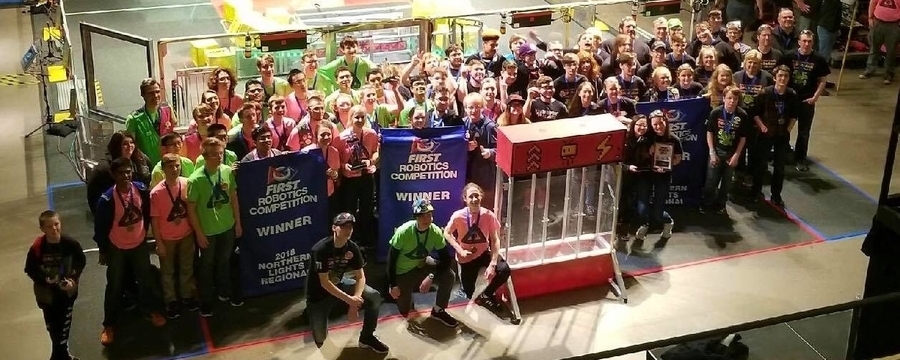 ARCADIA, Wis. – Trempealeau County Robotics, known as TC Robotics, dominated the competition and took home the gold at their first-ever regional tournament, FIRST Robotics Northern Lights Regional in Duluth, Minnesota. Not only did this rookie team place first out of nearly 60 teams, they were also awarded the Highest Rookie Seed Award and the Rookie All-Star Award. Their performance earned them a well-deserved invitation to the World Championship Tournament in Detroit, Michigan, taking place the last weekend of April.
FIRST Robotics is volunteer driven and designs accessible, innovative programs to build self-confidence, knowledge and life skills while motivating young people to pursue opportunities and become leaders in science, technology, engineering and math.
With financial support from sponsors including Ashley Furniture Industries, high school students from Arcadia, Blair-Taylor, Gale-Ettrick-Trempealeau and Independence school districts have been hard at work since January to design, program, build and test a world-class robot. Ashley also provided the team with practice space, hosting practices in their advanced-manufacturing automation and robotics facility.
Most of these students did not know each other when we started, said Andy Baker, Head Coach and Automation/Robotics Manager at Ashley Furniture. I am so proud of how the students came together from four different high schools to work as one team.
At each competition, teams play in matches. Each match is between two alliances, comprised of three different FIRST Robotics Competition teams and their robots. Within the alliance, the three robots work together to compete against the opposing alliance. In early qualification matches, alliances are randomly assigned. After two days of qualifying rounds, TC Robotics was ranked the second team, qualifying them to move onto playoffs. From there, three-team alliances are formed based on rankings, with the top teams able to recruit teams to form their alliance. TC Robotics was recruited by the number one rank team from Pewaukee, Wisconsin, to form their champion alliance, along with a team from Saint Paul.
This year's competition requires teams to build a robot that can transport and lift large cubes around the playing field and onto obstacles. Robots must also have the ability to navigate the playing field without a controller and climb a platform.
There is so much you can learn from this program, said freshman team member Ryan Hessler of Blair. I have gained real-world experience such as building, machining and programing skills.
The team will also compete at Seven Rivers Regional tournament in La Crosse, Wisconsin, in April.
Ashley Furniture Industries, Inc. (Ashley) feels that every person deserves more value for their money. Established in 1945, Ashley is one of the largest manufacturers of home furnishings in the world, and was recently named one of America's Best Employers by Forbes in 2017. From design through fulfillment, Ashley is committed to delivering the world's best home furnishing values, selection and service, and earning the loyalty and trust of its customers every day. Visit Ashley online at www.ashleyfurnitureindustriesinc.com and like Ashley Furniture Industries, Inc. on Facebook
.
About FIRST®
Accomplished inventor Dean Kamen Opens in new window founded FIRSTOpens in new window® (For Inspiration and Recognition of Science and Technology) in 1989 to inspire an appreciation of science and technology in young people. Based in Manchester, N.H., FIRST designs accessible, innovative programs to build self-confidence, knowledge, and life skills while motivating young people to pursue opportunities in science, technology, and engineering. With support from over 200 of the Fortune 500 companies and more than $50 million in college scholarships, the not-for-profit organization hosts the FIRST® Robotics Competition Opens in new window for students in Grades 9-12; FIRST® Tech Challenge Opens in new window for Grades 7-12; FIRST®LEGO® League Opens in new window for Grades 4-8; and FIRST® LEGO® League Jr. Opens in new window for Grades K-4. Gracious Professionalism® Opens in new window is a way of doing things that encourages high-quality work, emphasizes the value of others, and respects individuals and the community. To learn more about FIRST, go to www.firstinspires.org. Opens in new window