Ashley HomeStore Donates 14 Piece Packages to Home for Our Troops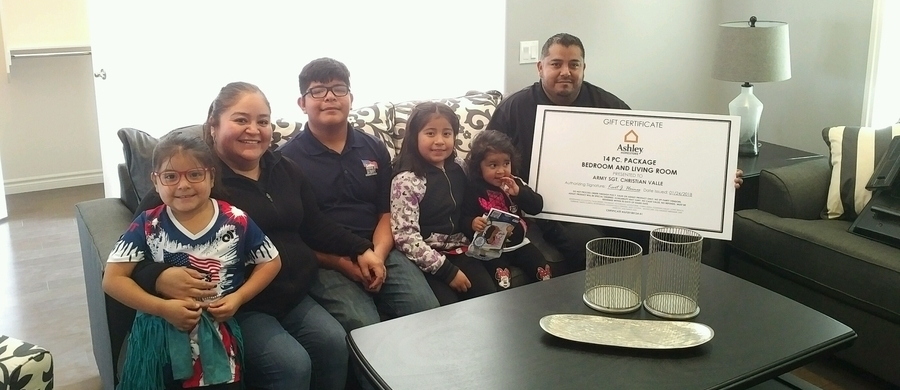 Colton, CA. – Ashley HomeStore has proudly supported, Home for Our Troops (HFOT), and has donated 14 piece packages to deserving veterans in San Diego and Riverside counties. HFOT is an incredible organization that provides specially adapted, custom homes for post 9/11 severely wounded veterans. Recently the 250th home that HFOT provided was given to veteran Cristian Valle and his family in Temecula, CA. The Ashley HomeStore team in Murrieta also donated their time to help landscape Mr. Valle's new home. The team was able to be present during the key ceremony in February, which celebrated Mr. Valle's service and presented his family with the keys to their home.
This is one experience I will never forget, Murrieta HomeStore Manager, Richard Hall, stated. It was an amazing experience seeing the overwhelming excitement from the Valle family after receiving their new home and new furniture.
Other donations have included: 14 piece bedroom package, living room package, other 14 piece packages as well as a Tempur-Pedic mattress and Ergo Premier Base donated by Tempur-Pedic®.
There will be more upcoming opportunities to volunteer with HFOT and give back to our veterans. Saturday, April 7th, in Menifee, CA will be the next big landscaping and clean up event for Marine Corporal John Smith. For more information about this event and HFOT, please visit the official website http://www.abcwi.org. Opens in a new window
Ashley HomeStore is committed to being your trusted partner and style leader for the home. This commitment has made Ashley HomeStore the No. 1 furniture retailer in the U.S. and one of the world's best-selling furniture store brands with more than 800 locations in 45 countries. Start designing your dream home today. Visit Ashley HomeStore online at www.ashleyhomestores.com.Like Ashley HomeStore on Facebook, follow us on Twitter and Instagram, or see our design-focused boards on Pinterest.
Ashley Furniture Industries, Inc. (Ashley) feels that every person deserves more value for their money. Established in 1945, Ashley is one of the largest manufacturers of home furnishings in the world, and was recently named one of America's Best Employers by Forbes in 2017. From design through fulfillment, Ashley is committed to delivering the world's best home furnishing values, selection and service, and earning the loyalty and trust of its customers every day. Visit Ashley online at www.ashleyfurnitureindustriesinc.com and like Ashley Furniture Industries, Inc. on Facebook
.