Tempur Sealy and Ashley HomeStore Team Up to Donate a Truckload of Tempur-Pedic Mattresses to Special Operations Forces in Arizona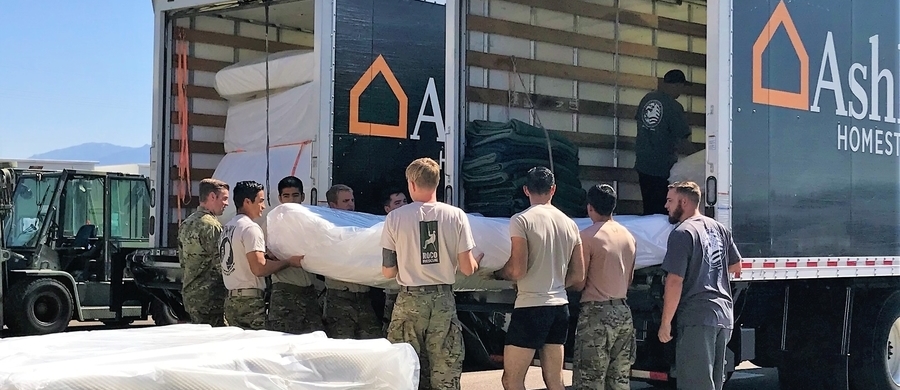 Latest Military Donation is Part of Operation Shut Eye, an Ongoing Program to Deliver Great Sleep to the Special Operations Forces Community
TUCSON, Ariz – Superior sleep for the elite few. That's the mission of Operation Shut Eye, a partnership between Ashley HomeStore, Tempur Sealy International, Inc., and Darkhorse Benefits, a program of the Warriors Work Foundation, Inc. The goal of the relationship is to donate 15,000 Tempur-Pedic mattresses to U.S. Special Operations Forces around the country.
Sixty-five of those beds were delivered recently during an Operation Shut Eye donation event that took place at a Special Operations Base in Southwest Arizona. The delivery, one of many scheduled for the coming months, was staffed by employees from Tempur Sealy, Ashley HomeStore, and Darkhorse Benefits, as well as executives representing the Tucson-based Ashley HomeStore licensee.
There is nothing more rewarding than being able to help provide a good night's sleep for those whose service and sacrifice allow us to sleep soundly at night,said Manny Sciberras, Vice President of Bedding at Ashley HomeStore. A portion of mattress sales at Ashley HomeStore locations goes to support Operation Shut Eye. We are committed to helping U.S. Special Operations Forces personnel get a good night's sleep – one hero at a time.
Tempur Sealy began working with the Darkhorse Benefits program in 2014, and since then, almost 6,000 Tempur-Pedic mattresses have been donated to the U.S. military's most elite fighters. Many of these active duty service personnel and veterans have experienced significant orthopedic injuries in the defense of our country, so sleeping on a high-quality Tempur-Pedic mattress is a tremendous benefit.
Each month we donate three truckloads of Tempur-Pedic mattresses to the Special Operations Forces community, said Gary Buxton, the National Account Director who leads the program for Tempur Sealy. Operation Shut Eye provides the unique opportunity to thank our brave warriors for their service and sacrifice. This initiative is a total team effort and we are excited to partner with Darkhorse Benefits, Ashley HomeStore and their network of 119 enthusiastic Ashley HomeStore licensees.
Ashley HomeStore is committed to being your trusted partner and style leader for the home. This commitment has made Ashley HomeStore the No. 1 furniture retailer in the U.S. and one of the world's best-selling furniture store brands with more than 800 locations in 45 countries. Start designing your dream home today. Visit Ashley HomeStore online at www.ashleyhomestore.com. "Like" Ashley HomeStore on Facebook, follow us on Twitter and Instagram, or see our design-focused boards on Pinterest.
Tempur Sealy International, Inc. (NYSE: TPX) develops, manufactures, and markets mattresses, foundations, pillows and other products. The Company's products are sold worldwide through third party retailers, its own stores, and online. The Company's brand portfolio includes many highly recognized brands in the industry, including Tempur®, Tempur-Pedic®, Sealy® featuring Posturepedic® Technology, and Stearns & Foster®. World headquarters for Tempur Sealy International is in Lexington, KY. For more information, visit http://www.tempursealy.com or call 800-805-3635.
About Darkhorse Benefits
Darkhorse Benefits is a program of Warriors Work Foundation Incorporated and their mission is to improve the quality of life for Special Operations Forces and veterans by offering a wide range of support programs focused on injury prevention & recovery, career training, career placement and opportunity development.