Ashley Furniture and Wieser Brothers Recognized with Statewide Construction Award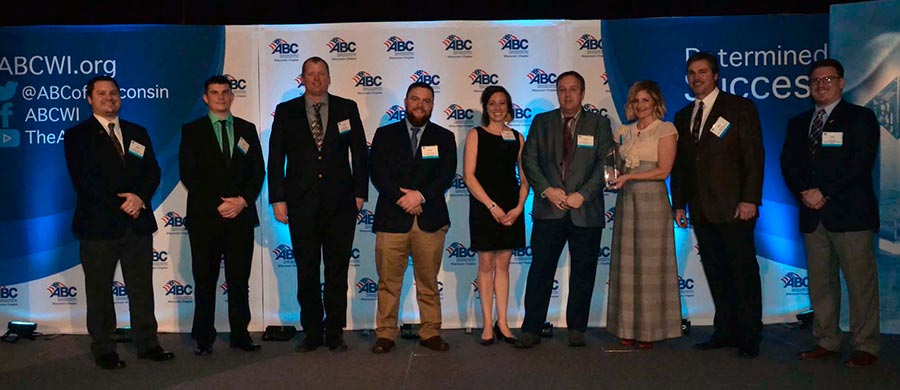 ARCADIA, WI – Ashley Furniture Industries, Inc. (Ashley) and Wieser Brothers General Contractor, Inc. (Wieser) were recognized for completing some of the most impressive and unique construction work in 2017. Ashley and Wieser received a GOLD Projects of Distinction Award by Associated Builders & Contractors (ABC) of Wisconsin for the restoration renovation of Ashley's Chapel Hill building in Arcadia, WI.
There are six independent expert judges who use stringent criteria such as onsite safety, unusual circumstances or challenges and the overall quality of construction delivered to the customer, said John Mielke, ABC of Wisconsin President. Projects that receive awards are not only unique, but impressive!
The Ashley Chapel Hill Advanced Technology Center is a renovation of the former St. Joseph's Hospital, built in the 1940s, into a world-class office building for the largest furniture manufacturer in the world. The transformation was inspired by an industrial design to create an office building full of natural light, open spaces and high ceilings. Extensive demolition was performed with care to create open space, while preserving exposed beams and concrete to maintain the integrity of the building. The renovation included new HVAC, 12 new restrooms, two kitchen/lunch rooms, conference rooms, lounges, a wellness center and an auditorium, which is the former chapel.
Creating a modern, high-tech and efficient office space while maintaining original architectural beauty from this historic building presented significant design challenges, said Mike Moran, Director of Plant Engineering, Ashley Furniture Industries. Ashley had to adapt the plans several times, and needed a contractor that was willing to adjust to every hurdle faced. Wieser Brothers was able to provide that balance, maintaining schedule, controlling costs, and presenting valuable engineering ideas all while keeping a positive attitude and respect for this important historic building.
A renovation project of this magnitude, called for extensive demolition and coordination. Because the building remained open during construction, safety was top priority throughout the job, added Jeff Wieser, President, Wieser Brothers. I would like to thank Ashley, the Wieser Brothers team, and all Subcontractors for their high-quality work and craftsmanship.
The Projects of Distinction Awards, which recognizes projects built on merit, were presented February 15 at the Glacial Canyon Conference Center in Wisconsin Dells. Nearly 400 attendees were present to experience the many high-quality projects that ABC member contractors delivered for business and industry. In all, 45 projects were recognized with gold and silver awards. Visit ABC's Wisconsin ChapterOpens in a new window website for a full listing of 2017 Project of Distinction award recipients and project details.
---
Ashley Furniture Industries, Inc. (Ashley) feels that every person deserves more value for their money. Established in 1945, Ashley is the largest manufacturer of home furnishings in the world, and was recently named one of America's Best Employers by Forbes in 2017. From design through fulfillment, Ashley is committed to delivering the world's best home furnishing values, selection and service, and earning the loyalty and trust of its customers every day.
Wieser Brothers General Contractors Inc. is an industry leader in design/build services. A full-service general contractor, established in 1994, Wieser Brothers partners closely with clients to meet current and future building needs. Trust, Partnership, and Excellence are the cornerstones of all Wieser Brothers projects. To learn more, visit Wieser Brothers General Contractors Inc. Opens in a new window online.
Associated Builders and Contractors (ABC) is a national construction industry trade association established in 1950 that represents more than 21,000 members. Founded on the merit shop philosophy, ABC and its 70 chapters help members develop people, win work and deliver that work safely, ethically and profitably for the betterment of the communities in which ABC and its members work. Visit Associated Builders and Contractors online. Opens in a new window