Denham Springs, Louisiana Reopens Ashley HomeStore and Ashley Outlet Store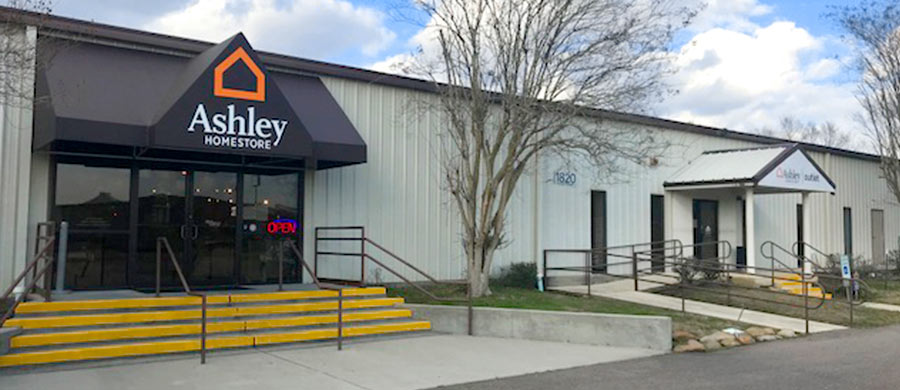 Denham Springs, La. – Ashley HomeStore in Denham Springs, La. reopened their doors in January as an Ashley HomeStore and Ashley Outlet Store. The newly repurposed space contains a 22,000 sq. ft. showroom located on Range Avenue. The store celebrated their grand opening last April as a clearance center after delays due to sustained damage from area flooding.
The store is owned and operated by Tom Olinde, who owns six additional Ashley HomeStores in the surrounding region. This is the seventh Ashley HomeStore in the state of Louisiana and the fifth Ashley Outlet Store. The Denham Springs store employs approximately 10 people. Ashley HomeStore, the number one selling furniture store brand in the world, has more than 800 locations worldwide.
Tom Olinde, President, stated, This store was rebuilt and reopened after being flooded. As always, we are excited to partner with the world's largest furniture company to bring great value and selection to the people of Livingston Parish.
The store's interior architectural design includes two separate entrances – one for the HomeStore and one for the Outlet Store. The showroom features complete lifestyle vignettes, down to the final detail of lighting, rugs and wall art. Product categories include bedroom, dining room, upholstery, leather, occasional tables, home office, youth bedroom, recliners, mattresses and accessories. Technology enhances the environment, incorporating various elements to improve the customer shopping experience. Ashley HomeStore hours are: Monday through Friday 9 am – 8 pm, Saturday 9 am – 6 pm and Sunday 1 pm – 5 pm.
---
Ashley HomeStore is committed to being your trusted partner and style leader for the home. This commitment has made Ashley HomeStore the No. 1 furniture retailer in the U.S. and one of the world's best-selling furniture store brands with more than 700 locations in 36 countries.
Start designing your dream home today. Visit Ashley HomeStore Opens in a new window online. "Like" Ashley HomeStore on Facebook Opens in a new window, follow us on Twitter Opens in a new window and Instagram Opens in a new window , or see our design-focused boards on Pinterest Opens in a new window.
Ashley Furniture Industries, Inc. (Ashley) feels that every person deserves more value for their money. Established in 1945, Ashley is one of the largest manufacturers of home furnishings in the world. From design through fulfillment, Ashley is committed to delivering the world's best home furnishing values, selection and service, and earning the loyalty and trust of its customers every day.