Ashley HomeStore Reaches 900 Stores Worldwide Through Openings in New Zealand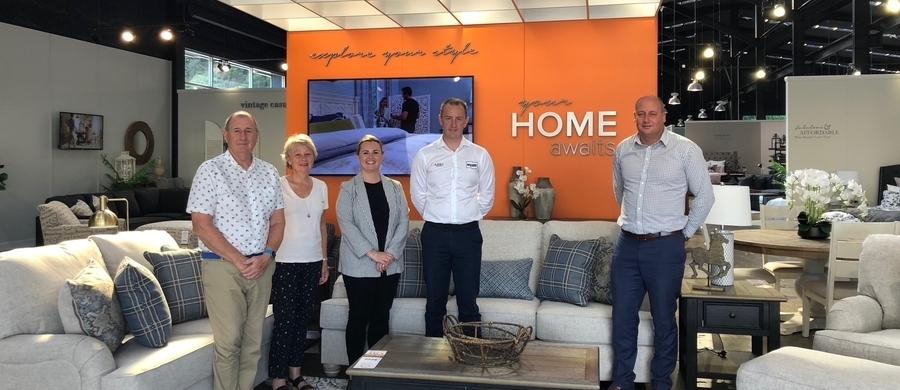 Historic moment builds on the company's rapid international growth
TAMPA, Fla. –– The Ashley HomeStore brand celebrated the opening of the 900th store located in Ahuriri Napier, New Zealand on Friday, November 30. Four additional HomeStores also opened on the same day in New Zealand, located in Palmerston North, Paraparaumu, Lower Hutt and Hamilton. Tom McKimm, Managing Director of Big Save Furniture, the largest furniture retailer in New Zealand, will own and operate all five of the New Zealand HomeStore locations.
The 900th HomeStore milestone builds upon Ashley HomeStore's momentum to serve their customers worldwide with best-in-class service, value, and selections; and the company has no plans of slowing down. With Ashley HomeStore's located in 54 countries, the opening of these five stores in New Zealand, a new country for the brand, Ashley now has achieved 310 international HomeStores.
In less than a year, Ashley has celebrated multiple milestones with our 800th HomeStore opening in Mexico and our 900th HomeStore opening in New Zealand, said Todd Wanek, President and CEO of Ashley Furniture Industries, Inc. Our commitment is to deliver the best home furnishing selections and service to our customers. Each store that we open internationally better positions us to hold to that commitment.
The combined 50,000 square foot showroom spaces located at Napier, Palmerston North, Paraparaumu, Lower Hutt and Hamilton will feature complete lifestyle settings including bedroom, dining room, upholstery, leather, occasional tables, home office, youth bedroom, recliners, mattresses and accessories.
We are super excited to bring cutting edge design, fantastic selection and best value prices to the New Zealand market. said Tom McKimm. Ashley Furniture HomeStores provide our market with unseen before selection and value that is proven the world over. This is just the start of a great relationship and we know our customers are going to love it. said Tom.
2018 has been a tremendous year for the company, and it's still not over yet, said Wanek. Ashley is working diligently to grow our global footprint, and we're excited to achieve our next company milestone.
Pictured Left to Right: Ray McKimm,Alison McKimm,Lilly (McKimm) Salter,Tom McKimm,Craig Salter
Ashley Furniture Industries, Inc.(Ashley) feels that every person deserves more value for their money. Established in 1945, Ashley is the largest manufacturer of home furnishings in the world, and was recently named one of America's Best Employers by Forbes in 2017. From design through fulfillment, Ashley is committed to delivering the world's best home furnishing values, selection and service, and earning the loyalty and trust of its customers every day. Visit Ashley online at www.ashleyfurnitureindustriesinc.com and like Ashley Furniture Industries, Inc. on Facebook.
Ashley HomeStore is committed to being your trusted partner and style leader for the home. This commitment has made Ashley HomeStore the No. 1 furniture retailer in the U.S. and one of the world's best-selling furniture store brands with more than 850 locations in 45 countries. Start designing your dream home today. Visit Ashley HomeStore online at www.ashleyhomestore.com.Like Ashley HomeStore on Facebook, follow us on Twitter and Instagram , or see our design-focused boards on Pinterest.