Arcadia Community Celebrates Groundbreaking of Wanek Center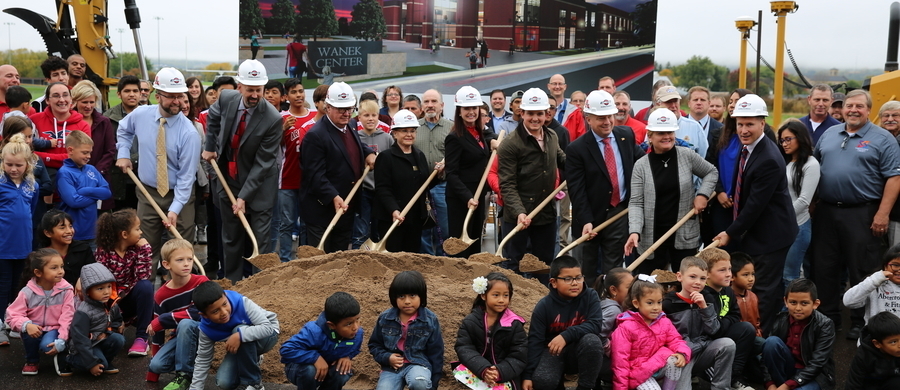 ARCADIA, Wis. –– The School District of Arcadia and greater Arcadia community, joined by state and local officials, gathered to celebrate the groundbreaking of the Wanek Center, a new community recreation and event center located on the campus of the Arcadia School District. This new space will allow for a wide variety of wellness and recreational programming for the public; as well as, accommodating the Arcadia School District's facility needs for physical education classes, large group activities, and athletic practices or competitions
I'm so thankful for this gift from the generous folks at the Wanek Foundation – as I'm sure the people of Arcadia are too, said Lt. Governor Kleefisch. The Wanek Center will be an incredible new asset to the area, and I'm excited to see the many ways it will bring the community together in years to come.
With a project cost of $17.5 million, more than 1,200 voters in the Arcadia area helped pass a $4 million referendum in April of 2018 to support the creation of the new center. The Ronald and Joyce Wanek Foundation donated $12 million to the district and the final $1.5 million will come from the School District, City, and additional community donations.
This is an incredible investment by the Wanek family and The Wanek Foundation," commented Governor Walker. "Their $12 million investment into our communities shows their strong commitment to our economic and physical health. This generosity will benefit our state, families, and students for years.
The Wanek Center will provide a two-court gym, boys' and girls' locker rooms, additional athletic practice space, weight room and music storage for the school district. The community will have access to a community gym with storage, concessions, indoor run/walk track, fitness center, men's and women's locker rooms, exercise studio, community meeting room, adult and youth activity space, and the Arcadia Public Library.
This facility will benefit students and the community for years to come, said Arcadia School District Superintendent Lance Bagstad. It will be an educational facility, a recreational facility, a learning center, and a gathering place. It will be a center where the community can come together.
Miron Construction Co., Inc. is serving at the general contractor on the project and HSR Associates is the architect.
The school district portion of the Wanek Center is scheduled to be complete by September of 2019 with the remainder of the facility ready to use by the community shortly after that.
Wanek Center
The Wanek Center broke ground in Arcadia, Wisconsin in the Fall of 2018, with an expected completion of Fall 2019. The facility will serve as a community recreation and event center as well as athletic space and office space for the Arcadia School District. The 71,500-square-foot facility will be home to a community gym, arena, concessions, indoor run/walk track, fitness center, locker rooms, exercise studio, community meeting room, adult and youth activity spaces, and the Arcadia Public Library. The Wanek Center is a joint project between the Ronald & Joyce Wanek Foundation, Arcadia School District and the residents of Arcadia.
School District of Arcadia
The School District of Arcadia covers approximately 211 square miles, serving the communities of Arcadia, Waumandee, Dodge, and Pine Creek located in Buffalo and Trempealeau Counties in beautiful western Wisconsin.
The School District boasts excellent facilities for academic instruction on two campuses. The high school and middles school, located on the southern edge of the city, borders Memorial Park, a showcase for the area with its beautiful buildings and nationally known Soldier's Walk and amphitheater. The high school was built in 1998 and houses grades 9-12; the middle school was built in 2016 and houses grades 5-8. The elementary school is located on Main Street and is recognized for its diversity and meeting the needs of all students.
HSR Associates, Inc.
HSR Associates, Inc. is a leading architectural, engineering and interior design firm based in La Crosse, Wisconsin that provides professional services for education and medical facilities, civic and government projects and various commercial enterprises. HSR has sixty-five years of experience working with many school districts throughout Wisconsin, Minnesota and Iowa. HSR is known for providing an outstanding product and for producing high quality, sustainable projects.
A few area educational project examples include: Holmen, Eau Claire, Dodgeville, Fennimore, Iowa Grant, Prentice, Richland and La Crosse School Districts; Western Technical College; UW-La Crosse and healthcare projects for Gundersen Health System. For more information, please visit the company's website at www.hsrassociates.com
Miron Construction Co., Inc.
Miron Construction Co., Inc. is one of the nation's premier construction firms and is recognized as an industry leader, surpassing $1 billion in revenue in 2017. Miron is the largest building contractor in the state of Wisconsin and provides innovative pre-construction, construction management, design-build, industrial, and general construction services nationwide. The forward-thinking, fast-growing, 100-year-old private company is headquartered in Neenah, Wisconsin, with regional offices in Madison, Wausau, Milwaukee, and Eau Claire, Wisconsin, and Cedar Rapids, Iowa. Ranked by Engineering News Record (ENR) as 81st among the Top 400 Contractors in the United States (based on 2017 revenue) and 81st among the Top 100 Green Building Contractors in the United States (based on 2016 green building revenue), Miron is also the Official Provider of Construction Services for the Green Bay Packers and Lambeau Field. For more information, please visit www.miron-construction.com.
Find Miron Construction on Social Media:
Newsroom | Twitter | Facebook | Youtube | Linked In | Google+