Ashley Furniture Invests Over $3 Million In State-Of-The-Art Mobile Skills Laboratory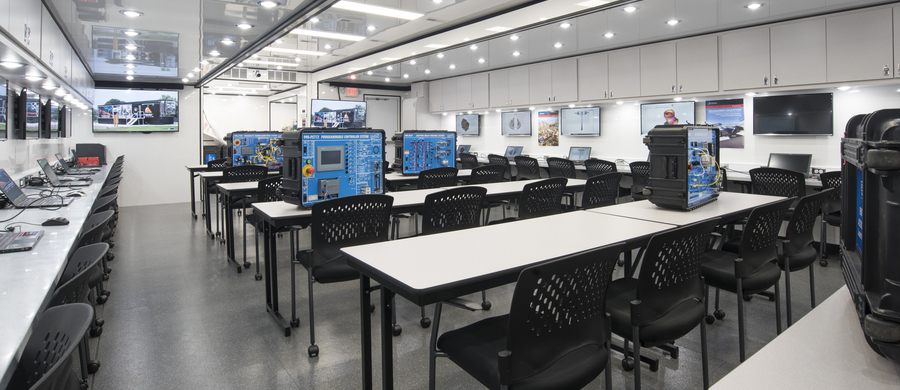 ARCADIA, Wis. –– Ashley Furniture has partnered with the Trempealeau Valley Cooperative which includes four local school districts, Arcadia, Blair-Taylor, Independence and Whitehall, to provide cutting-edge equipment and curriculum in the areas of electronics, manufacturing processes, automation and robotics. This more than $3 million investment was made by Ashley Furniture to provide students with the opportunity to take over 300 competency-based courses for high school credit in a state-of-the-art, custom-built Mobile Skills Laboratory. These courses support the skills needed in today's high demand career fields.
Ashley Furniture and the Trempealeau Valley Cooperative, joined by Lt. Governor Rebecca Kleefisch and local officials, celebrated the grand opening of the Mobile Skills Laboratory with a ribbon cutting ceremony on Monday, October 8, at the Whitehall School District where the lab is currently stationed. The four-school consortium will each host the Mobile Skills Laboratory at their school district on a nine-week rotational schedule.
The 900-square-foot classroom on wheels features advanced equipment from Amatrol, Fanuc, Yaskawa and SolidWorks to expose students to industry-standard processes. Amatrol designs, develops and manufactures technical learning systems, highly interactive eLearning, hands-on simulators, and more to train tomorrow's global workforce for many diverse industries such as manufacturing, healthcare, automotive and agriculture.
Enrolled students will have the opportunity to learn about STEM (Science, Technology, Engineering, and Math) related fields, including electrical, wiring, motor controls, programming, print reading, mechanical fabrication, precision gauging, hydraulics, pneumatics, troubleshooting and computer aided drafting. A large number of these courses will also provide students with transferable credit to area technical colleges and potential universities.
In addition to the equipment purchased, Ashley provided an opportunity for eight area educators to experience the Amatrol facility in Jeffersonville, Indiana. These educators were able to see the capabilities of the training equipment and what the Mobile Skills Laboratory can offer to an area through educating the future and current workforce.
We believe in the importance of developing long-lasting partnerships with our local schools and investing in the area of education for our youth, said Ron Wanek, Founder and Chairman of Ashley Furniture Industries. The Mobile Skills Laboratory will inspire students to learn advanced technologies through an interactive learning environment that can result in rewarding careers in many different industries.
Ashley has developed a number of partnerships with K-12 as well as post-secondary schools over the past five years. Combined efforts have included investing in STEM-based learning opportunities, scholarships, providing students with exposure to technical trades and career opportunities, instructor training, and robotics programs. As manufacturing continues to advance and the global economy evolves, training and educating our current and future workforce will be a crucial part of our country's success.
Ashley Furniture Industries, Inc.(Ashley) feels that every person deserves more value for their money. Established in 1945, Ashley is the largest manufacturer of home furnishings in the world, and was recently named one of America's Best Employers by Forbes in 2017. From design through fulfillment, Ashley is committed to delivering the world's best home furnishing values, selection and service, and earning the loyalty and trust of its customers every day. Visit Ashley online at www.ashleyfurnitureindustriesinc.com and like Ashley Furniture Industries, Inc. on Facebook.
Ashley HomeStore is committed to being your trusted partner and style leader for the home. This commitment has made Ashley HomeStore the No. 1 furniture retailer in the U.S. and one of the world's best-selling furniture store brands with more than 850 locations in 45 countries. Start designing your dream home today. Visit Ashley HomeStore online at www.ashleyhomestore.com.Like Ashley HomeStore on Facebook, follow us on Twitter and Instagram , or see our design-focused boards on Pinterest.