Ashley Furniture Employees Donate More Than $12,000 in School Supplies to Area Schools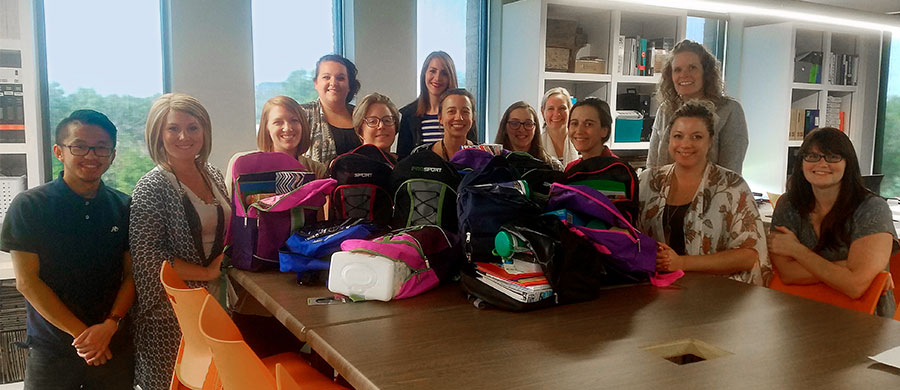 Ecru, Miss. – School is back in session and Ashley Furniture employees have helped provide extra supply items to local classrooms. Ashley Furniture Industries, Inc. (Ashley) held a school supplies drive in their Mississippi and Wisconsin facilities to help gather items and monetary donations for local schools and children in need.
At Ashley's Ecru facility, employees raised $4,500 for three schools in Pontotoc County; North Pontotoc, South Pontotoc and Pontotoc City. Each of the schools received $1,500 worth of supplies, including: copy paper, hand sanitizer and facial tissue. School officials, current students at each school, and employees from Ashley who have children at each school attended the donation event at the facility. Additionally, Ashley's Ripley, Miss. facility presented $1,000 worth of supplies to six Tippah County schools totaling a $6,000 donation.
In July of this year, the Arcadia, Wis. community, where Ashley has corporate offices and a manufacturing and distribution facility, experienced a flood leaving a great impact on the city. Ashley employees in Arcadia and Whitehall, Wis. donated over $2,100 worth of school supplies to students affected by the flood, as well as other children in need, at the Arcadia, Independence and Whitehall schools. One department in the organization also took on the initiative to fill a backpack with supplies for one child in each grade at Arcadia's Elementary and Middle School.
Ashley has been a long-time contributor towards education. Over the past ten years, Ashley has provided more than 2,000 scholarships to students, and millions of dollars in funds and in kind services to assist local schools and universities.
---
Ashley Furniture Industries, Inc. (Ashley) feels that every person deserves more value for their money. Established in 1945, Ashley is one of the largest manufacturers of home furnishings in the world. From design through fulfillment, Ashley is committed to delivering the world's best home furnishing values, selection and service, and earning the loyalty and trust of its customers every day.