Ashley HomeStore Celebrates the Grand Opening of 100th HomeStore in China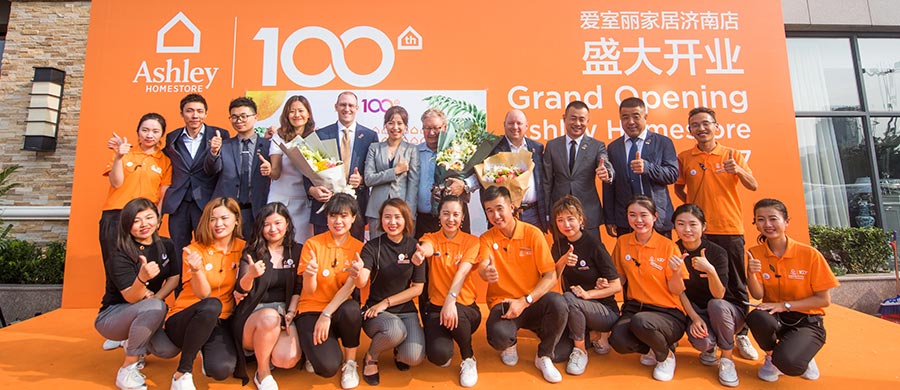 TAMPA, Fla. - Ashley HomeStore celebrated the Grand Opening of their 100th Ashley HomeStore in China. The milestone store is located in Jinan, China and is owned and operated by Ms. Liu, who owns and operates two other Ashley HomeStores in the Jinan market.
The new Jinan HomeStore aims to inspire their customers, bringing them an authentic American home living experience through the various lifestyles and products at affordable pricing. More than 100 customers participated in the HomeStore's Grand Opening ceremony.
We want to truly satisfy our consumers' expectation for their ideal home and build more connection with our consumers and their families, said Todd Wanek, President and CEO of Ashley Furniture Industries, Inc. The Chinese market has great potential, and we look forward to launching more products to match the needs of Chinese consumers.
Ashley HomeStore entered the China market in 2012. In just five years, the home furnishings retailer has grown rapidly throughout the country and plans to continue to expand their footprint.
The 100th store is a milestone for Ashley HomeStore retail stores in China, stated Ron Wanek, Founder and Chairman, Ashley Furniture Industries, Inc. We are honored that Ms. Liu's Ashley HomeStore in Jinan is the 100th Ashley HomeStore in China. We believe that Ms. Liu and her team will make this Ashley HomeStore very successful.
Ashley HomeStore has added more than 55 new HomeStores worldwide in 2017, bringing the total HomeStore count to over 725 stores across 36 countries. Through a world-class supply chain that allows our company to adapt to the marketplace, Ashley has the ability to design, manufacture, and deliver a broad assortment of lifestyle collections.
---
Ashley HomeStore is committed to being your trusted partner and style leader for the home. This commitment has made Ashley HomeStore the No. 1 furniture retailer in the U.S. and one of the world's best-selling furniture store brands with more than 725 locations in 36 countries.
Start designing your dream home today. Visit Ashley Homestore Opens in a new window online. "Like" Ashley HomeStore on Facebook Opens in a new window, follow us on Twitter Opens in a new window and Instagram Opens in a new window, or see our design-focused boards on Pinterest Opens in a new window.
Ashley Furniture Industries, Inc. (Ashley) feels that every person deserves more value for their money. Established in 1945, Ashley is one of the largest manufacturers of home furnishings in the world. From design through fulfillment, Ashley is committed to delivering the world's best home furnishing values, selection and service, and earning the loyalty and trust of its customers every day.